Fremantle midfielder David Mundy has encouraged younger players to seize the opportunity if selected for future International Rules Series games.

"It's a great trip and the way they select the side from the All Australian's means you're surrounded by great, professional people," he said.

"If you get the opportunity it's a fantastic trip.

"Fingers crossed I get invited next year."

Mundy and 21 other AFL players including teammate Hayden Ballantyne and premiership captain Luke Hodge travelled to the United States and Ireland in November as part of the 2015 IRS match, with the 30-year-old able to have his family join him on the tour.

"Taking the family was a bit difficult, we have a two-and-a-half year old and a nine-month old boy so it made the plane flights a little bit difficult," he said.

"It was a fantastic experience and I'm certainly happy I went.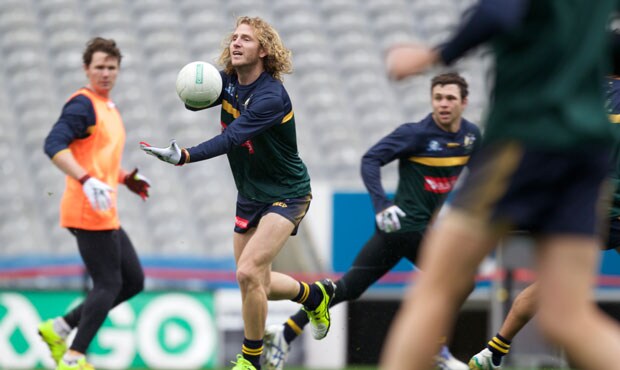 David Mundy in training for the International Rules Series.

"You're surrounded by really great professional people, even up to the admin and the coaches."

Mundy said he relished the opportunity to play alongside some of AFL's top players and learnt a few lessons overseas.

"I learnt it's very hard to kick a round ball, it was the biggest change for us, we had a lot of practice at it and we were still quite ordinary compared to the Irish so that was very difficult," he said.

It felt like the Olympics: Ballantyne

"Preparation is key and playing with guys like Sam Mitchell and Luke Hodge and under Alistair Clarkson, who have been successful for a long time now, certainly picked up a few of their little traits.

"Hopefully, it will help my game and help Fremantle."

Mundy said the group's pre-match sessions in the US provided the team with a chance to bond ahead of the IRS game.

"We got to see a few sights and get a bit of training and meetings in," he said.

"I think it was a good chance for the players to bond.

"We came together in New York and hadn't really met many of the guys prior to that.

"It's a fantastic trip and fingers crossed I get invited next year."