New Fremantle Dockers defensive coach, Brent Guerra has highlighted ball use as an area of improvement for Freo in 2016.

The two-time premiership player said kicking had been one of several key areas the players had been working on.

"Football is a kicking game and that's what we've been focusing on over the pre-season," he said.

"The improvement that we've seen has been enormous."

With only two years since playing at the highest level, Guerra's youth and ability to connect with the Freo players has been crucial to building relationships as a coach.

"I'm still a young coach and out of the game for two years," he said.

"I'm finding it very easy to communicate with the players and build good relationships with them.

"I'm working with 'Ibbo' (Garrick Ibbotson) Cam Sutcliffe, 'Spurry' (Lee Spurr) and Tommy Sheridan.

"We have a heavy focus on skills with those four being half-back flankers, that's where we get a lot of our drive from.

"They're great players to work with."

Guerra's close working relationship with Tommy Sheridan was displayed on the official Fremantle Dockers Instagram account on Wednesday, the much talked about photo causing a potential difference of opinion between the two.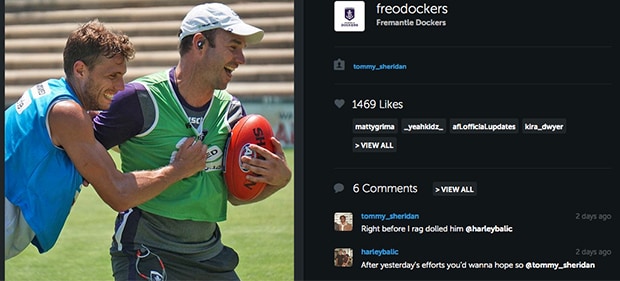 "I was demonstrating a tackling drill, and tommy tried to tackle me and I gave him a good, don't argue," he laughed.

"So we had a good laugh about it but he actually couldn't lay a finger on me so I'm 'one up' on Tommy."