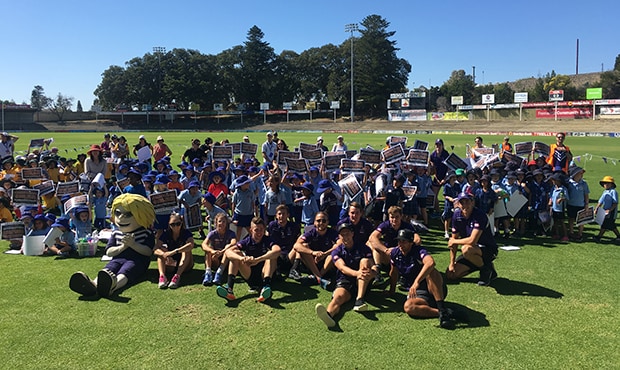 Fremantle Oval was buzzing on Thursday afternoon as hundreds of children joined a group of Freo players for the 2017 Freo Fundamentals Gala Day.
Brady Grey, Darcy Tucker and Fremantle's first year players took clinics for more than 400 children from pre-primary and year one, teaching them the values of exercise while having fun with a football.
It was the fourth clinic for Grey, who is the leader at Team Freo - a Community Goals program run and coordinated by the club's first year players.
"It's been good to be down here with Darcy (Tucker) and the first year boys," Grey said.
"Today we're running a few clinics and activities – we'll have a bit of a signing session and have a bit of fun with the kids."
"We'll get them exercising and teach them a few different games to play in their school environment.
"It's about teaching them about the values of exercise and getting outside and having a run around.
"We're obviously doing it with footballs, but we're teaching them that any exercise is good exercise so we can help build some good habits later in life."
Grey said the experience is also beneficial for the club's new draftees.
"It's good for the first year boys, it's their first time doing this. Darcy and I have been doing it for a few years now," Grey said.
"We definitely enjoy it, and it's good to see the first year boys having some fun in a new environment for them and we're all really enjoying it."
"Taylin Duman seems to be getting along with the kids really well, they're all loving him at the moment.
"It's probably him and Luke Strnadica are two of the boys the kids are having all the fun with right now."
The views in this article are those of the author and not necessarily those of the AFL or its clubs