Being drafted into the inaugural Freo Dockers AFLW team was a moment Amy Lavell wont forget, but after the initial joy of realising her AFLW dream, Lavell's mind shifted to a close friend.
The same year the 30-year-old had one of the biggest highs of her life, was also the same year she watched a close friend pass away due to an unsuccessful double lung transplant.
On Thursday morning Lavell spoke at the AFL's announcement of it's partnership with the Organ and Tissue Authority and their joint support of DonateLife Week.
"My friend Linda Franklin passed away last year, she was unsuccessful in surviving the surgery from a double lung transplant," Lavell said.
"She was on and off the register for 10 years and she was on oxygen for most of that time.
"She was a huge advocate for DonateLife and also the Organ and Tissue Authority in WA and she continued her volunteer work up until her transplant surgery last year."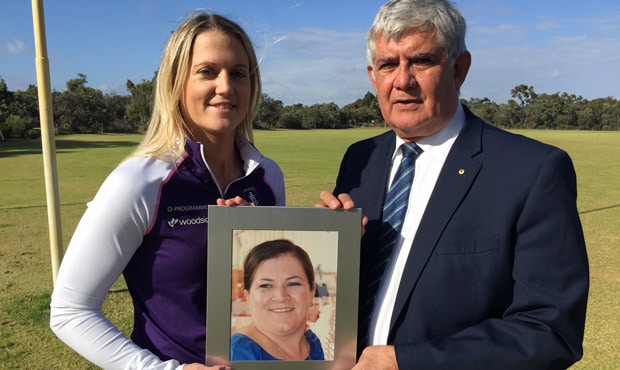 Lavell and Aged Care Minister and Indigenous Health Minister The Hon Ken Wyatt with a photo of Franklin.
Lavell said Franklin was a phenomenal women and a mad Freo Dockers fan who had been a member of the club since its inception in 1995.
"When I got drafted into the Freo Dockers AFLW team one of the first things I thought was that I wanted to continue her legacy," Lavell said.
Lavell is now an ambassador for DonateLife and the Organ and Tissue Authority of WA, and is passionate about ensuring more people talk to their families about their wishes when it comes to organ and tissue donation.
The key forward played in all seven of Freo's AFLW games in the league's inaugural season, and wore the number seven on her guernsey.
"I chose the number seven because that was Linda's favourite number, I really wanted to do that to honour her and I think she continues to watch over me while I'm playing football," Lavell said.
"It is so important that people are given the opportunity to live their lives to the fullest and the opportunity to continue their lives if they can.
"When Linda passed it was her aim to be able to offer that opportunity to others.
"Registering with DonateLife is so easy to do and it only takes a short period of time to complete.
"If we can get more people on the register and talking about organ and tissue donation that would be fantastic."