4th quarter
West Coast win the final derby at Domain Stadium by three goals. Fremantle had their opportunities but didn't make them count with just five goals from 19 scoring shots.
Freo won the inside 50s 57-46 and the clearances 40-28.
Lachie Neale, Connor Blakely and Nat Fyfe were Freo's major ball-winners with 34, 33 and 30 disposals respectively.
Sean Darcy won 32 hit outs, the same as his direct opponent Nathan Vardy.
FT Scores
Freo: 5.14 (44)
WCE: 11.8 (74)
3:45: Another encroaching 50m penalty sees Dom Sheed goal put West Coast up by 29 points.
4:58: Jack Darling marks and kicks his second of the day to put West Coast up by 23.
STATS: Lache Neale has been on fire in the final term with eight disposals and five clearances with six minutes left to play. In total he has 34 disposals and 11 clearances.
13:21: GOAL FREO. In heavy traffic, Lachie Weller hands to Bradley Hill who hands to Michael Walters - and Walters goals from 30m to give Freo a chance, trailing by 16.
14:50: Stephen Hill's shoulder is back in place and he returns to the field however, Lachie Neale has come off with lower-back pain.
15:29: GOAL FREO. Nick Suban spears to Hayden Ballantyne who converts the set shot from 35m. The Eagles lead has been cut to 23.
18:08: Stephen Hill has come off with what appears to be a dislocated shoulder.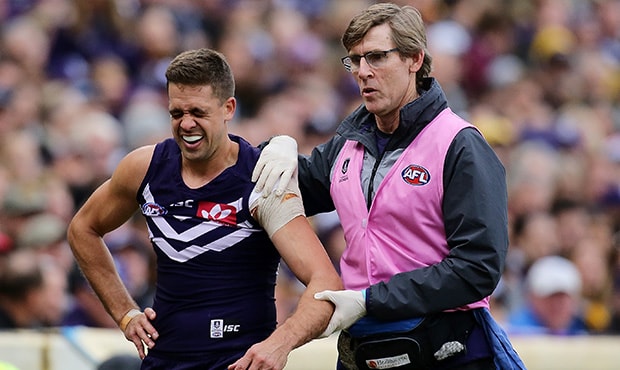 The final term is underway with the Eagles leading by 29 points.
3rd quarter
3QT scores
Freo: 3.13 (31)
WCE: 9.6 (60)
Freo lead the clearances 31-19, inside 50s 47-31 and the scoring shots 16-15 - it all comes down to accuracy with Freo converting 19 per cent of their scoring shots to West Coast's 60 per cent.
0:00: Josh Kennedy earns a 50m penalty after Lachie Weller encroaches on the mark and he kicks his third to put West Coast up by 29 at three quarter time.
0:33: Hayden Crozier with the quick hands to Michael Walters and he drills it through. That's Freo's first of the term in the dying seconds of the third quarter. Freo trail 54-31.
3:03: Mark LeCras kicks his second of the term from the set shot. Eagles lead 54-25.
Stats: Freo are goalless this term from nine inside 50s while the Eagles have kicked two goals from eight inside 50s this term.
6:37: Lachie Neale wins a holding the ball decision in the square and Connor Blakely plays on to shoot from the 50...and he misses. Freo have kicked 2.13 (23) and trail by 23.
Stats: While Freo can't apply the pressure on the scoreboard they are on the ground, with nine tackles to one this term.
11:07: Bradley Hill misses again and this was almost a gimmie with Hill open and 20m from goal. Freo has kicked 2.12 (24) to the Eagles 7.5 (47).
12:10: Bradley Hill's shot on the run from 35m misses left. It's Freo's third straight behind this term. Eagles lead 47-23.
Stats: Fremantle has taken six marks inside fifty but is yet to generate a goal from any of these marks. West Coast has taken five marks inside 50.
16:42: West Coast kick another within seconds as Mark LeCras runs into an open goal. Eagles lead out to 27.
16:55: Jeremy McGovern opens the Eagles account in the third term with a set shot from 50m on the angle. They lead 41-20.
The third term is underway with West Coast leading by 14 points.
2nd quarter
HT Scores
Freo: 2.8 (20)
WCE: 5.4 (34)
Fremantle have cut the Eagles lead to 14 points at half-time but it could have been so much more as Freo wasted plenty of opportunities with 2.8 (20) on the scoreboard while leading the inside 50s 31-20.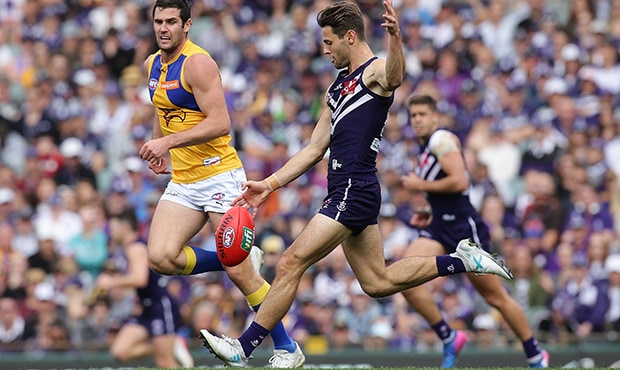 Lachie Weller has taken the game on with his run off half-back with 13 disposals and three inside 50s at half time.
1:45: GOAL FREO. Michael Walters runs into 50 and hands to Nick Suban who goals in his 150th! Eagles lead 34-19.
Nick Suban gets on the scoreboard in his milestone match. #AFLFreoEagles pic.twitter.com/qaeyxEP6TS

— AFL (@AFL) July 16, 2017
Stats: Fremantle has evened up the contested possession count 65-65. Nat Fyfe leads Freo with 13 while Lachie Neale has six. Matt Priddis and Liam Duggan have the most for West Coast with seven each.
9:00: Nick Suban has returned to the field.
9:09: GOAL FREO! Shane Kersten gets Freo's first goal with a snap over his shoulder. Eagles lead cut to 20.

Lovely snap from Shane Kersten! #AFLFreoEagles pic.twitter.com/LGsOqjCuPp

— AFL (@AFL) July 16, 2017
9:42: Bradley Hill sets up Crozier with a set shot and his attempt starts and stays left. Eagles lead 32-6.
10:45: A strong Nat Fyfe mark at half-forward sets Bradley Hill free...but he misses. Freo's fifth behind. Eagles lead 32-5.
13:00 Nick Suban has come off with a sore shoulder and is receiving treatment.
14:29: Brennan Cox wins the ball at the throw-in but his quick shot sprays left. Freo's fourth behind of the day. Eagles lead 32-4.
15:30: A trademark Josh Kennedy mark and goal. He kicks his second and the Eagles' lead 32-3.
The second term is underway with West Coast leading 25-3.
1st quarter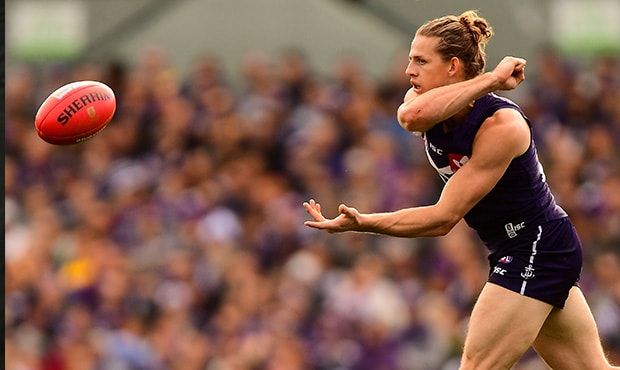 Nat Fyfe had 13 disposals (11 contested) with five clearances up to quarter time
QT score
Freo: 0.3 (3)
WCE: 4.1 (25)
West Coast hold Freo goalless in the opening term despite Freo generating 16 inside 50s for the term. West Coast kicked four from 11 forward entries.
Stats: Mark Hutchings' tag on Michael Walters seems to be working early with Walters being limited to three at quarter time.
3:51: Off a step from 45m, Matt Priddis kicks the Eagles fourth. They lead 25-3.
5:34: Freo generating opportunities but not capitalising as Stephen Hill kicks his second behind from general play in the past few minutes. Eagles lead 19-3.
Stats: West Coast have had most of the ball early with 78 disposals to 35 and leading the contested possessions 24-14.
9:43: Jack Darling marks and sets Drew Petrie free in the goal square who kicks the Eagles' third. They lead 19-1.
10:34: A big contested mark from Nat Fyfe gives Freo their first shot on goal but his shot from 40m starts and stays left.
14:30: Jack Darling flies in a two-on-one to mark and goal for the Eagles' second. They lead 12-0.
16:35: Josh Kennedy strikes early for West Coast with the opening goal.
0:00: Early matchups, Mark Hutchings is playing on Michael Walters while Joel Hamling is with Josh Kennedy.
Pre game
Not long now... #foreverfreo pic.twitter.com/kBNEj2gg50

— Fremantle Dockers (@freodockers) July 16, 2017
Nick Suban ready for a hard-hitting 150th #foreverfreo #AFLFreoEagles pic.twitter.com/1tAf5XtlLJ

— Fremantle Dockers (@freodockers) July 16, 2017
Nyhuis in our house.#foreverfreo #AFLFreoEagles pic.twitter.com/1SXepeec5z

— Fremantle Dockers (@freodockers) July 16, 2017
1:10pm: There are no late changes to Fremantle's starting 22
Utility Elliot Yeo is a late withdrawal for West Coast with a minor leg injury and has been replaced by Jack Redden.
Interchanges
Fremantle: Griffin Logue, David Mundy, Nick Suban, Hayden Crozier
West Coast: Chris Masten, Jack Redden, Jamie Cripps, Jackson Nelson
No changes to the final team. Logue, Suban, Mundy and Crozier to start on the interchange bench #foreverfreo #AFLFreoEagles pic.twitter.com/9UGz9OzMvD

— Fremantle Dockers (@freodockers) July 16, 2017
Milestone
Today is Nick Suban's 150th game for Freo.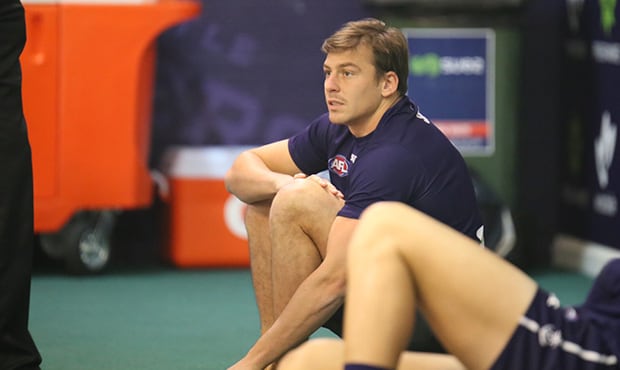 Nick Suban in the changerooms ahead of his 150th game
Key times
12pm – Gates 8 and 19 open
12pm – Membership services outside gates 12 and 26 open
12pm – Merchandise vans at gates 8, 10, 19 and 26 open
12.10pm – Curtain Raiser commences (Next Generation Academy)
1.10pm – Remaining gates open
2.40pm – Bounce down
5.10pm approx – Final siren
The final teams (update: Elliot Yeo has been a late withdrawal for West Coast and replaced with Jack Redden)