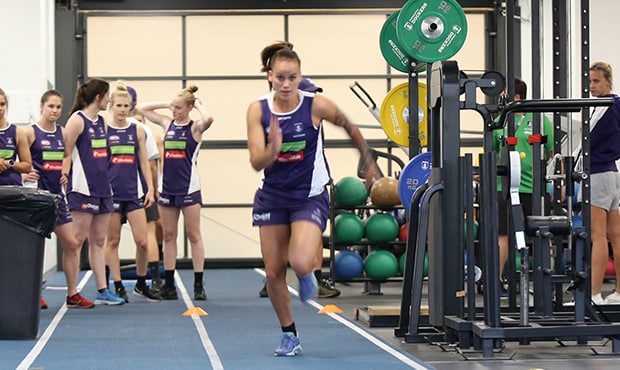 Fremantle is doing the work required to make an impression in the second AFLW season, according to Gemma Houghton.
The ruck played every game of the inaugural AFLW season, impressing after coming only into the game from basketball during the 2017 pre-season.
Houghton is approaching the second season with a sense of confidence and this is a feeling that is washing off on everyone on the Fremantle list.
"I spoke to Michelle at the start of the season and we said that there's something about this group that's very exciting," Houghton said.
"There's a sense that it's going to be different to what last year was. It's very positive.
"I think it's the time we spent together training in the off-season. As it's our second season, the majority of the group knows what to expect."
Fremantle's list of 31 includes eight new draftees who are looking to make their AFLW debut, as well as two elite recruits in Adelaide premiership player Kellie Gibson and former GWS defender Alex Williams.
"The majority of the girls coming in are here to play and here to learn," Houghton said.
"We're all on the same page and united.
"I think we're stronger, not just physically but mentally as well and we're well prepared."
The team's physical and mental strength was tested when Houghton and her teammates were put through the ringer on a training camp in November.
"At the camp we went on last month, I saw everyone bounce back from the limits we were pushed to and we just kept going and going," Houghton said.
"At training I've seen our skills, even under fatigue, we're hitting our targets while under that pressure. That will be exciting to see come game time."
While Houghton was new to football this time last year, she wasn't unfamiliar to the game with brother Joel a former Fremantle listed player.
Now in her second year, she's starting to see the oval ball as second nature.
"I haven't picked up a basketball since," Houghton said.
"I'm loving coming into training every week and learning something different. I'm loving building on everything and building with the team."
In 2017, Houghton shouldered the ruck load alongside top-up player Alicia Janz, who played three games.
This year, Janz has returned as a listed player while Fremantle has added even more depth in the likes of 2017 WAWFL fairest and best winner Jodie White and Tayla McAuliffe.
"We've recruited well with our height," Houghton said.
"I think last season I was the second tallest and now I'm probably the fifth tallest which is good.
"Having the likes of Jodie White and Alicia Janz, with their height and their strength and their ability to get down low and get under the ball, it will be great for the side."
While Houghton is working hard on being ready for the 2018 season, she's not giving up on her work commitments in the mining industry.
"I've been working for a mining company Ready Resources," Houghton said.
"They're great and they help me on the football side of things and help me chase my dreams outside of work.
"I know they'll also be coming down to support me at the games, which is great to have."
The views in this article are those of the author and not necessarily those of the AFL or its clubs