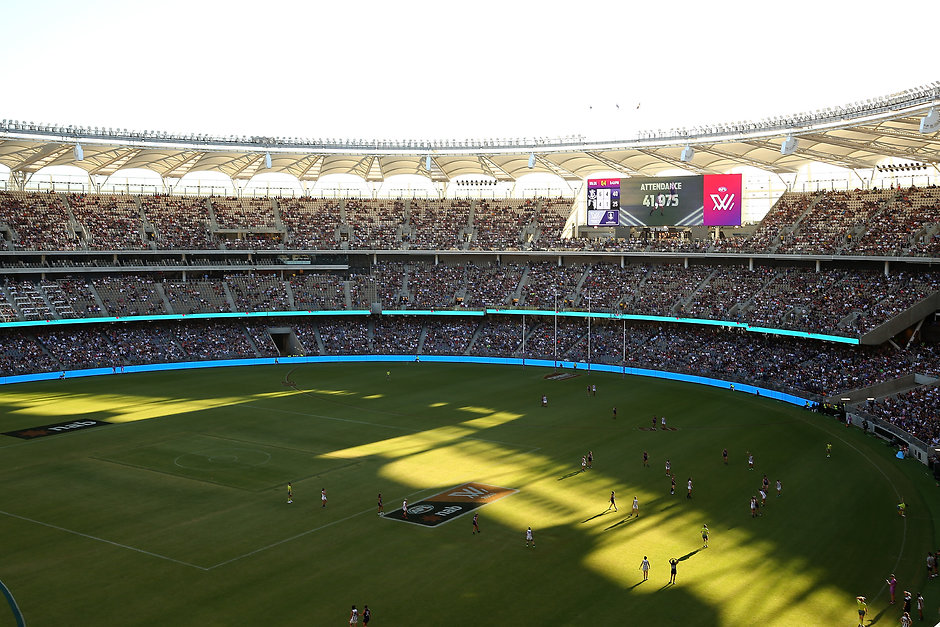 A record breaking crowd have come together to support Fremantle's AFL women as they played the first AFL game at Optus Stadium on Saturday.
With 41,975 in attendance at the new stadium, breaking an 88-year-old record, Freo fans had plenty to celebrate as the girls defeated Collingwood by 13 points.
Dressed to impress in purple tinsel sombrero's fans Dawn Callan and Theresa Frances came on board the purple army last year.
The enthusiastic fans said they were "absolutely" excited to watch the girls play.
"We met the girls last year on the way to Darwin and they talked us into joining and we've been following them ever since," Callan and Frances said. 


Travelling from Dongra and Pinjarra the ladies had a special message for the girls.


"Just enjoy it, have fun and do your best!" Callan Frances said.
The distance was not a problem for Gladys Bennell, Iris Winmar, Janet Colburn and Regina Colburn who came down from the Wheatbelt to cheer on the girls.


"We hope the Freo Dockers win!" Iris Winmar said.
"We're very excited, we came down from the country!"
Fans also had the opportunity to meet players, watch a training session with the men's team, participate in fun family day activities and get involved in the hyped atmosphere at the new stadium.
Brendon Trainor and his five-year-old son, Jobe, we're excited to see Jobe's favourite player, Nathan Fyfe, at the men's training before the game.

"It's going to be great!" Brendon said.

"I'm actually quite excited to see the match at this stadium."


Brendon and Jobe travelled up from Golden Bay and said they hope the girls "go hard" when they get out there.
Freo will take on Melbourne at Fremantle Oval on Sunday 18 February.
The views in this article are those of the author and not necessarily those of the AFL or its clubs