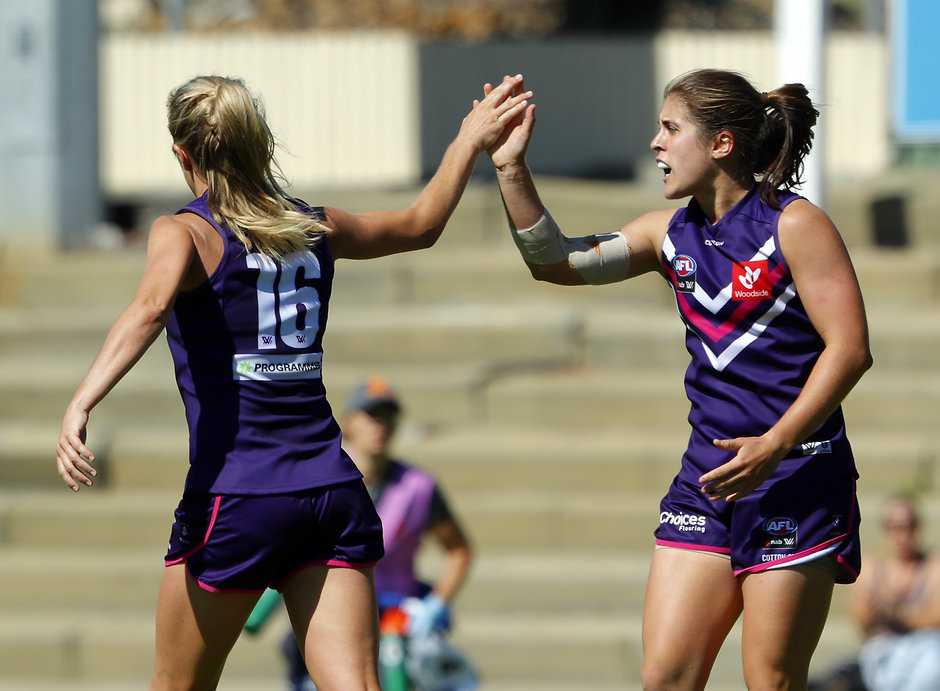 When asked about her senior coach, Fremantle AFLW midfielder Gabby O'Sullivan said Michelle Cowan has been a great role model for her.
"Michelle has been a massive mentor for me, she's always there for a chat and she's really open and honest with all of her players," O'Sullivan said.
"She's definitely someone that I've really fed off this year and is just a really great coach to have."
Like many other girls in her team, O'Sullivan chose to play another sport, when she had to stop playing AFL.
"When I was younger, footy was actually my first sport and I played Auskick all the way through to under 12's," she said
"You get told to find another sport that you would like to play and that footy is just a 'boy's sport'."
After being told this, O'Sullivan chose to make the switch from footy to basketball.
"I had three years over in the States playing at the college level and I still play now," she said.
"It's kind of hard to juggle sometimes, but there's a lot of aspects to the sport that definitely transitioned over."
As a second year player at the club, Gabby O'Sullivan said she has now developed a routine on game day.
"It's taken a little bit to find what works for me, but we usually have a really great team breakfast together, then we get a bit of time to ourselves to look over our notes," she said.
"I generally like to listen to music to calm me a down a bit and then just get in my zone and focus on what I need to do and who I'm playing against, to hopefully get the win.
"I am definitely happier this year with how I'm playing."
Fremantle take on Adelaide at TIO Stadium, Darwin on Friday 9 March at 5.35pm CST.
The views in this article are those of the author and not necessarily those of the AFL or its clubs