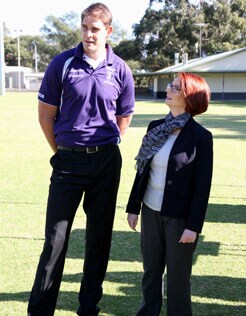 Fremantle stars Matthew Pavlich and Aaron Sandilands met Prime Minister Julia Gillard at Anning Park in Cockburn today.
The veterans were on hand along with some of the club's younger players to hear the PM announce a federal government funding commitment of $10 million for the City of Cockburn's proposed regional aquatic and recreation centre at Cockburn Central West.
A proud Western Bulldogs fan, Prime Minister Gillard showed off her football knowledge and skills to the Freo captain.
Pavlich did his best to win over the PM by offering her a purple and white scarf, and while she appreciated the gesture, she wasn't budging from her team.
While the PM's allegiances were in the east, Freo were well supported on the day, with WA federal members Melissa Parke (Fremantle) and Stephen Smith (Perth) in attendance.
Prime Minister Gillard also had the opportunity to stand next to all 211cm of Aaron Sandilands.
The look of surprise in her face as she tilted her neck upwards at an uncomfortable angle said it all.
Second-year player Lachie Neale took advantage of his brush with politics, asking the PM for a photo, which he promptly added to
his Twitter account
.