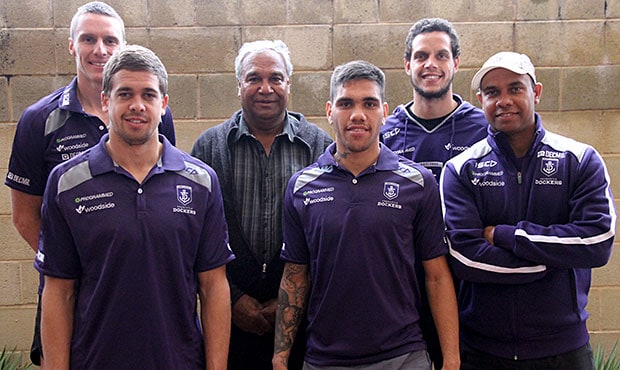 NAIDOC has changed everything, it's brought us all together
Stephen Michael
The playing squad met a West Australian football legend on Thursday, with South Fremantle legend Stephen Michael giving a presentation at club headquarters as part of NAIDOC Week.

NAIDOC (National Aboriginal and Torres Strait Islander Day Observance Committee) is a weeklong Aboriginal and Torres Straight Islander cultural festival celebrated annually in the first full week of July.

Michael stressed the importance of NAIDOC Week to the squad and praised the Fremantle Dockers for its Indigenous Reconciliation Action Plan, which the club launched earlier this year.

He shared with the players some of the out-dated prejudices that Indigenous people faced many years ago, citing his youth in Kojonup, when people of coloured skin had to be indoors by 6.30 in the evening or face being thrown in jail.

"There was no excuse back then, if you were Indigenous, you had to be off the street," he said.

"NAIDOC has changed everything, it's brought us all together."

In a 10-year career that began in 1975, Michael played 243 games for the Bulldogs and 17 for WA, which he told the players was the pinnacle of football in that era.

Michael resisted countless offers to play in the VFL, instead forging a reputation on the WA footy landscape not many could equal.

He shared stories of yesteryear of WA legends he played with and against, such as Maurice Rioli and Basil Campbell.

Michael also spoke to the players about the big changes in the game from his time compared to now, including nutrition, or lack thereof.

"I used to eat a pie and Coke before a game," he said, drawing a few laughs and raised eyebrows from the Freo players.

Michael closed the presentation with some words directed at Freo senior coach Ross Lyon.

"I think you're on the right track, you've got the right players, but just bring it home."

To round out the presentation, Michael Johnson handed Michael the special Indigenous jumper the club wore in the round 9 Indigenous Round on 26 May.

The Freo defender wasn't old enough to remember Michael play, but he spoke about the joy his father had in watching the Bulldog great.

"I know when I was growing up, my old man used to talk about the Indigenous players he loved watching. He was an East Freo fan but he loved the way you played," Johnson said to Michael.

Michael won the Sandover Medal in 1980 and 1981 and was South's fairest and best in 1977-79, 1981 and 1983.

Among his many other accolades, he was All Australian Captain in 1983 and was entered into the AFL Hall of Fame in 1999. Michael was also inducted into the South Fremantle Football Club Hall of legends in 1995 and the Fremantle Sporting Wall of Fame in 2000.

His son, Clem, played for the Fremantle Dockers from 1998 to 2000.