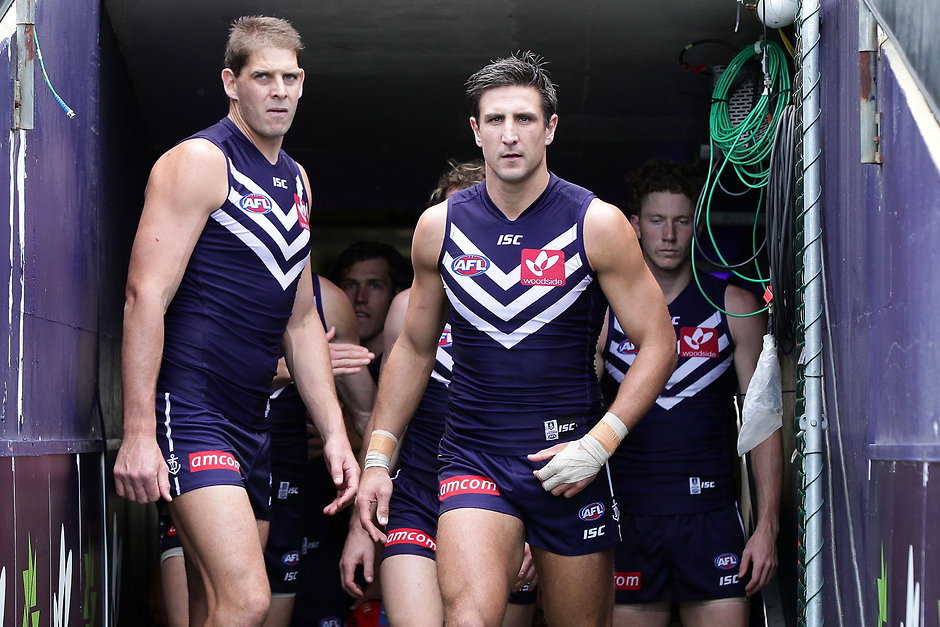 Fremantle captain Matthew Pavlich is one of a number of players who could captain the side in 2016, according to senior coach Ross Lyon.

Pavlich said last month that he was yet to decide whether he would put his hand up to captain next year.

The 33-year-old has captained the side since 2007 in 187 appearances, including the 2013 Grand Final.

Lyon told 3AW on Thursday night that there were a number of potential captains but ultimately it was a decision made by the players.

"There's no doubt it's on the radar," Lyon said.

"Pav will be thinking about it. The group will make the decision. We've got a couple of big influencers outside of Pav, David Mundy in particular and Nat Fyfe.

Pavlich plays on

"Matthew is probably (at a stage) where we're going to be managing his load, so he'll have some challenges.

"It's clearly an opportune time to look at handing over the baton. But will that happen? The players will talk."

Leadership consultant Ray McLean will visit Fremantle in January and the players will hold an annual vote on the leadership group and the captain, with each player voting on their top five choices.

Fyfe was added to the leadership group last season alongside Pavlich, Mundy, Aaron Sandilands, Luke McPharlin and Lee Spurr.

Lyon also spoke about giving opportunities to new recruits Harley Bennell and Shane Yarran.

Lyon said Bennell deserved a second chance but the former Sun would need to make some adjustments.

"He'll need to make some changes," Lyon said.

"He knows that.

I want my football to do the talking: Bennell

"He's trying to have a different value system for himself around how he prepares and be a role model and try and deliver on that and get some self-esteem on that, as opposed to going out and being with his mates and measuring himself on that.

"We think if he can make those shifts, like Michael Walters did, we could have a very good young player on our hands."

Lyon said Yarran had put together a compelling case for Fremantle to draft him with pick No.61 in the NAB AFL Draft, not just through his football where he dominated for Subiaco over two seasons in the WAFL, but also in rebuilding his life after he was released from a prison term.

"He's done some significant hard yards," Lyon said.

"He'd been catching the train an hour-and-a-half to training and back, working as a plumber's apprentice full-time, has got a young baby and was performing.

"So there was a real consistency outside of his football. If he had not done any of that and (the recruiters) brought him to me, I would've been able to say no. But he's put a strong case that he was trying to build his life and someone said to me you always give someone a second chance, but never a third."
The views in this article are those of the author and not necessarily those of the AFL or its clubs