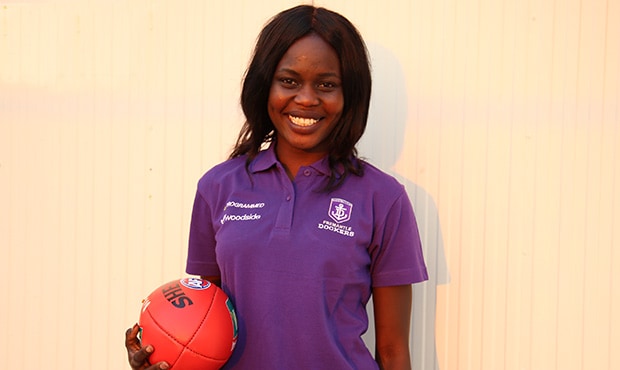 If you met Akec Makur Chuot during her early childhood, the term "future Fremantle Docker" would never come to mind.
Until recently, simply being a girl ruled you out from being a future star of Australia's indigenous game.
But Chuot, who was taken by the Fremantle Dockers with pick 139 in the inaugural AFLW draft, had more than her gender to deal with.
Born in South Sudan in 1992, the same year her father passed away, Chuot was raised by her single mother in a family of seven.
For 12 years, she lived in a refugee camp in Kenya called Kakuma, established to house those fleeing the war in Sudan.
A sponsorship for her family to come to Australia changed everything. Initially they were slated to go to Melbourne, but in a recent interview with 6PR, told Simon Beaumont said she was "lucky enough" to end up in Perth.
In Australia, Chuot embraced everything sport. It was a move that fast-tracked her ability to make friends while embracing the culture of her adopted country.
To Chuot, who goes by the name Susan or Suzie to her friends, it was all about making the most of her new life.
Just the simple things that Australians take for granted, like street lighting, opened a whole new world for a young girl inspired to take anything on.
"I love it, I really love Australia," Chuot said.
"I remember when we used to be in the refugee camp, we used to have to be home at 6pm as we didn't have lights in the streets. When I come here and I get to go to training at night, I really realise how there's all of these endless opportunities, especially as a female.
"Where I grew up women weren't allowed to play sports, so when I came here I thought 'Oh my goodness, I can play sport, oh wow!' and I would go and play soccer at a park until 8 o'clock and come home even later."
As Chuot embraced her new life, doors started to open around her. A visit from the East Perth Football Club saw the year 10 student switch her interest from the round ball to an oval one.
Fittingly, Chuot has since landed a role at the WA Football Commission in a similar role, visiting schools and getting kids into footy as the WAFC's community engagement coordinator for the central metro region.
Her job is to inspire kids to play the game, but on the side, she doesn't mind joking around while showing that footy isn't just for the boys.
"They call me Nic Naitanui's sister, which is really funny!" said Chuot with a laugh.
"I go to schools and communities to engage kids in footy, share my story a little bit and talk to kids I can see a lot of potential with.
"When I tell them I play football, their initial reaction is; oh really? But you're a girl! I kick a footy and they always react with 'oh my god she kicks better than us!'
"It's such an awesome role. They really listen, I find that the girls, they don't speak a lot, they start acting shy, but I can tell that they see they can follow this pathway as well.
"They're the ones who come to me and start giving me nicknames, joking around and giving me some fun handshakes too."
Chuot will likely play in the backline for the Fremantle Dockers in the inaugural AFLW season, but her contributions off the field will continue to be just as important for the sport.
When Chuot landed in Australia, her eyes were opened to the fact that anything was possible.
With the AFLW coming into the public eye, Chuot is pushing the same idea to girls who may not have considered taking up AFL, or considered a career in the game.
"It's still sinking in a little bit but (playing for Fremantle) is one of the most amazing opportunities," Chuot said.
"I'll take it with two hands as I've had so many people supporting me over my footy journey.
It's just one of those opportunities that I'm not going to take lightly. I'm going to take it and just go for it…I'm still lost for words!"
The views in this article are those of the author and not necessarily those of the AFL or its clubs