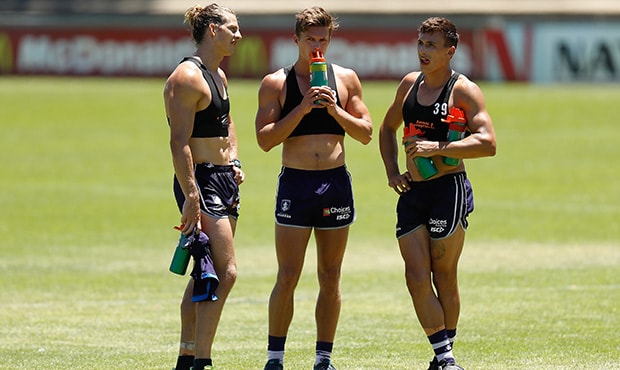 Ross Lyon is comfortable with where Fremantle's contract negotiations with Nat Fyfe sit, despite conceding the star midfielder's pending restricted free agency status will invite speculation as long as he remains out of contract.
The 25-year-old will attract rival offers of considerably more than $1 million a season should he choose to test his market value.
But Lyon told AFL.com.au conjecture about Fyfe's future would not be a distraction for Fremantle in 2017, saying he accepted a player now had the right to explore his options under free agency.
"I think it's reality, I think it generates news, it generates interest and it's going to be an on-going narrative, one that I'm not going to comment on," Lyon said.
"You see it at other clubs … we can't control it and at the end of the day every player is entitled to source the market, make a decision and move on.
"It's not something I can control. All we can do is provide the best environment and (ensure) that the player sees that they can become what they want to become, and it's commercially viable because at the end of the day it's a profession for them.
"It's not something I sit around and mull about it. I just do what I can do and I've experienced it before. There have been lots of great players that have been out of contract, but I let the cobblers do the cobbling.
"That's between Nat, his manager and the club, and whether they do it at round one, round 26 or in the off-season it's not for me.
"But the speculation is going to be there all year."
The Freo Dockers coach was quick to point out when Fyfe's contract status was raised that he would be a restricted, and not an unrestricted, free agent.
"There's a big difference," he said, alluding to the fact Fremantle will have the right to match any rival offers for Fyfe.
Lyon suggested a decision who will captain the club in 2017 remains a week or two away, with Freo to have further discussions with Leading Teams facilitator Ray McLean before finalising their 2017 leadership group.
Lyon said the decision to appoint Mundy as Matthew Pavlich's successor last year had been "flick of the coin stuff", with Fyfe an extremely narrow runner-up.
"Last year, you're talking about splitting them by a handful of votes," Lyon said.
"We'll work through that (again this year)."
Fyfe has not played since round five last year, having broken his left leg for the second time in eight months during Freo's four-point loss to Carlton.
Lyon said Fyfe had completed "nearly every minute" of training this summer, with the Dockers confident he was over his leg problems.
"On the metrics, he's been in the top five for output in every session so he's going really well," Lyon said.
"There are no problems (with his leg) and we expect no problems. The risk was when you've got a plate the plate's so strong and you get a hit on the end of the plate, and that's what happened (against Carlton).
"But what we did during the year … we took the long-term view because he could have played if he had a plate put in but he'd carry that risk, so we wanted to mitigate any risk as best we could.
"We had the plate removed (and) there was long-term rehab which we knew would set him up to virtually be the same risk as the rest of the club, so we think it's a non-issue."
The views in this article are those of the author and not necessarily those of the AFL or its clubs