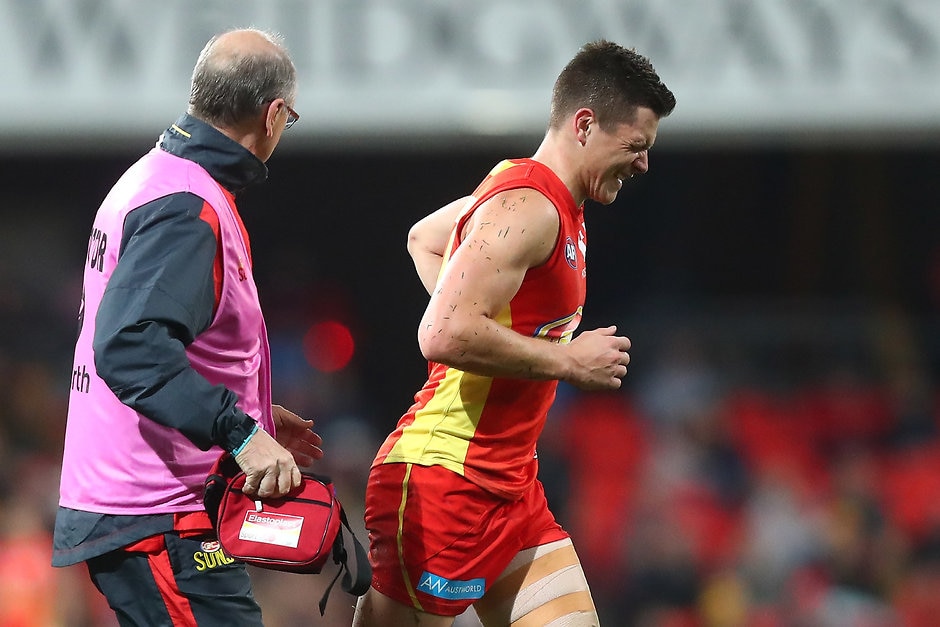 Already missing a handful of their top-end talent, including Gary Ablett (hamstring), the Suns were further hampered with injury against Richmond on Saturday night.
Ben Ainsworth (knee), Callum Ah Chee (shoulder) and Alex Sexton (concussion) were all out of the game by early in the third quarter, not to return.
Ainsworth appears to be the worst off, straining his MCL, with coach Rodney Eade surmising the small forward could miss 2-3 weeks.
With just four matches remaining, it wouldn't surprise to see the last year's No.4 draft pick put on ice for the season.
Eade described his team's 33-point loss as "brave", particularly considering ruckman Jarrod Witts (foot) and midfielder Brayden Fiorini (hamstring) also played out the final quarter under sufferance.
"I was very proud of their effort, I thought it was terrific," Eade said.
Ah Chee and Sexton were gone before half-time, with Sexton's injury coming after a courageous passage of play.
The speedy wingman hurtled back with the flight of the ball at top speed and then took off in mid-air, kamikaze-like, into the oncoming duo of Josh Caddy and debutant Max Spencer.
He hit the ground hard, and after a few minutes coming to his senses, was assisted from the field.
"He was away with the fairies," Eade said.
"It was really brave. That's what you ask players to do and supporters would ask the same and teammates would ask the same.
"It was extremely brave what he did. That was good of Alex to do that."
Ah Chee not only injured his left shoulder but was also concussed in his incident, and like Sexton, will need to be assessed through the week.
There might be some respite for the Suns when they take on Fremantle in Perth next weekend, with Ablett and co-captain Steven May both expected to overcome their respective hamstring injuries.
The duo have missed Gold Coast's past two matches, and Eade said both had an "awareness" of their hamstring niggle that kept them from playing the Tigers.
"I think with players out of the game and being short for manpower, the way the players responded," Eade said.
"We probably had eight or nine missing from our best team, so to be able to do what they did, I was extremely proud of them."
The views in this article are those of the author and not necessarily those of the AFL or its clubs