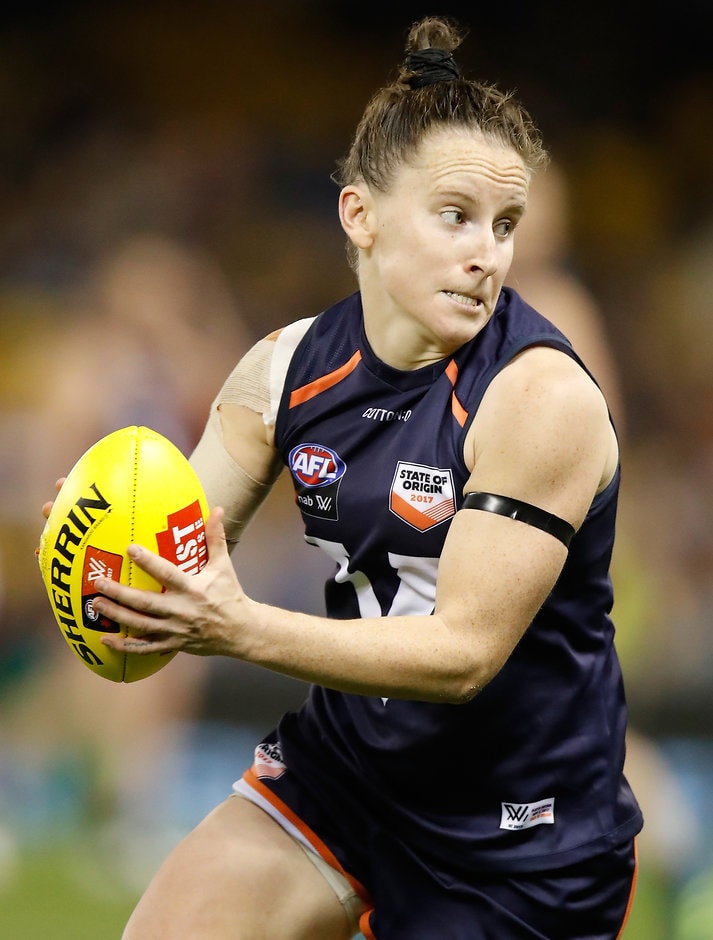 After an impressive performance in Victoria's dominant State of Origin win over the Allies on Saturday at Etihad Stadium, Kara Donnellan is eager to make her return to AFLW football with Fremantle.
Donnellan racked up 26 disposals for Victoria after a best on ground performance for Swan Districts in the WAWFL grand final a fortnight ago.
With the roof shut, the Fremantle captain soaked in the atmosphere with approximately 10,000 fans in attendance.
"It was awesome, I've been fortunate to play on Etihad a couple of times," Donnellan said.
"It was nice to play for the side that had the majority of the crowd cheering for you that's for sure.
"I was happy to get a few touches and we had a lot more freedom than the Allies did. It was nice to be able to get a few kicks and play my role within the team."
With the clash showcasing the game's best AFLW talent, Donnellan said it was important to take in as much as she could from the talent surrounding her.
"It's nice to be able to have a couple of days prior to the game just to spend with the group to see how they go about their stuff.
"It was obviously a massive step up from our local WAWFL competition and it was also a massive step up from the regular AFLW season.
"It was the best of the best with the top 50 players out there going against each other. It was a great experience to play alongside such a fantastic and elite group of girls."
As the only Freo player in the Victorian side, Donnellan kept a close eye on her Freo teammates lining up for the Allies.
This included Kirby Bentley, who went off early in the match with an injury, as well as Hayley Miller, Ebony Antonio and Dana Hooker.
Donnellan and Hooker led the game with seven tackles each, while Miller and Antonio were also among the Allies' best.
"Even though I was playing against them it was exciting to see them, they'll always be my teammates," Donnellan said.
"It was obviously a tough day at the office with Kirby going down but it was nice to see the Freo girls get the ball and see Hayley Miller dashing down the wing."
"Ebony hung in there under pressure and Dana also contributed and played her role.
"I did notice the Freo girls a lot more than the other players and I was hoping they could play the best they could."
With a well-deserved rest coming up, Donnellan has her sights set on starting pre-season training with Freo in November.
"I'm looking forward to a bit of break ahead of our pre-season, but when I get back I'll be fit and ready," Donnellan said.
"I'm really hungry and can't wait to get started for the 2018 season and hit the ground running."
The views in this article are those of the author and not necessarily those of the AFL or its clubs