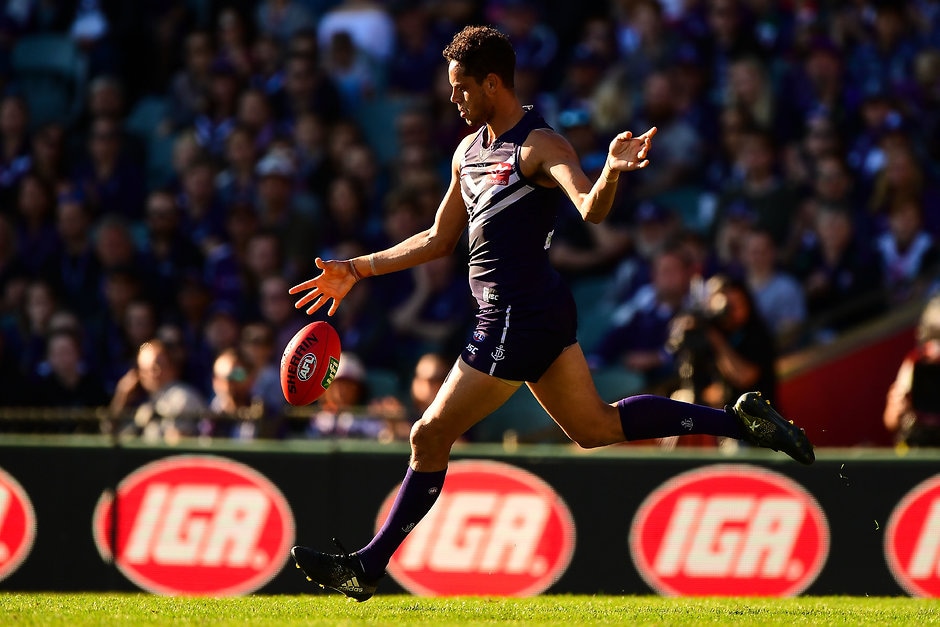 Michael Johnson is looking to get as much as he can out of 2018 after agreeing terms to play for Fremantle for another year.
The 32-year-old defender played more games in 2017 than he did in 2015 and 2016 combined, while continuing to show the form that earned him the title as the 'General' of Fremantle's defence.
This title was never more important in 2017, leading the likes of Joel Hamling, Luke Ryan, Griffin Logue, Ethan Hughes, Lachie Weller and Darcy Tucker in Fremantle's backline – all aged 24 years and under.
Johnson's 22 games in 2017 came off the back of suffering season-ending knee and hamstring injuries in Fremantle's round five clash with Carlton in 2016.
"You think about the future and what's going to happen after this season," Johnson said.
"After playing 10 games in 2015 and four games in 2016, my goal was to play as many games as possible.
"I've been in every game this year so, especially at my age and playing every game – I feel that I played a pretty consistent year.
"I knew that if the club was happy for me to go around again, I was happy to sign and, hopefully, help Fremantle in the upcoming season."
Johnson is not due back at the club until pre-season starts for the five-plus year players on November 20 and is enjoying being in the rare position of not needing to recover from any post-season surgeries.
"I want to be a part of everything that the coaches and the footy staff have got planned for the upcoming pre-season," Johnson said.
"There's no setbacks at all so, hopefully, I can tick every box over the off-season and come back in good nick and ready to help Fremantle.
"It's a bit different because usually, I'm recovering or with post-surgery. It's a bit of a bonus that I don't need any problems fixed and knowing I can be ready day one of pre-season."
The views in this article are those of the author and not necessarily those of the AFL or its clubs