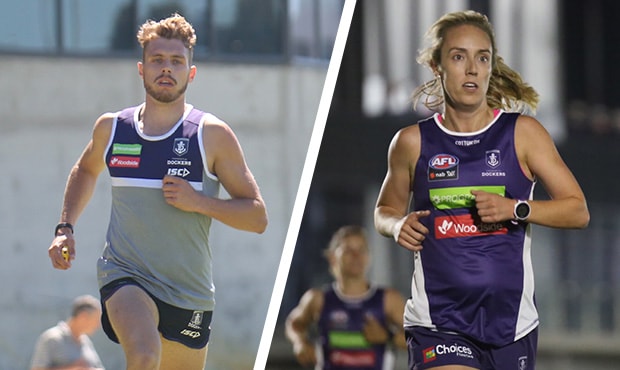 Tommy Sheridan and Lisa Webb have taken out Fremantle's 2km time trials held recently at Cockburn ARC.
Sheridan raced home ahead of runner-up Cam Sutcliffe in the men's time trial on Wednesday morning.
The men's time trial was ran in two different groups, with times compared later to determine the final placings.
Luke Ryan chased down Ethan Hughes to finish in a dead heat for third while Griffin Logue and Danyle Peace, who raced in different heats, finished tied for fifth.
Bradley Hill, who won both of Fremantle's 3km time trials during last year's pre-season, did not participate but was present at training with a number of senior players.
On Tuesday night in the women's time trial, new recruit Webb finished ahead of runner-up Dana Hooker.
Jade De Melo overtook a fast starting Kara Donnellan to take third, while Donnellan was fourth ahead of fifth placed Leah Mascall.
GALLERY

Tommy Sheridan

Cam Sutcliffe

Luke Ryan and Ethan Hughes

Griffin Logue

Danyle Pearce

Lisa Webb

Dana Hooker

Jade De Melo

Kara Donnellan leads the pack early in the women's time trial
The views in this article are those of the author and not necessarily those of the AFL or its clubs