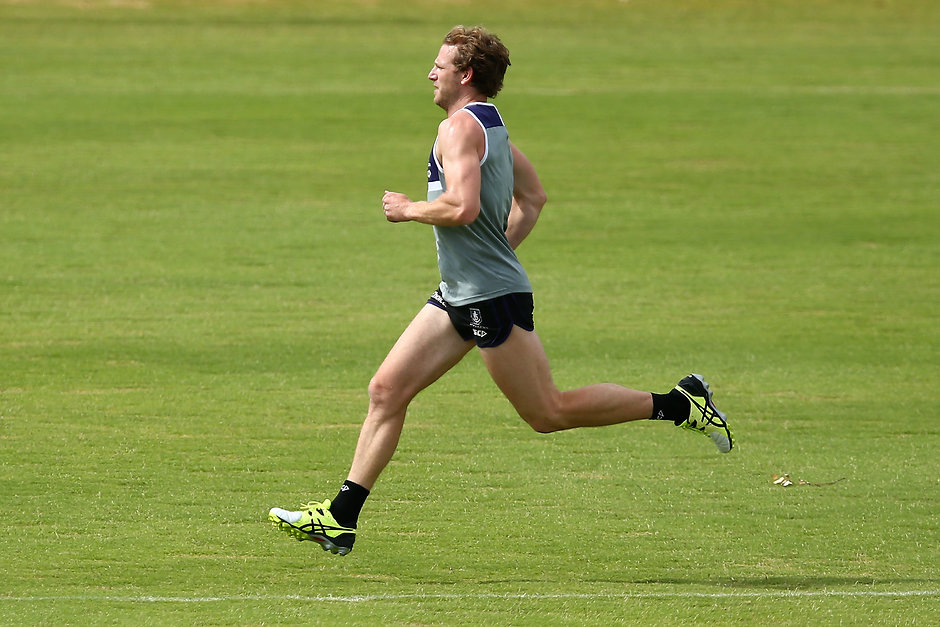 Fremantle veteran David Mundy believes he can play every game in 2018, and insists he won't be putting his "hand up to get off the bus" for a rest.
Mundy, 32, is the third-oldest Freo Docker on the list behind Aaron Sandilands (35) and Michael Johnson (33) and his experience remains important to a youthful squad.
Ahead of his 14th campaign in purple, the former skipper wants to continue guiding the club's rebuild and is confident his body can hold up for another 22-game marathon.
"I'm certainly not going to put my hand up to get off the bus or have a rest or anything like that," Mundy said at the team photoshoot on Tuesday.
"I'm preparing my mind and body as I do every year.
"My goal every year is to play as much football as I can and to play as well as I can, so that hasn't changed."
Mundy appeared in all but one game last season and finished fourth in the Doig Medal.
Despite his solid form splitting time between attack and midfield, there was speculation he might weigh up retirement at the end of last year.
However, the 272-gamer never seriously considered hanging up the boots.
"Not really. Mind and body still willing and able, I feel. The club obviously thinks the same or they wouldn't have asked me back," he said.
"As long as we have that kind of connection, that kind of relationship, I'm more than happy to ply my wares at Fremantle."
With 22 players joining the club since the end of 2016, Mundy forecast Freo's game style would evolve this season as Freo seeks to build on last year's eight wins.
"Obviously we want to win games of football, so regardless of how we go about and do that, that's our ultimate goal," Mundy said.
"Sometimes we mightn't play as well as we'd like and fans mightn't be as attracted as they possibly could be, but our ultimate goal is to win games of football.
"Personally, if we kick five goals and the opposition kick four, I'm more than happy to win games like that.
"So we're just working through that at the moment.
"As I mentioned before, (we've had) 22 new guys into the club over the last two years so the education process is really heavy at the moment and really intensive for those guys.
"We're trying to get everyone up to base-level of competency as quick as we can."
The views in this article are those of the author and not necessarily those of the AFL or its clubs