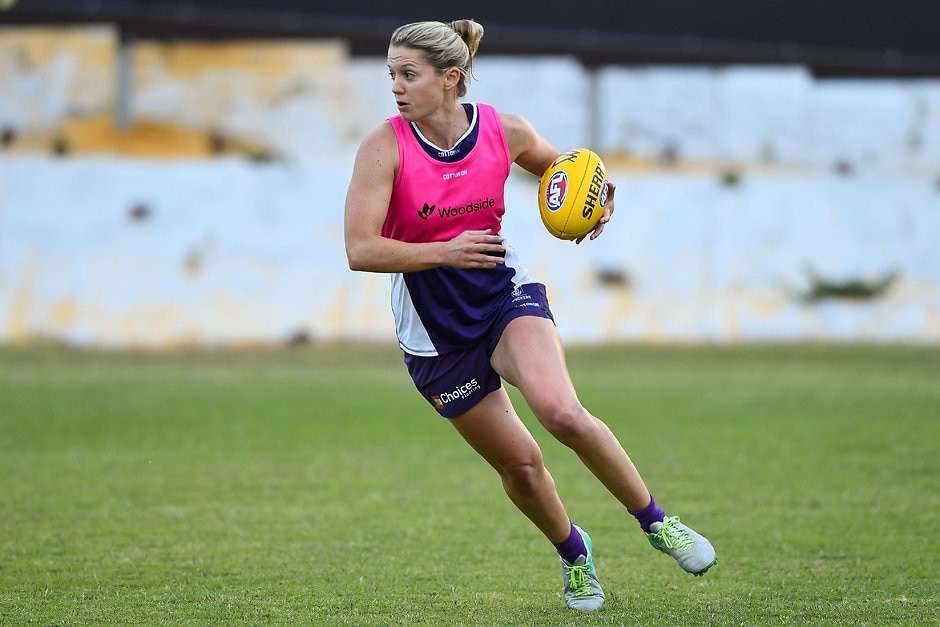 Amy Lavell is expecting a stiff challenge for Freo when they start the second NAB AFL Women's season, taking on the Western Bulldogs on Sunday at VU Whitten Oval.
The vice captain says she's seen improvement across the board at pre-season training as Freo takes on the lessons from a tough opening season.
But Lavell is also wary of the Bulldogs, who added youth to their already strong line-up, including no.1 draft pick Isabel Huntington.
"They've picked up some really good talent in the draft and they have some talented young girls coming through," Lavell said.
"So we're looking forward to testing how our structures go and we think we can take it right up to them."
Fremantle and the Bulldogs started the inaugural season as favourites, however, the Bulldogs finished sixth with two wins from seven games and Fremantle placed seventh with a win and a draw.
It's clear both teams will want to start 2018 with a statement and Lavell says it's crucial Freo get on the front foot early.
"I think the girls have a point to prove and we definitely have some unfinished business," Lavell said.
"We feel we should have done better than we did last year and I think the girls are looking forward to having a good start.
"It's crucial our run and our structures can hold up and our forward line make the most of our opportunities.
"If we get on the board early with some quick goals, that will hold us in good stead."
Fremantle started the year well with a pre-season win against Adelaide in Darwin on 20 January, however, Lavell was quick to state that pre-season results don't always reflect on future performance.
"It was different conditions and we had a (pre-season) win against (Adelaide) last year, and it didn't quite go to plan during the season," Lavell said.
"We're not taking too much from it but it's good to be able to review what we did well and look at where we can improve."
This level-headed leadership will be crucial as Lavell takes on an increased role in 2018.
Fremantle moved from a five-person leadership group in 2017 to one captain and two vice captains in 2018.
While Kara Donnellan has the reigns as captain for the second year, the vice captaincy is new to Lavell, who will shoulder the responsibility on her own early in the season as fellow vice-captain Kiara Bowers returns from injury.
Lavell, who was awarded Best Clubwoman at the 2017 Fairest and Best, says that her title doesn't diminish the leadership required from the team's most experienced players.
"I think it's not so much the title of having vice captain," Lavell said.
"As one of the older members of the team, we have that onus on us to be a leader in the team and to look after the girls.
"I think I've got the experience and I can help the younger girls with that.
"Obviously, Juddy (Donnellan) leads from example and I enjoy working both with her and Kiara."
The views in this article are those of the author and not necessarily those of the AFL or its clubs