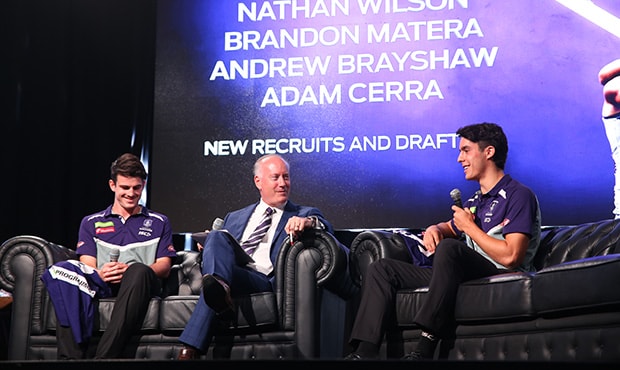 There was no holding back during the pre-season with Adam Cerra telling a story at Tuesday's season launch about how he came off second best at training.
In a Purple vs White intraclub scratch match in February, Cerra had his first opportunity to play with and against his new teammates.
Unfortunately for the no.5 draft pick, his time on the field was short lived.
"It was my first hitout and I only lasted 10 minutes," Cerra said.
"I was trying to chase Bailey Banfield and on the other side of him, who I couldn't see, was Nat (Fyfe).
"We had a collision and I guess you could probably tell who would come off worse in that scenario, I don't think he had a scratch on him!"
Fyfe helped Cerra to his feet prior to Cerra coming off the ground. Since then, the 18-year-old made his first Fremantle appearance in a scratch match against West Coast at Lathlain Park and has impressed for Peel in two WAFL pre-season matches.
Cerra joked about owing Fyfe one in the future.
"I was on the ground for a little bit but I'll get him back," Cerra said.
"I think he popped up straight away anyway. He was trying to nurse me and see if I was alright.
"It's pretty hard to knock down Nathan and keep him down."
While Cerra's learned to keep on eye out for Fyfe on the field, the new draftee has also been looking up to Fyfe in all aspects of his game.
"He's an awesome role model, he's very professional," Cerra said.
"I learn off him and it's the way he trains, the way he acts off the field and everything.
"That's probably why he's so good, he's definitely a great person to learn off."
The views in this article are those of the author and not necessarily those of the AFL or its clubs