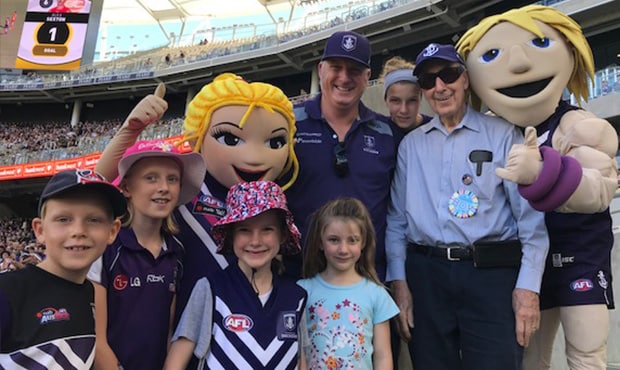 A group booking to a Freo game has given Kevin Lang an 88th birthday to remember.
Kevin's grandson Mark made the most out of a group booking opportunity that saw 16 family members from four generations watch and celebrate Freo's 28-point win against Gold Coast in round three.
Johnny and Jenny Docker even visited the group during the game to present Kevin with a birthday card.
"We loved it, it was great," Mark said.
"We really enjoyed the game, enjoyed the new stadium and both my grandfather, and the kids especially, got a big kick out of seeing Jonny and Jenny come along."
Mark, whose birthday is two days before his grandfather's, said he got the idea when Kevin said he'd like to see a game at Optus Stadium.

MAKE YOUR GROUP BOOKING FOR THE LEN HALL TRIBUTE GAME
"It was just a coincidence but we got an email about my birthday coming up and if we'd want to book a birthday," Mark said.
"Later on that night we were speaking to my grandfather about what he'd like to do for his birthday and he mentioned off the cuff that he wouldn't mind going to see the new stadium.
"The game was the same day as his birthday so I just figured that we would book and bring the whole family."
For a Freo-loving family, there wasn't anything better than seeing Freo get up for a win.
"The whole family are Freo fans," Mark said.
"We had 16 people there from three of his grandchildren and five of his great grand children, so it was great."
Fremantle's group ticketing program is a great opportunity to take a group of 10 or more people to a game. With a range of incredible seating options and exclusive match day experiences you can make your group's trip to the footy one to remember!
Discounted ticket prices, special experiences and your own personal account manager at the club make booking your group experience easy and convenient.
The group ticketing program is perfect for businesses, sporting clubs, schools, community groups or celebrating a birthday or special occasion.
The views in this article are those of the author and not necessarily those of the AFL or its clubs