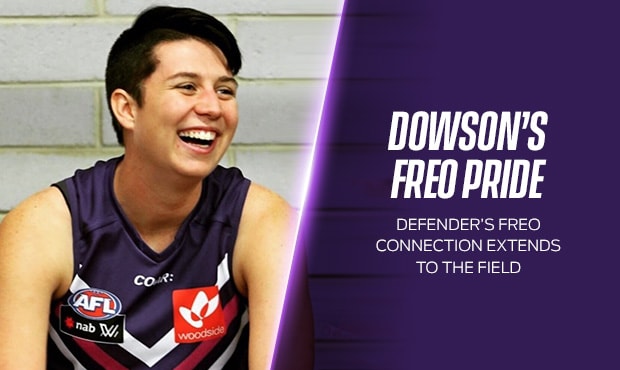 Serpentine Primary phys ed teacher Ebony Dowson didn't have any time to process being drafted to the Fremantle Dockers.
After watching the 2018 NAB AFLW Draft through her dot time on Tuesday morning, Dowson's name was called at no.64 just as the bell rang for her first class of the day to begin.
What followed was a moment the 28-year-old will never forget.
"As soon as my name was called out I had to go straight into class," Dowson said.
"I think one of the teachers told the students and they pretty much started cheering me as I was walking to class."
Dowson's push to the AFLW hasn't been a secret to her students, taking part in the schools running club sessions as a part of her training regime.
It's something she plans to keep doing as she prepares for her first AFLW pre-season in mid-November.
"I've come to the running club at school so I run with them twice a week," Dowson said.
"So I think them seeing me put all the hard work in and then succeed…to see them so proud was a really proud moment for me as well."
Drafted as a defender from Peel Thunderbirds, Dowson said her run was a crucial asset to her game.
"I play most of my footy off half back," Dowson said.
"I think as a player, I aim to run and create off that half-back line and I like to read the play and make a decision.
"I'll then try and use my sprinting ability to take off and create opportunities."
Dowson and her family have a long-standing relationship with Fremantle through a connection with the Starlight Children's Foundation.
The family has been responsible for raising more than $250,000 for Starlight in recent years through their annual functions in Kalgoorlie.
"It started off with just casual barbeque in the backyard raising some funds and then I think it was about four years ago, my sister Tayten was diagnosed with a serious health condition," Dowson said.
"Since then we've really amped up the amount of money that we wanted to fundraise for Starlight.
"Obviously, when you experience those things first hand it hits home so we just tried to do as much as we can for Starlight.
"Freo are really supportive of that and like to donate a lot to our events, so we really appreciate everything they do."
The views in this article are those of the author and not necessarily those of the AFL or its clubs