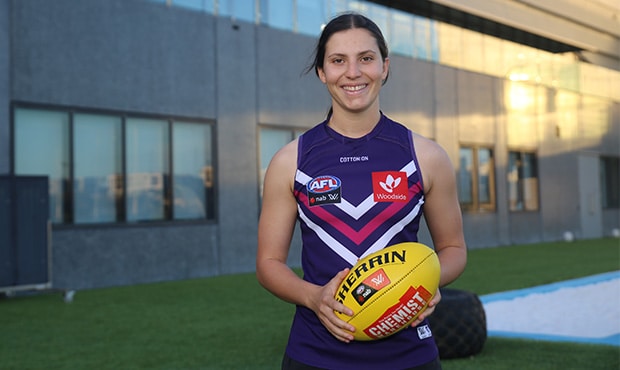 When Matilda Sergeant entered her phys-ed lecture at Notre Dame on the day of the NAB AFLW Draft, she was planning to keep an eye out to see which of her friends would get picked up.
She left the lecture as a Fremantle Dockers player.
The 19-year-old was one of three Claremont Tigers players to get selected on the day, with Sergeant drafted with pick no.62.
"It was so unexpected," Sergeant said.
"I had the live stream going while I was listening to the lecture. When it came to Freo's picks I started to pay attention to see if one of my mates would get picked up.
"I looked at the screen and there was my face. It was crazy and I showed a couple of my friends and they started going wild. The lecturer threw his papers in the air!
"Then we continued on with the lecture for an hour and my phone exploded. Afterwards, I rang everyone back."
At Fremantle, Sergeant will re-unite Fremantle senior coach Trent Cooper, who coached her during her time with the WA U18s team
"Trent has been my coach for the past two years in the under 18s," Sergeant said.
"I really love him as a coach. I think he really understands getting the balance of having fun but also the seriousness of footy, when to put the work in, when to focus and also when to chill out and relax.
"I think he's really good at building relationships with the girls and he has a laugh.
"I really rate him as a coach."
Fremantle will start their AFLW pre-season training on Wednesday 14 November and Sergeant believes she is ready for the challenge ahead.
"I think it will all hit us when we start training," Sergeant said.
"For me, I've been training almost daily since the start of the year, so I hope (the step up) will become normal and it won't take much to get used to.
"I'm really excited to get started."
The views in this article are those of the author and not necessarily those of the AFL or its clubs