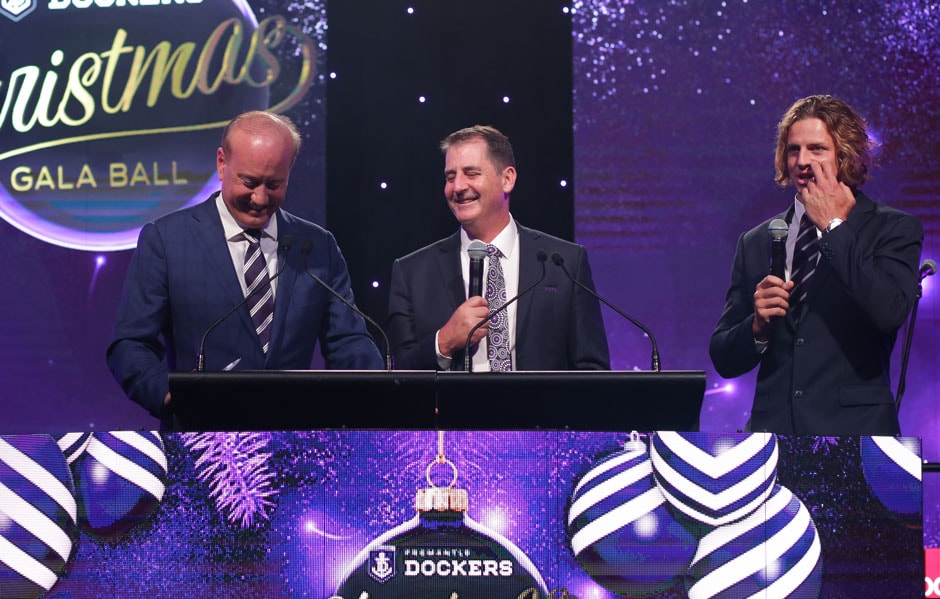 Senior coach Ross Lyon is enjoying the enthusiasm Fremantle's 10 new recruits have brought to the club, he told more than 500 guests at the club's Christmas Gala Ball and AFLW Season Launch on Friday night at Crown Perth.
Fremantle have added 32 new players to their list in the past three seasons, including 10 new recruits in 2018 and with that Lyon said there was a 'real vibrancy'.
"Someone once said the only constant in AFL football is change, so that rings true," Lyon said.
"Ten new players have been welcomed tonight and we are really thrilled to have them, particularly the experienced players from other clubs that have brought so much already in regards to character and enthusiasm."
Lyon recalled a conversation he had with president Dale Alcock earlier in the evening about one of the club's experienced recruits, Jesse Hogan.
"I was just speaking to the Dale and he said he checked in with Jesse," Lyon said.
"Jesse said at a lot of clubs it's the senior players that really drive the vibrancy, even though our guys do, but he said here there are so many young guys that are so vibrant and everyone is really jumping on the back of that."
After returning from a holiday in Central America, Nat Fyfe assured fans he had recovered from post-season surgery and was mentally and physical back into full training.
Fyfe also echoed Lyon's comments about the club's recruiting through the AFL trade period and draft.
"The club deserves a pat on the back for the people they have brought in this year. We are seeing the recruits from other clubs really bring that leadership and a little bit of IP from where they have been previously," Fyfe said.

"Travis Colyer and Reece Conca in particular with their knowledge and things they have learnt at their time at their previous clubs."
"The six guys that we drafted into the club are at different stages. We've got Sam Sturt who is built like I was when I was first drafted at 71kg, he's got some work to do but he's really enthusiastic.
"All the way through to Brett Bewley, who looks like he's a ready-made AFL player and should be in line for selection in the early rounds of the year."
The views in this article are those of the author and not necessarily those of the AFL or its clubs