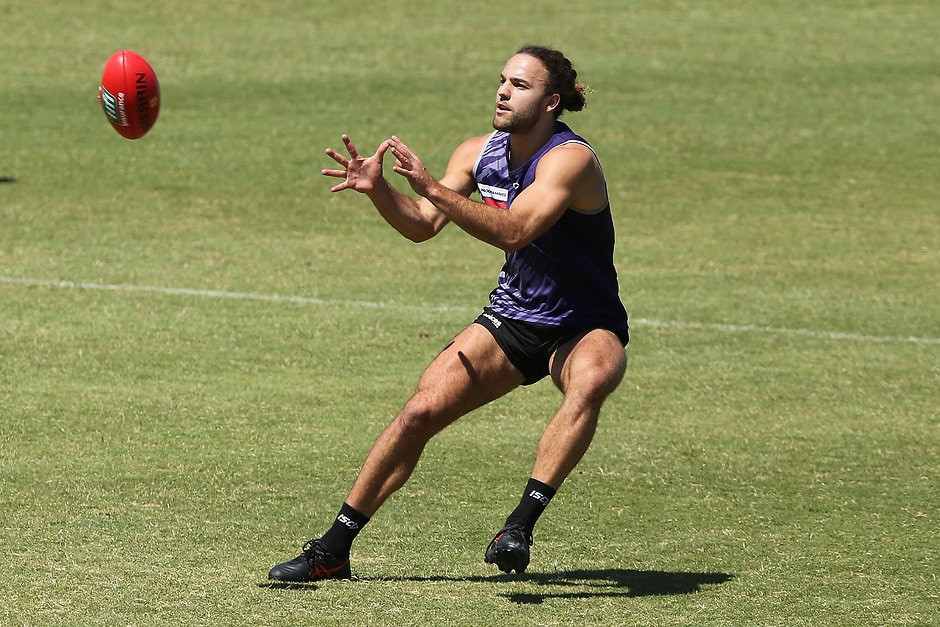 Griffin Logue may not have played a game of AFL football in 2018 due to injury but the hulking defender feels he's developed as a person and is better equipped to take the upcoming season on.
Logue had a promising debut season playing 13 games in 2017 but missed the entire 2018 season due to foot and ankle injuries.
The 20-year-old said he isn't taking anything for granted this pre-season.
"I'm feeling really good. It was a pretty different year for me as I pretty much haven't been injured my whole life," Logue said.
"To have a whole year off footy makes you miss it a lot more. Now I'm definitely not taking it for granted.
"Being able to train every day is something that I'm really enjoying."
Logue said he looked to fellow defender Alex Pearce for guidance through a significant period in the rehab group, with Pearce missing almost two years of football between 2016 and 2017 with a broken leg.
"Alex was someone who I would go to if I was struggling and he was always a good at giving advice in how to get through it and finding the best way to push through it," Logue said.
"A lot of (the time in rehab) you're on your own and it feels like that, but it feels like I've definitely benefited from it.
"I've matured in a way from it, so for me it's almost a blessing in disguise."
After an impressive start to pre-season, Logue is hopeful he can break into a backline that is running deep with young talent.
"I want to try and play as many games as I can," Logue said.
"I missed a whole year of footy and I want to try and make sure that I can really cement myself in the team and put my best foot forward for the years to come.
"At this stage, it's mostly just getting back on track and making sure I can stay on the field, stay healthy and play a lot of footy."
The views in this article are those of the author and not necessarily those of the AFL or its clubs