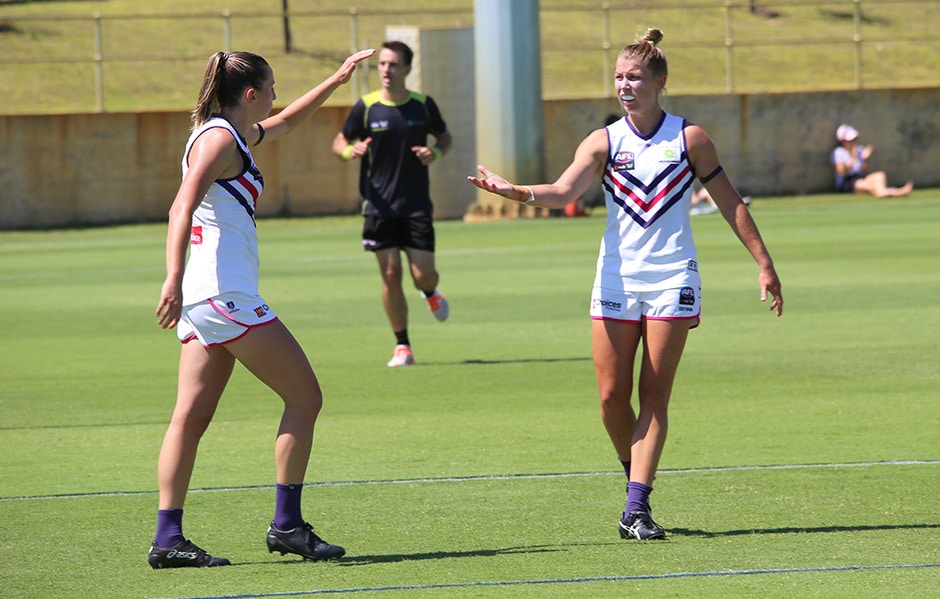 Fremantle's AFLW team can take confidence from an impressive team performance during a match simulation with the WA State Academy on Saturday at Victor George Kailis Oval.
Freo fielded players on both sides, with six players rotating through the State Academy team – including Fremantle's primary defensive unit for the second half.
Fremantle's forwards enjoyed a successful day as temperatures reached 30C, with the likes of Gemma Houghton, Gabby O'Sullivan, Kellie Gibson and Ashley Sharp teaming up well.
GALLERY: Check out all the photos from the match sim here
Dana Hooker and Kara Donnellan once again led the way in Freo's midfield while Kiara Bowers made a steady return from injury with a goal, starting each quarter on the bench and playing limited minutes.
Great to see Kiara Bowers out in the Freo colours 😍
She's on limited minutes starting each term on the bench #aflw #foreverfreo pic.twitter.com/qW8Z9CKrpo

— Fremantle Dockers (@freodockers) January 12, 2019
New draftee Parris Laurie impressed in her first Freo hitout in the ruck, taking on the lead role with Alicia Janz watching from the sidelines.
Senior coach Trent Cooper said he was pleased to see the team adapting quickly to a new game plan, with Freo's season kicking off on Sunday 3 February against Melbourne at Casey Fields.
How the throw-ins will look this year in the #aflw #foreverfreo pic.twitter.com/mgiG2kUrsT

— Fremantle Dockers (@freodockers) January 12, 2019
This Saturday, Fremantle will play a pre-season clash with Adelaide in Darwin at TIO Stadium.
See below for the full post-match Q&A with Trent Cooper.
Take us through what we did today, it wasn't exactly a pre-season game?
No, we had 26 fit players available so we wanted to get as many minutes into them as possible so we had 20 on our side and we put six across into the WA academy. In the second half we put our whole backline over there to give our forwards and backs a real challenge. We got a lot out of it that we wanted to, which was good.
A good test in the heat?
We were really keen to play in the heat. We've got to play two games in Darwin (one pre-season and one in the AFLW season), Freo Oval in the afternoon, and all of our games will be in the heat really so we actually want to make that to our advantage so it was good to get those conditions today.
Was this your first chance to test the gameplan for this year?
Absolutely, we've been testing it at training but it's always a bit different and we've really only bedded it down in the past three weeks so we're really happy with how the girls have taken it on board. I've actually been surprised with how quickly they've taken it on, I thought it would take longer to do a lot of the things we wanted.
What impressed you most out there?
I think our forwards, they've just been training like that as well. They've just got a great feel at the moment. They're really enjoying each other's successes and it doesn't matter who kicks the goal, just how many we kick and that was the real highlight from today. The work they were doing to help each other score, and the defensive aspect of it, was really pleasing.
Our backs have been really improving and I thought it was another step forward today for them. We're undermanned at the moment as we haven't had Alex Williams and it was Tayla Bresland's first run. They're coming together well and our midfield is gelling well too.
Parris Laurie in the ruck was also one of our better players today so she was really exciting for sure.
There's different roles for different players and they're adapting really quickly.
Can you run through why the backs switched to the other team in the second half?
Six backs went across and we wanted to make it as hard of a challenge for them as possible. It was a really good test for them and I thought they stood up well and they gave our forwards a good challenge to make sure they didn't get it too easy.
Great for Kiara Bowers to get out there?
It was really good. I haven't spoken to her yet about her game. She just had an even game and finished really strongly. It's really hard coming back. We see it in the men's - sometimes it can take half a season to one season to get back to your best and we don't even have half of a men's season. I'm not expecting too much from Kiara and I told her that and she said 'too bad I'm expecting a lot from myself' and today was just another box ticked. She was on limited minutes and she can go to Darwin now with confidence.
Now it's going to be a test for their recovery, especially the new players.
They're getting straight into it now, we need to be doing that as we have a couple of six day breaks in the season so we have to make sure they do the right things, rehydrate, have a session with the dieticians and do everything they possibly can. They're really professional so I expect them to do that well.
And then we're on the plane to Darwin.
We fly out on Friday to Darwin. We're expecting 80 per cent humidity and temperatures in the 30s. Even though we'll be playing at 8pm it's still going to be warm and we're expecting slippery conditions. That will be a good chance to play against an AFLW opposition…Adelaide are one of the best teams in the comp so it will be good to test ourselves against the best.