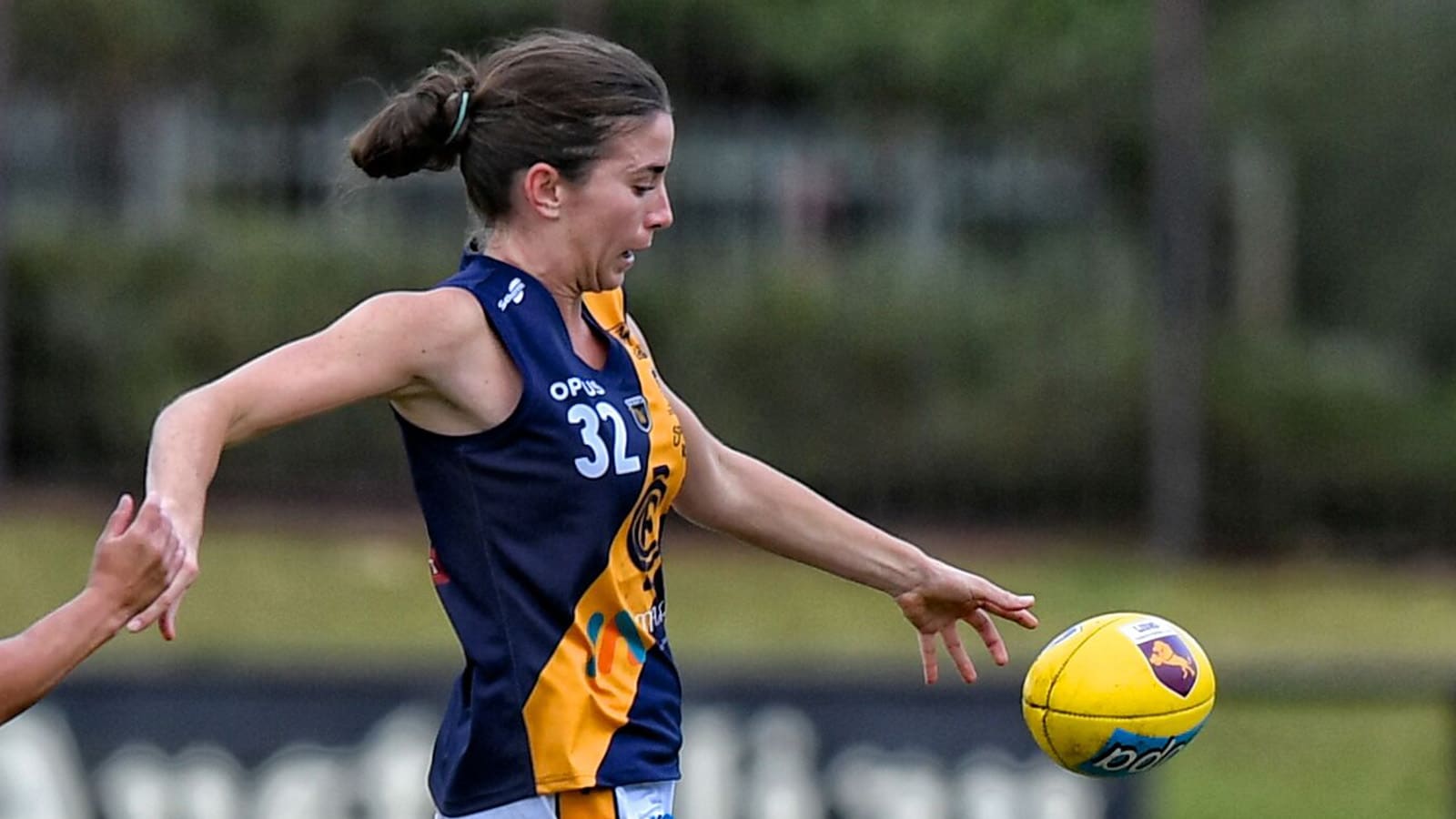 Eleven Fremantle-listed players were in action in round 13 of the WAFLW.
Senior coach Trent Cooper talks us through his thoughts on the round.
Peel Thunder 5.3 (33) def by Claremont 8.4 (52)
This was a really high quality game. Peel started well and were up at half time before Claremont gradually worked their way over the top to earn the win.
Tayla Bresland (Peel)
Tayla was one of Peel's best players. She played back, had close to 10 intercept marks and kept driving the ball out of defence. It was really pleasing to see how clean her marking was. We'll be looking for her to transfer this form into the AFLW as she's going really well at the moment.
Katie-Jayne Grieve (Peel)
Katie-Jayne had one of her best WAFLW games. She was really competitive and played inside mid. She had lots of tackles and got the ball moving Peel's way, particularly in the first half. Katie-Jayne spent a bit of time forward at our request where she showed really good forward pressure and got hold of the ball a bit too. That's something we would like her to continue working on.
Sabreena Duffy (Peel)
Sabreena had her best game for the season. Her first half was close to her at her best, she played really well but her fitness gave way in the second half and she drifted out of the game. Overall, there were very promising signs from her.
Laura Pugh (Claremont)
In my opinion, Laura was Claremont's best player. She played as an inside mid and she had 27 disposals, which is excellent for a game of that length. She used the ball well, set up behind the ball when she needed to and distributed it really well. While her form has been really good for the past month, she had a bit of a quiet game last week. For her to bounce back quickly with this performance was really pleasing to see.
East Fremantle 5.8 (38) def by Swan Districts 7.2 (44)
It was a little bit windy but it was played in fine conditions. Similar to the Peel/Claremont game, there was some really good footy played by both teams and it was also a come from behind win. East Fremantle got out to a two-goal lead and they probably could have led by more if they kicked straighter. This left Swans with a chance and they finished really strongly. The Swan Districts forwards shared the load with seven individual goalscorers.
Evie Gooch (East Fremantle)
Evie was one of the Sharks' best, playing as an inside mid in the sweeper role. She won plenty of centre clearances and drove the ball forward. She went forward when East Fremantle needed a boost late and kicked a goal to give them a sniff.
Philipa Seth (East Fremantle)
Phil played in the backline against a star-studded Swan Districts forward line. She played on a few different players, including Kellie Gibson and Ebony Antonio, so Phil had her hands full but she handled it very well. It wasn't a high possession game but she did a good job at containing her opponents.
Gabby O'Sullivan (East Fremantle)
Gabby was very lively across half forward, particularly in the first half. She looked dangerous, she had a goal assist and took some good lead-up marks. The ball didn't really get to her in the third quarter and she drifted out of the game for a bit. Gabby then moved inside in the final term to try and give East Freo a lift and she helped get the ball going their way with some inside 50s.
Gemma Houghton (Swan Districts)
East Fremantle had a shut down defender playing on Gemma, who was very physical and made it a difficult task – this is exactly what we like to see as she's going to get that at AFLW level. Gemma worked her way through it, she had a quiet first half but she finished really strongly with a goal, a goal assist and some good forward 50 tackles. We were really pleased to see the way she worked through the challenge.
Ebony Antonio (Swan Districts)
Ebony played forward and she kicked a great running goal in the first quarter. She was starved of a bit of opportunity when East Freo had the momentum, but she still did her role up forward and then went back in the last quarter. This was when East Freo were kicking into the breeze and they had a lot of trouble getting past her. It's still great to see how Ebony can just switch straight to that defensive role when needed.
Stephanie Cain (Swan Districts)
It was a game of two halves for Steph. She was on the wing early, and while she didn't make many mistakes, the ball didn't get near her much. I feel she was the best player on the ground in the second half. There was one crucial passage of play where she kicked the ball long out of defence – she was the first to get to it, gathered it cleanly and got the ball moving again. She probably had 120 metres gained just in that one play and Swan Districts ended up with a goal.
Ange Stannett (Swan Districts)
Ange had a bit of a break on holiday, and with a couple of weeks of training, she jumped straight back into it. It was probably her best game for Swans all year, she played on ball and had a run-with role with one of East Fremantle's prime movers. Ange clearly had the better of her opponent and won the ball a lot herself. We were really pleased to see her do that, and it gives us an option to use her in that role in the AFLW season as well.
The views in this article are those of the author and not necessarily those of the AFL or its clubs