A custom-painted Fremantle Dockers tractor and a GPS line marking system are some of the new features scheduled to be unveiled at Fremantle's new elite training and administration facility (ETAF) at Cockburn Central West.

Programmed grounds division state manager Nick Clayton said the company had been working hard to ensure Fremantle's training ground was one of the best in the competition.

"We'll be the first AFL club to have a tractor in full branding and marketing of the club it represents," he said.

"We're at a stage at the oval now we're we can physically sit and watch the grass grow.

"You see a lot of players rolling ankles and doing knees, we've [made] the firmest possible surface that's not going to give way when a player stops or props."

Alongside the new soil profile, co-major sponsor Programmed has utilised a new GPS line marking system and a movable goal system that can assist in the reproduction of different sized grounds.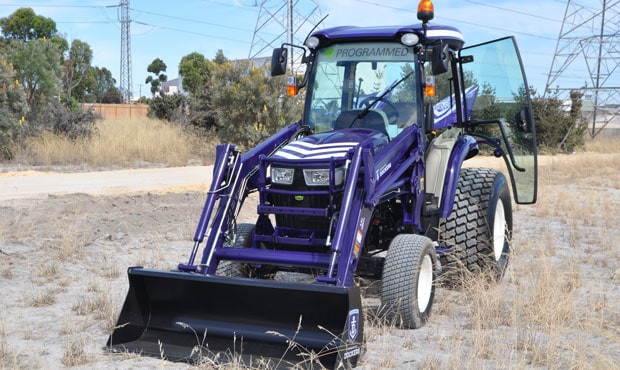 "A lot of clubs now are constructing two different ovals so they can play on different sized grounds, we can actually reproduce up to 13 different AFL grounds across the competition on the system we have," Clayton said.

"We've sourced a GPS line marking system all the way from Switzerland.

"We can dial in Etihad stadium or the MCG and walk out and mark the ground without any measuring devices or usual situations of how you mark up an oval."

The ETAF will also feature a state-of-the-art reticulation system that can be remotely monitored at the touch of a button.

"We've got the irrigation set up to a wind speed detector, if the wind gets too hard overnight it will shut the water down and start it again when the wind dies down," Clayton said.

"If we suddenly have a downpour of rain we can automatically shut the watering system off so we don't waste water overnight.

"I can check on my iPhone or home computer or if I'm on holidays overseas I can dial in and see what the temperature is like and the wind speed."