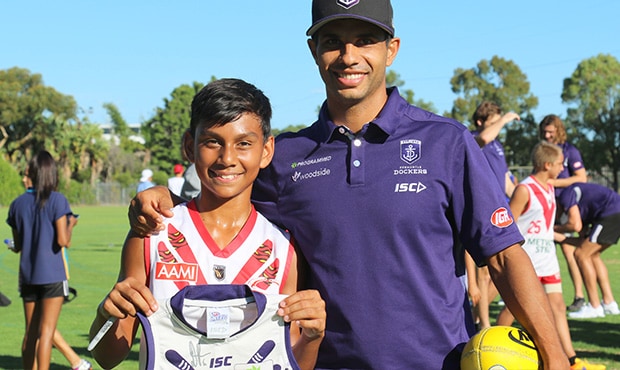 A chance encounter has helped give a football clinic extra meaning to Danyle Pearce.
Alongside six of his Freo teammates in Tommy Sheridan, Cam McCarthy, Joel Hamling, Connor Blakely, Sean Darcy and Brennan Cox, Pearce helped run a training session for the South Fremantle teams competing in next week's Nicky Winmar and Kirby Bentley Cups.
And at the session at South Lakes Reserve, Pearce was delighted to be reunited with the son of one of his old friends and former teammates in Daniel Motlop.
Pearce and Motlop played together for six seasons at Port Adelaide, and Pearce said he's known young Jesse "since he was in nappies".
The 248-game AFL player also has high hopes for Jesse to follow in the footsteps of his father, saying there wasn't much he could teach that he didn't already know.
"He's got a great family background," Pearce said.
"I'm sure his family have been teaching him everything he needs to learn."
Both cups bear the name of pioneering indigenous football players from WA in Nicky Winmar and Fremantle's AFLW co-vice Captain Kirby Bentley, and are played as carnivals for indigenous boys and girls aged between 12 and 15.
At the clinic, Pearce was quickly given the nickname "Pearcey", and helped take the kids through ground ball drills, kicking drills and leading patterns.
To Pearce, it was clear that the afternoon meant just as much to the players as it did to the kids.
"This is a great experience," Pearce said.
"They guys get to come out and lend a hand and help out and see the kids all excited and happy to see us.
"We get to have a chat with them and talk to them about what they're doing in life, and how they're going in sports.
"It's been a good opportunity for both us as players and for the kids out here doing the carnival."
The views in this article are those of the author and not necessarily those of the AFL or its clubs