The day before he was due to make his first senior appearance for Fremantle in the JLT Community Series, Griffin Logue found himself just down the road from Domain Stadium.
But for a small window on that Thursday afternoon, his mind was far from footy.
Instead, Logue and teammates Lachie Neale and Garrick Ibbotson put footy aside for a few hours to visit the Starlight Express Room at Princess Margaret Hospital for Children.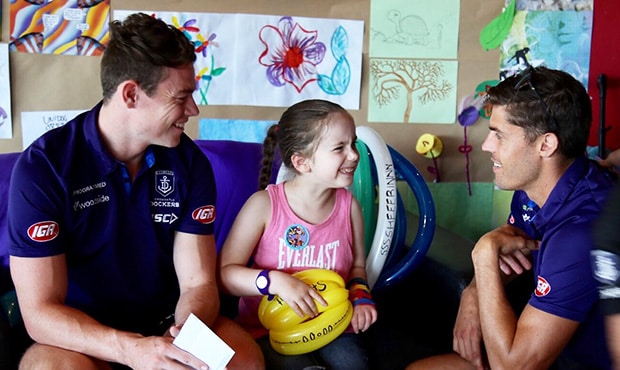 Lachie Neale, Orlena and Garrick Ibbotson
Rocking Freo's new Starlight themed shoelaces, Logue, Neale and Ibbotson met with seven-year-old Orlena, who will be Fremantle's Purple Haze Star and will run through the banner with the team at Freo's Starlight Purple Haze game against Geelong in round one at Domain Stadium.
A die-hard Freo fan, Orlena beamed as she chatted, sang and danced with the Freo boys.
"It's been an eye-opening experience," Logue said.
"It's great to see these kids who are just so happy, and the smallest thing can make their day."
Logue and Orlena also helped each other switch into their new purple shoelaces.
"I love it, I reckon it's a great idea," Logue said.
"They're wicked to see and they go well in the purple."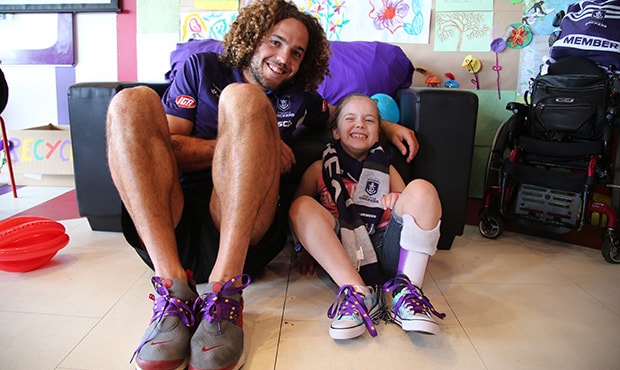 Griffin and Orlena modelling the Starlight shoelaces

Logue also took the chance to visit the PMH ward to visit the younger brother of one of his best friends, where they talked life, school and the game the following day.
"Reagan's one of my good mates little brother, he dropped a weight on his foot and hasn't been in the best shape," Logue said.
"He was in a lot of pain but it was good to see him. He seemed to be in pretty high spirits even though he couldn't move anywhere.
"He's a diehard Freo fan, so I think anyone (on the team) would have pleased him, but I was lucky enough to be able to come in and make his day."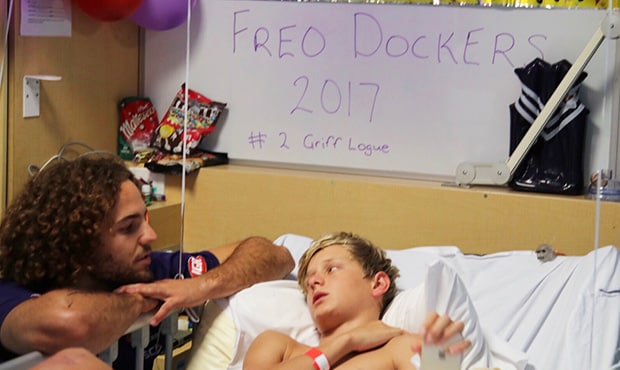 Logue chats to Reagan