It was an "overwhelmed" Dana Hooker who stood up before the crowd at Ambrose Estate to accept Fremantle's inaugural AFL Women's Fairest and Best Award.
With her thrilling one-vote win over captain Kara Donnellan, Hooker became Fremantle's first female club champion - and joined the likes of Matthew Pavlich, Nat Fyfe and Peter Bell as a member of Freo's elite club.
"It's beautiful, and I'm going to treasure it for the rest of my life," Hooker said about her medal.
"To be the very first Fremantle Fairest and Best for the Women's league is something special.
"I don't know if it's fully sunk in yet. I kept saying to the girls when I was having the photos taken - 'has this really happened?'"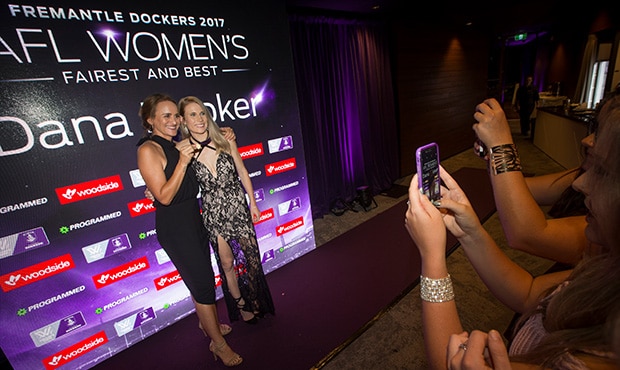 But to Hooker, the historical meaning of her achievement paled in comparison to what it meant about the future.
At home was Hooker's nine month old daughter, Alice – and the midfielder couldn't wait to share her triumph.
"I think the first thing she'll do with it when she gets her hands on it is put it in her mouth, as that's what she does with everything these days," Hooker said.
"Being a baby she won't know what's going on, but come a few more years from now this will be something that she'll be proud of, which makes me even more proud."
At 26, Hooker was able to put up one of the most outstanding seasons in the inaugural AFLW season while juggling life as a mum and her work as a paediatric occupational therapist.
And it a was done while doing something no one in the AFL has done before – playing competitive football at the highest level within months of giving birth.
Hooker said she hopes the medal can be a symbol to daughter.
"It sets an example about what she can do in the future," Hooker said.
"She can do anything she wants to do, whether it's sport, work or anything like that - she's got equal opportunity as a female.
"I'm just really excited and really privileged to have this position, and feel really proud that I can pass that on to her."