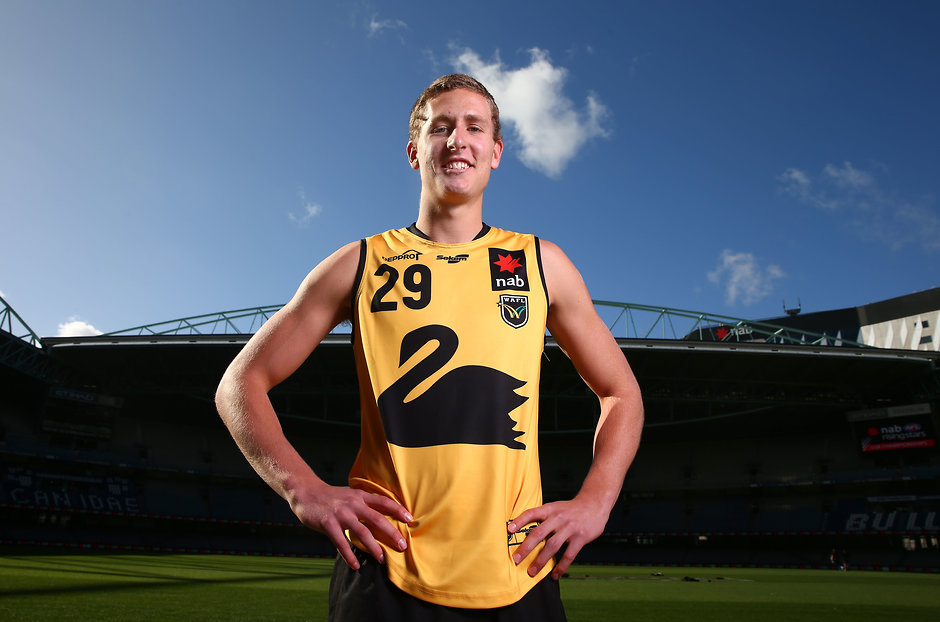 It's that time of the year again. The NAB AFL Under-18 Championships are over, which means we're ready to order the top group of prospects in this year's draft pool.
This is AFL.com.au's first Phantom Form Guide for 2017, where we rank the best 25 players available to clubs at this year's draft.

Just as a reminder, this is purely a ranking and does not take into account the selections held by clubs or academy and father-son prospects.
It is also not a mock draft. It is simply a list of the best players from our view. The Phantom Form Guide will be updated monthly in the lead-up to November's draft.

POS: Half-forward/midfielder, Ht 187cm, Wt 88kg, DOB 21/10/1999
From Western Jets/Vic Metro
It's been a sharp rise this season for Rayner, who has exploded into No.1 pick contention. The powerful midfielder/half-forward ticks a lot of boxes: he's a long and penetrating kick on both feet, he's got a leap to take grabs in the air, he's dangerous in attack, quick off the mark and a bull at stoppages. He showed all of that and more through the national carnival, having a brilliant few weeks for Vic Metro. His dominant five-goal haul against South Australia in round four showcased his ability inside 50, and his 23-disposal and six-clearance effort against WA highlighted his midfield capacity. There's a lot to like about Rayner.
POS: Midfielder, Ht 187cm, Wt 85kg, DOB 8/6/1999
From Dandenong Stingrays/Vic Country
The tough, composed and hard-working midfielder started his carnival in brilliant fashion, steering Vic Country to a win over the Allies with 34 disposals and 10 marks in a dominant display. He didn't quite have the same impact thereafter, but recruiters are well aware of his talents. Davies-Uniacke is the right size for a modern midfielder, he's competitive, good by foot and has a turn of speed, evident in his breakaway goal from a centre clearance against Vic Metro in round three of the carnival. Davies-Uniacke is a prospect you can see playing plenty of games at AFL level next year.

POS: Midfielder, Ht 186cm, Wt 85kg, DOB 7/10/1999
From Eastern Ranges/Vic Country

Cerra didn't blitz at the carnival but is a midfielder you can depend on. He's classy by foot, keeps running all day, makes space for others with his hands and never appears rushed into his decisions. He had 24 disposals against Western Australia in Metro's round one win and 17 touches, seven tackles and seven clearances in their title-sealing win over South Australia at Etihad Stadium. A knee injury limited Cerra last season but he has pieced together a year of consistent showings in 2017 that makes him one of the leading midfielders up for grabs.
Adam Cerra rides a tackle during Tuesday's under-18s clash with the Allies. Picture: AFL Photos

POS: Half-forward/midfielder, Ht 192cm, Wt 92kg, DOB 25/9/1999
From Glenelg/South Australia
Fogarty couldn't get going in the championships for South Australia. He was moved around into different spots to find his form and had a few excellent moments, including a clever sidestep and long goal against the Allies in round two at Adelaide Oval. He was moved to defence for his state's final game against Vic Country at Simonds Stadium. Fogarty is a tough, physical, commanding player when up and going: he's a great mark and a damaging kick and is big enough to play as a leading target in attack.
POS: Key forward, Ht 195cm, Wt 90kg, DOB 27/10/1999
From Scotch College/Vic Metro
Sutherland still has to make a call on whether he pursues cricket or football professionally, but for the purpose of this exercise we'll keep him in the AFL draft pool. Clubs are certainly hoping he goes that way, as Sutherland is perhaps the best key position player his age in the country. He played three games for Vic Metro at the championships and stepped up well, showing his athleticism, marking ability and classy finishing skills. Sutherland also spent some time in the midfield, where he gave recruiters more of a look at his movement and game-reading ability.
Draft stocks rising, but will Will stick with footy?
POS: Key defender/key forward, Ht 194cm, Wt 89kg, DOB 11/2/1999
From Bendigo Pioneers/Allies
It seems most are of the view Brander is better placed as a key defender than a key forward, and that's where he spent most of his carnival with the Allies. However, in the final game for the Allies he moved forward, kicked three goals from 16 disposals and nine marks, and played an outstanding game. It was a timely reminder he remains one of the leading taller types in the crop, despite having an up and down year to this point. Brander is a safe mark and long right-foot kick, and is capable of influencing a game from the back half.
Upset win: Brander leads Allies to thrilling victory over Vic Metro
POS: Half-forward, Ht 189cm, Wt 76kg, DOB 15/1/1999
From Eastern Ranges/Vic Metro
A bag of five goals from 28 disposals against South Australia was Stephenson's best outing at the championships. From a wing he was able to find space, link up with teammates and hit the scoreboard – all things the Eastern Ranges prospect has done over the past three seasons at TAC Cup level. Stephenson is rangey but good overhead and can leap for his marks, he's dangerous when the ball hits the ground, and can manufacture something from nothing. He's also spent periods of this season up the ground in a midfield role.
Jaidyn Stephenson has impressed for Vic Metro during the under-18s carnival. Picture: AFL Photos

POS: Small forward/midfielder, Ht 178cm, Wt 76kg, DOB 19/3/1998
From Oakleigh Chargers/Vic Metro
Higgins couldn't have done much more – in the carnival and across the whole year – to press his claims as a top draftee. The determined Oakleigh Charger began his carnival with an outstanding display against Western Australia, where he finished with 30 disposals, seven clearances and two goals (22 touchers were in the first half). It proved he is more than just a clever and dangerous small forward and that a midfield position suits his tenacious approach well. Higgins is a neat and clever kick on both feet, has worked on his speed, uses his body well in marking contests and loves a goal. Pound for pound there aren't too many better players.
POS: Midfielder, Ht 184cm, Wt 75kg, DOB 18/9/1999
From Bendigo Pioneers/Vic Country
A knee injury ruled O'Brien out of the Vic Country's first game, and he was rusty in the opening half the following match against Vic Metro when he had only two touches. But his second half (he gathered 16 disposals) and then his next game against Western Australia (he had 18 touches, nine marks and seven inside-50s) was very good. O'Brien is an elite runner and brilliant kick, evident in his long goal against WA from outside the 50-metre arc. O'Brien's best footy is played as a hard-running wingman who sets up the play.
POS: Ruckman/key forward, Ht 203cm, Wt 93kg, DOB 9/6/1999
From Eastern Ranges/Vic Metro
The Vic Metro big man is among the top group of draft prospects and is the best ruckman in this year's crop. He didn't have an overly dominant carnival for his side, but showed his crafty tap work and has proven this season at under-18 level he can push forward and kick goals. That included a six-goal haul for the Ranges in one game where he was stationed more permanently inside his team's attacking 50. He needs to improve his aerobic base but has plenty of tools to work with.
POS: Midfielder, Ht 184cm, Wt 78kg, DOB 16/10/1999
From Bendigo Pioneers/Vic Country
Dow combines a strong work ethic and no-frills approach with a genuine turn of pace and goal-sense. He's a midfielder with plenty of appealing attributes, and he had a consistent carnival for Vic Country without being absolutely dominant. Dow is good at trapping the ball in tight situations and then using a couple of quick steps to get out of trouble and into space. His best game was probably against Western Australia, when he gathered 23 disposals, six clearances and booted a goal.
POS: Half-back/midfielder, Ht 186cm, Wt 79kg, DOB 26/3/1999
From Dandenong Stingrays/Vic Country
There aren't too many players as tough as Clark. The Dandenong Stingray's courage can sometimes go unnoticed, because he has a relaxed nature, but Clark is prepared to put his body on the line in the best interests of his team. After playing as a half-back in recent seasons, Clark has spent more time through the midfield this season and shown he can win the ball and get it going his side's way. Clark can kick on both feet and is also a fierce tackler.
POS: Key forward, Ht 199cm, Wt 95kg, DOB 29/3/1999
From Brisbane Lions academy/Allies
Ballenden started the championships quietly but found some form when he moved to defence in the third round of the carnival, gathering 23 disposals and eight marks for the Allies. It's probably not a position he will hold at the next level, but it wasn't a bad learning experience for the Brisbane Lions academy prospect. Some of Ballenden's better games this year have come as a ruckman who pushes forward rather than the other way around. He has a lot going for him when he's on song including being a terrific long and accurate kick.
POS: Midfielder, Ht 183cm, Wt 73kg, DOB 15/1/1999
From Northern Knights/Vic Metro
Naish gives the top end of the draft genuine dash. The wingman loves to tuck the ball under his arm and go for a run, and then use his penetrating right-foot kicking to spot up a target. It is the combination of these two facets of his game – the drive and the disposal – that set him apart. One of Naish's best games of the carnival came at what may well become his AFL home, Punt Road Oval, where he gathered 24 disposals and kicked two goals. The Richmond father-son prospect (his dad Chris played 143 games for the Tigers) loves a goal and regularly hits the scoreboard.
Patrick Naish, son of former Tiger Chris, is a dashing wingman with an eye for goal. Picture: AFL Photos

POS: Half-back/midfielder, Ht 183cm, Wt 81kg, DOB 21/5/1999
From Eastern Ranges/Vic Metro
The left-footer enjoyed an excellent carnival to play the best football of his season so far. Settling into a position across half-back, the Vic Metro captain was a general in defence. He tidied up when the ball hit the ground, competed well in the air and gave good rebound with his sure skills. He was especially good in Metro's win over Vic Country with 24 disposals and nine marks, offering plenty of drive and a steady hand as well.
POS: Midfielder/half-back, Ht 190cm, Wt 83kg, DOB 23/10/1999
From Northern Knights/Vic Metro
Coffield's mix of speed and size makes him a player plenty of recruiters are watching. The Northern Knights captain has probably done his best and most consistent work across half-back this year, but he can also move into the midfield and push forward to kick a goal, which he did for Metro against Western Australia in round two of the national carnival. He has the agility and pace to get things moving, and was close to best afield in Metro's final game when he had 29 disposals and seven marks against the Allies.
POS: Half-back/half-forward, Ht 184cm, Wt 73kg, DOB 12/4/1999
From Northern Knights/Vic Metro
It isn't hard to spot Petruccelle when he's firing. He's the one taking the game on, whisking the ball from half-back to half-forward in a flash, and making things happen. He needs to get more disposals, tidy his kicking and be more involved in games, because there are times Petruccelle struggles to get into the action, which was the case during the championships. However, as shown by his five-goal haul at TAC Cup level earlier this year for the Knights, the former basketballer has some special traits. He runs 2.82 seconds over 20 metres, so can certainly break the lines.
Jack Petruccelle is a former basketball with some special athletic traits. Picture: AFL Photos

POS: Midfielder, Ht 190cm, Wt 83kg, DOB 23/10/1999
From Sandringham Dragons/Vic Metro
Vic Metro didn't select Constable in its first game of the carnival, but he rebounded well to feature prominently in its final three games. The tall midfielder averaged 26 disposals in the national under-18 championships, and was particularly important against Vic Country, when he gathered 31 touches, six marks and six inside-50s. Constable's height gives him an advantage over others, and he's adept at making the most of it around the stoppages to accumulate disposals.
POS: Key forward, Ht 191cm, Wt 83kg, DOB 19/3/1999
From West Perth/Western Australia
Allen was one of the most consistent players of the championships, which saw him named the Larke medallist as the best player in division one. He kicked 11 goals in total across four games – including three bags of three majors – and didn't waiver in his efforts to present as the key forward for Western Australia. He's a steady kick for goal, makes the most of his chances, and also roams up the ground to get plenty of the ball for a key position type.
Oscar Allen addresses his WA teammates during the under-18s carnival. Picture: AFL Photos

POS: Key defender, Ht 194cm, Wt 84kg, DOB 30/11/1999
From Peel Thunder/Western Australia
There were times Naughton held Western Australia's defence together through the championships. The key defender was one of their most reliable players, and his capacity to hold down his own opponents while also offering serviceable rebound saw his stocks lift across the past month. Naughton's rise has made him sit among the top key defenders in the pool.
POS: Midfielder, Ht 179cm, Wt 75kg, DOB 1/4/1999
From Western Jets/Vic Metro
A groin injury delayed Fogarty's start to the championships but he returned in fine style with 23 disposals, 12 tackles and two goals against Vic Country in round three. It was a reminder of his all-round game as a midfielder, having already produced a strong performance for the NAB AFL Academy in its game against VFL side the Northern Blues in April. Fogarty is a neat and reliable kick, extremely hard working and keeps himself involved in the game with his tackling intent.
POS: Midfielder, Ht 183cm, Wt 80kg, DOB 8/11/1999
From Sandringham Dragons/Vic Metro
Brayshaw could climb higher than this mark if he can get a good run at things in the second half of the season. The younger brother of Melbourne midfielder Angus missed the early part of the championships with a quad injury but returned confidently with 20 disposals through the midfield for Metro in its win over South Australia. He backed that up with 22 disposals and a goal against the Allies, all the while proving Brayshaw has a nice balance to his midfield game and runs hard.
POS: Ruckman/key forward, Ht 201cm, Wt 98kg, DOB 13/6/1999
From Sturt/South Australia
Is Coleman-Jones going to be a ruckman at the next level or more of a key forward? His place in the draft pecking order might come down to how clubs answer that question. Coleman-Jones put in one of the most dominant games of the carnival when he gathered 28 disposals, had 15 hit-outs and a huge impact for South Australia against the Allies in round two of the championships. He can mark the ball well and strongly in the air and has improved his kicking.
Callum Coleman-Jones has been a powerful tall presence for South Australia. Picture: AFL Photos

POS: Key defender, Ht 194cm, Wt 92kg, DOB 23/10/1999
From Calder Cannons/Vic Metro
Balta is a 'moments' type of prospect at this stage of his development. In most games he will show something that really catches the eye – it could be a booming long kick, an athletic grab or some nice movement for a player his size. He doesn't have the consistency yet but there's a bit there to work with. The other question is where he plays best, which at this stage seems to be as a key defender.
POS: Midfielder, Ht 182cm, Wt 74kg, DOB 21/4/1999
From Geelong Falcons/Vic Country
The speedy Geelong Falcons midfielder likes to zip through traffic and past opponents and take the ball with him. At times Ling can find a little bit of trouble with his take-them-on attitude, but he's an eye-catching player and because of that he has some fans. The outside midfielder has been a key member of the Falcons' TAC Cup campaign so far this season.
The views in this article are those of the author and not necessarily those of the AFL or its clubs