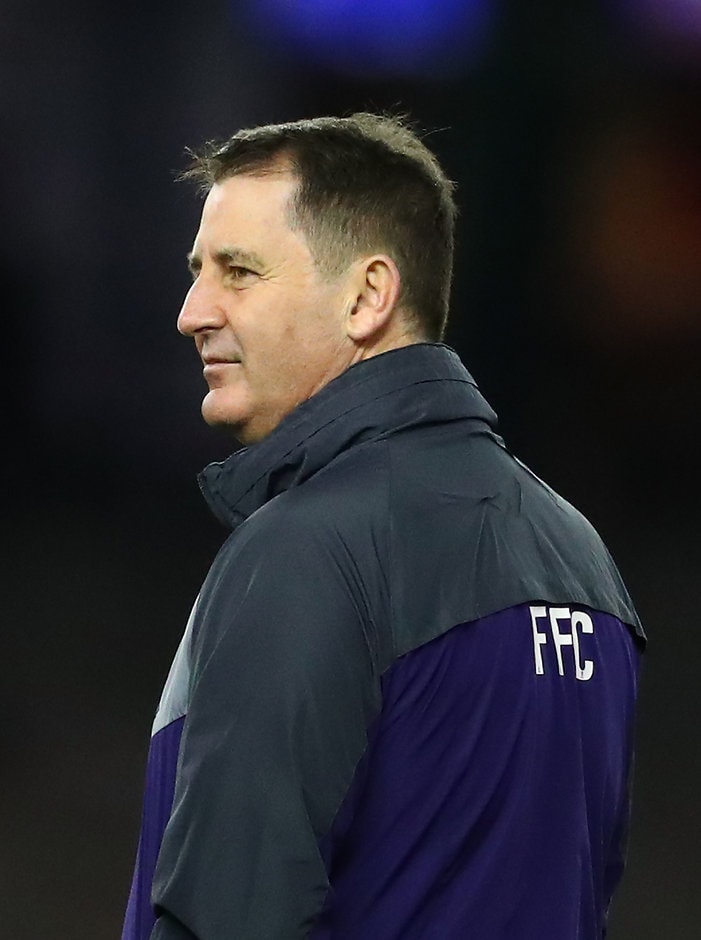 Ross, what was most pleasing about that today?
We've been in a lot of tight games this year. Although they are opportunities, pleasing was the way we went about it. I think there is a bit of continuity in that now, a bit of understanding of the effort you've got to bring and the intensity to compete at AFL level because we had that three-week period where we didn't do what was required. Again, we had a number of young players (in the team). Nathan (Fyfe) was fantastic today, and all our leaders. We lost (David) Mundy, he got on the plane (on Friday) and felt sick and had the flu, didn't recover. So we brought in Ryan Nyhuis, so that threw us around a little bit. But he clearly delivered as a forward. I think we all have to understand that there is a narrative in the AFL. We are clearly rebuilding, but it's about having intensity of improvement and there's a narrative that there's a club with all the talent and all the kids, and the rest are just participating. Then there's a narrative within that you need this and you need that, and you need all these picks. The reality is, it's about trying to bend the environment to your will and intensity of improvement. Our leaders and coaches are working with our young players to drive that improvement. We won't always win and we're going to have lots of hiccups, but you look over the last three weeks, and that will and desire has been really strong and the intensity of improvement. We don't want to just fall into the narrative that's been banded around, we are trying to write our own story and we are trying to bend the environment to our work and our intensity of improvement. I thought we've been doing that the past three weeks.


SING IT BOYS! #AFLNorthFreo pic.twitter.com/CdhOVOOOCt

— Fremantle Dockers (@freodockers) July 9, 2017
The ability to come back when North pipped you late in the game, I think you were one down on the bench as well, I bet that was particularly pleasing?
It was sort of two – Sheridan went down and Hamling hurt himself early. It put us under pressure, but I'd like to acknowledge North Melbourne. I think we really jumped them. They are in a similar position to us, they are in that narrative and they are trying to grow their young players. They had a number of players with not many games, so I think both clubs would walk away quite pleased with their youngsters, pleased with their intensity and combativeness and that neither team gave up. You need a bit of luck, I think you need to acknowledge that (Todd) Goldstein kicks the goal (late in the quarter) and we're under all sorts of pressure. Our will to win was strong, it was the week before, close games and there are things we could have done better, kicking structures and those things. But you need a little bit of luck, and our desire and will to win was really strong. That is incredibly pleasing and satisfying.

You've had seven debutants now in 2017, how do you rate their performance?
There are some good signs with those guys. We went to Kardinya Park (in round 14), where we were 19-1, if odds mean anything. That's what I'm talking about, we fought on down there and we fought on last week. We have plenty of work to do, there are some really good teams out there. I think where the competition is at, if we keep that intensity of improvement, we will continue to grow. We have our home Carlton Draught Derby next week, and we want to bring our willpower and our desire to compete against a very good football team and a mature team trying to win a premiership, in the West Coast Eagles this year. It's exciting going forward.

Do you have an update on Sheridan and Hamling?
Hamstring for Sheridan, and Hamling's is a hip that he tweaked. He lost some power in it, he wasn't in any pain but he just lost that power. I think Griffin Logue really stood up, (Brennan) Cox and Ryan Nyhuis, we can roll through them. Connor Blakely was super at half-back again, threw him in the midfield in the last quarter and he got to work. They tagged Nathan (Fyfe) in the end, but that's no worries, we'll just take you forward and I'll mark a few and kick a few. It was really exiting for us.

Is that one of the better debuts you've seen, from Ryan Nyhuis?
It was strong, wasn't it? Robbie Tarrant is a pretty good player. He's kicked four hasn't he? Nyhuis took some half opportunities, but he's invested so much in his footy, worked his way off the rookie list, so that's probably the story we are talking about. No one wants to really talk about rookies, but the reality is you need to bring rookies through. (Hayden) Ballantyne was a rookie, Sam Mitchell was a rookie, Brett Kirk was a rookie. There is commentary caught up on where you got drafted, and what draft pick you were. That's not the reality of AFL footy. The reality is you get an opportunity, you work hard and you grab your opportunities. I don't see a lot of first picks being showered down on us as a club so we're going to have to work our way through that.

Am I right that Ryan (Nyhuis) has played most of his footy in defence, so to go up forward and deliver his ability to adapt?
That's 100 per cent right. He hasn't played forward once since he's been with us. I think he showed he can do it, and league footy is not about one week. The change is over a period of time, enduring and surviving and flourishing in the end. He has a lot of work to do.

You scored a lot from open play when previously you have been more stoppage based with scoring. Has that been a focus?
It sometimes just comes about. I wouldn't say we are stoppage focused. But when you have Sandilands, Fyfe, Mundy, Neale, Walters and Hill you tend to be a reasonable stoppages team. We have worked hard on our ball movement and today was really good. It's a quick stadium and we did a lot right. We'd like to keep that going.

Do you think there will be anyone coming into the team next week?
Not off the top of my head.

Any idea on the severity of Sheridan's hamstring?
It doesn't seem like a tendon, seems like a standard 21-day hamstring. I could be wrong but normally I would hear if there is a concern, but I haven't heard that. But there's a bit of euphoria in there at the minute.

How do you rate Sean Darcy's game against Todd Goldstein?
(Majak) Daw was in there too. I don't think you can underestimate Daw did in there today too. He's a super athlete. I thought he (Darcy) fatigued in the end and they started to get some big hits to the outside. To put in context, Darcy was playing for Xavier last year, averaging about ten touches, and was about 120 kilos. It's not bad development by him because he does the work, and the development team and as a club. I thought he fought on. I thought Goldstein was pretty good, and Daw. They got on top in the middle. He'd (Darcy) like to have that last stoppage again, the free kick. But it's a good effort isn't it? It's so physical in there. So for a young man to do that, it's really pleasing and above expectation.


First kick. First goal. Welcome to the @AFL Ryan Nyhuis #AFLNorthFreo pic.twitter.com/yU51ClXMUu

— Fremantle Dockers (@freodockers) July 9, 2017
  Ryan Nyhuis, how good is his story? He was playing defence for Peel Thunder last weekend?
It's a really good story but I have a view, that if you can play, you can play anywhere. So, if you can play in defence, you can play forward. He can play and when you're invested, you're taking any scrap you can get. He's dog hungry. He fought today. I think we've got to recognised that side of it. It's pleasing.

When did Nyhuis find out he was playing?
We flagged last night in the team meeting that Mundy was crook. We gave him until this morning. Adam Read is his development coach, and rather than me telling him, I grabbed Adam and said can you go find him because you have worked really hard with him. So 10am this morning, so he rang his parents the night before to say he's 70/30 so 12 of them jumped on the plane from NT and flew down. So they worked the odds pretty well. We are really rapt, it's really good back story really.
The views in this article are those of the author and not necessarily those of the AFL or its clubs