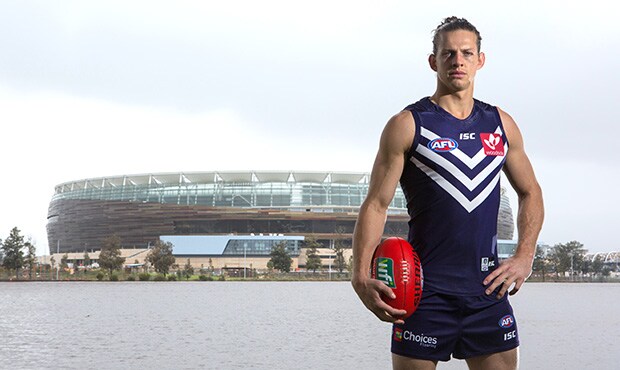 The below feature appears in the latest issue of Docker magazine, arriving in the households of Fremantle members in September.
On page six is important information for all Fremantle members on the planned move to Perth Stadium for the 2018 season. Click here to view the full issue.
In time, the sound of construction noise will be replaced by the sounds of up to 60,000 Freo fans at the new Perth Stadium, but it didn't make Nat Fyfe's introduction any less inspiring.
Fremantle's leadership group were the first AFL players to have a tour of the still under construction stadium, and Fyfe, David Mundy, Aaron Sandilands, Lee Spurr, Michael Walters and Lachie Neale took it all in.
Despite needing to swap football boots for construction boots – it wasn't hard to imagine how the stadium would feel upon completion.
"Walking out onto the ground, there was that genuine feeling of excitement," Fyfe said.
"It was like being a little kid again."
Perth Stadium starts to draw comparisons to the MCG from the moment you enter the ground.
Similar to the 'G, the stands seem to stretch up vertically, giving a cauldron-like atmosphere.
It's a breathtaking sight from any section of the stadium but it also means that no fan is too far away from the action.
"It was good to get a look around to take in the detail all around the stadium," Fyfe said.
"From the elevated first row of seats, the quality and size of the big screens and the way they've set up the seating so everyone has a prime view - you get an understanding of the world class nature of the stadium.
"I tried to mentally picture what it would be like at capacity crowd in a blockbuster game; a derby or a final, and I know it's going to be unbelievable.
"And not just as player, as a spectator it's going to be just as exciting.
"It will be a real showpiece."
Fyfe has been dedicated to Fremantle since his arrival in 2009 and the new stadium only added to the attractiveness of continuing his career as a Freo Docker.
"At some level you do need to consider your workplace for the rest of your career," Fyfe said.
"We have a brand new stadium in a city that is really starting to thrive, coupled with a brand new training and administration facility at Cockburn Central.
"As an athlete playing footy, there's really no better place to be in Australia and I mean that quite genuinely."
Fyfe also feels there may be no better place to be a spectator, and hopes that Fremantle's fans and players can make the stadium a difficult place for teams to visit.
"They've really catered for the fan experience, it's going to be industry-leading across Australia," Fyfe said.
"Domain Stadium became a fortress and a really tough away trip because of how loud and assertive our fans were.
"We want to quickly establish ourselves at the new Perth Stadium with that same sort of atmosphere.
"If we can get as many Freo fans as we can in the ground, we'll get the Purple Army roaring."
Fyfe knows that for Fremantle to win the ultimate prize, their up and coming list will need to become masters at the MCG.
The group already has proven themselves at the ground, winning both games in 2017 against Melbourne and Richmond.
Fyfe says there's no better way to get used to playing on the big stage than to play in a big atmosphere every second week.
"It's easy for me to say we've got the talent, youth and excitement at the club," Fyfe said.
"But when you look at some of the numbers and the performances being stacked by our first, second and third year players – they're as good as anyone else in the country.
"As an athlete, having a mental edge is something that you can't measure, but to know that you're playing in the newest and best and biggest facility, it somewhat diminishes the intimidation factor of going interstate and playing at a big interstate venue.
"We're going to have big games here and really get ourselves ready for what a finals atmosphere will be like in Melbourne.
"That will be priceless for the team."
The views in this article are those of the author and not necessarily those of the AFL or its clubs