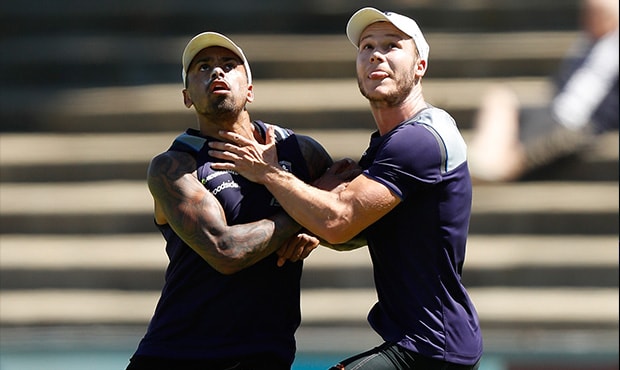 There's no greater running challenge in the AFL than keeping up with Bradley Hill, and that's exactly how Ed Langdon plans to approach his pre-season.
The 24-year-old Hill is coming off a Doig Medal winning season, where he led Fremantle for metres gained and led the AFL in repeat sprint efforts.
On the other hand, Langdon is coming off missing the second half of the season with a knee injury and has his eyes set on Hill for when he re-joins the main group.
"This is going into my fourth pre-season now, so I'm just looking to improve again," Langdon said.
"I've built on a good pre-season last year and I was happy with the first half of my year before I injured my knee, so I'm looking to do the same, keep learning off some of the senior players.
"Bradley Hill is the big one for me, I've learnt a lot off him already – he had an unbelievable year so I'll be looking to improve and learn off him again."
As one of Freo's best runners, Langdon plans to continue to learn from Hill's running patterns while being pushed to the limits on the training track.
"(Bradley's) a pretty good model to have, I loved watching him play before he came to the club and then when he moved over, I was stoked," Langdon said.
"In training all (of the 2017) pre-season, I trained a lot on him so I can learn his patterns and learn how he goes about it.
"He's been an unbelievable mentor for me so far. I just want to continue to soak him up and learn as much as I can from him."
According to Langdon, the competitive nature between Langdon and Hill has the tick of approval from senior coach Ross Lyon.
"We're very competitive when we train together so I think most of the pre-season running we're pretty much paired together and competing which is really good," Langdon said.
"Ross loves the competitive side of it because not all competing is contested ball, a lot of that is gut running, so there's definitely a bit of competition.
"Hopefully, when I get my knee right, we'll get back at it."
Langdon says he's recovered well from surgery near the end of the 2017 season and is looking for another full pre-season.
"(The knee's) really good," Langdon said.
"I had surgery on it I think three weeks before the end of the season. It's been a good couple of months now of rehab and I'm back running.
"Hopefully, I build up my running before Christmas and should be back to full training pretty soon."
The views in this article are those of the author and not necessarily those of the AFL or its clubs