Freo legend Shaun McManus has a story for every occasion, and Freo's former no.8 delivered another classic tale when presenting new draftee Andrew Brayshaw with his new playing number.
McManus was joined by Garrick Ibbotson at the presentation, with the fellow Life Member on hand to present Adam Cerra with the no.5 playing number.
Brayshaw will wear the number McManus wore for 228 games from 1995 to 2008, with another Life Member in Nick Suban playing in the no.8 for 156 games from 2009 to 2017.
McManus said he knew Brayshaw's father Mark from when Mark worked at Freo in a financial role ahead of the club's inaugural season, however, McManus was almost pained to admit that pair also had another encounter a month prior to McManus's arrival at the club.
"Mark reminds me of this regularly," McManus said.
"I'm not sure if Andrew knows anything about it, but in 1994 I weighed about 58 kilos and I played in the WAFL Grand Final for East Fremantle against Claremont and the ball bounced between me and Andrew's dad, Mark.
"I thought if I'm every going to knock someone over, it's this guy, so I ran as hard as I could and he ran as hard as he could against me and I came off second best."
While McManus's side were convincing winners in the Grand Final, it was Mark who had the last laugh in giving McManus an embarrassing introduction on his arrival at Freo.
"Mark ended up being our first financial controller at Fremantle and it was probably about four weeks after the Grand Ginal," McManus said.
"On my first day at the club, which was when we were at Market Street, Mark got out the big screen and he showed the vision of him taking me out.
"He said 'let this be a warning to anyone who crosses me whilst you're working at the Fremantle Dockers'."
When presenting Cerra with the no.5 jumper, Ibbotson spoke of his pride in playing 177 games for Fremantle, wearing the no.5 for 157 games.
"Congratulations Adam, I was lucky enough to wear the no.5 for 157 games and I'm extremely proud to have done so," Ibbotson said.
"I'm very proud to call myself a Freo player. I love this club and I'll be following you with great interest and I hope you play even more games than me."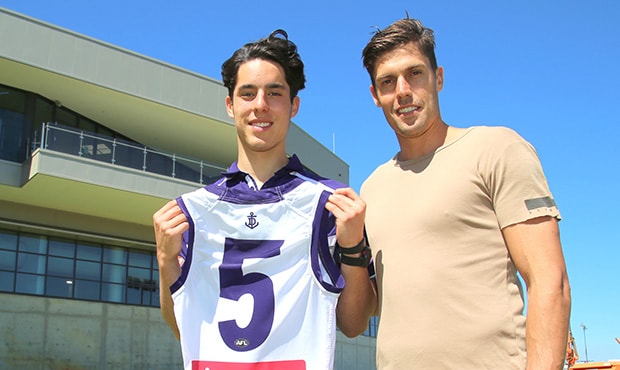 Adam Cerra with Garrick Ibbotson
McManus and Ibbotson were also on hand to allocate player numbers to all members of Fremantle's bumper 2017 draft crop.
Midfielder Mitch Crowden has been allocated the no.12, joining the likes of Jon Griffin (56 games), Brad Dodd (50 games) and Graham Polak (67 games) in that number.
Key forward Hugh Dixon will wear the no.17, previously worn by Hayden Crozier for 69 games between 2012 and 2017, as well as the likes of Hayden Ballantyne for eight games and Adam McPhee for 25 games.
Midfielder Tom North will wear the no.24, previously worn by Matthew Burton for 70 games from 1995 to 1997.
New ruckman Lloyd Meek will wear the no.30, a number previously worn by Zac Clarke for 101 games.
Sam Switkowski, Scott Jones, Bailey Banfield and Stefan Giro will all sit next to each other in the change room, allocated numbers 39, 40, 41 and 42 respectively.
While Banfield will be the first to use the no.41 locker at Fremantle's new Cockburn training facility, the locker is adorned with the name of Life Member of Paul Duffield, who played 171 games in no.41 from 2006 to 2015.

Freo's 2017 draftees show off their new numbers
Speaking at the media conference, Fremantle CEO Steve Rosich said the no.29, worn by six-time Doig Medallist Matthew Pavlich for 353 games from 2000-2016, has not been allocated to a player for the 2018 season.
"We considered it carefully, we rested Matthew's no.29 last year and Matthew and the club are keen for the no.29 to be running around again very soon," Rosich said.
"We did consider it for this year, but on balance our key football staff have decided to rest it for one more year so, hopefully, for next year in 2019 it will be back on the park."
2017 Draftee Numbers
5 – Adam Cerra
8 – Andrew Brayshaw
12 – Mitch Crowden
17 – Hugh Dixon
24 – Tom North
30 – Lloyd Meek
39 – Sam Switkowski
40 – Scott Jones
41 – Bailey Banfield
42 – Stefan Giro