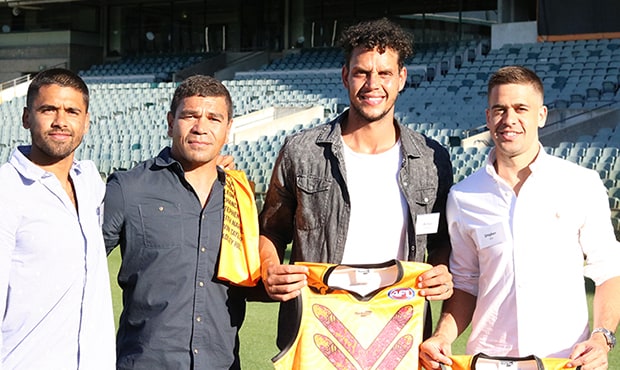 Michael Johnson was humbled to be named in the Nyoongar Team of Champions alongside four of his former and current teammates on Sunday afternoon at Subiaco Oval.
Former Fremantle players Dale Kickett, Jeff Farmer and current players Stephen and Bradley Hill were selected in the 24-man side for the Nyoongar Footy Magic documentary series, which celebrates the extraordinary contribution these players have had on the Nyoongar nation as a whole.
Led by legendary duo Graham "Polly" Farmer as captain and Barry Cable as playing coach, the centre-square set-up is completed by South Fremantle great Stephen Michael as ruck-rover and St Kilda icon Nicky Winmar as the centreman.
The team contains five current AFL players. Johnson and the Hill brothers fly the flag for Fremantle, while Sydney star Lance Franklin and Port Adelaide's Paddy Ryder hold key forward posts.
Johnson paid tribute to the retired greats in the Team of Champions when he spoke to The Sunday Times, saying their careers — sometimes marred by on-field racism — had helped break down barriers and made it easier for players of his generation.
Winmar's famous gesture of pointing to his skin after being vilified by the crowd during a match in 1993 is regarded as one of the most significant images in Australia's cultural history.
"The concept itself is a great thing for our people and you look at the team, it's the players that led the way back in the day and a lot of us kids these days have found it easy to play the game," Johnson told The Sunday Times.
"To see these players go through tough times only going back 20 years ago, and to be named next to them, it's a great honour. To be named next to the legends of the game that we play in Australia, it's very humbling and very surprising."
All 24 members of the Team of Champions are living, with (Graham) Farmer the oldest at 82 and Bradley Hill the youngest at 24.
Like Johnson, the Hill brothers weren't sure if they were worthy of being included but were honoured to have been selected.
The trio of Fremantle players have only one regret about the Team of Champions; that they will never get to play in an actual game together.
"It would be good if we were all the same age and could all play in the one side," Bradley Hill told The Sunday Times.
"I reckon if we were one team, we would be pretty exciting."
The selection panel comprised Cable, Kevin Sheedy, John Todd, Mal Brown, Larry Kickett and Grant Dorrington. Only those who played in the 1960s onwards were eligible for the team, so that video was available.
THE TEAM
B: Dale Kickett, Gary Malarkey, Derek Kickett
HB: Byron Pickett, Michael Johnson, Stephen Hill
C: Phil Narkle, Nicky Winmar, Peter Matera
HF: Leon Davis, Lance Franklin, Bradley Hill
F: Jeff Farmer, Patrick Ryder, Jimmy Krakouer
R: Polly Farmer, Stephen Michael, Barry Cable (coach)
I/C: Chance Bateman, Allistair Pickett, Phil Matera, Keith Narkle, Phil Krakouer, Kevin Taylor
The views in this article are those of the author and not necessarily those of the AFL or its clubs