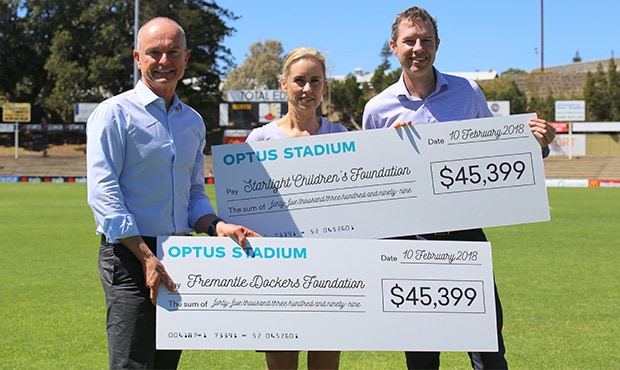 Fremantle have kick started their 2018 campaign to raise funds for the Starlight Children's Foundation, with $43,399 donated from the 54,000 tickets sold to the inaugural AFL Women's match between Fremantle and Collingwood at Optus Stadium on 10 February.
Proceeds from the $2 ticket sales were split between Starlight and the Fremantle Dockers Foundation, with a further $43,399 going to support the club's initiatives in grass roots footy.
Starlight president Jack Cullity and Fremantle president Dale Alcock were on hand to receive the cheques from the Minister for Women's Interests, Simone McGurk, at Fremantle's round five clash with GWS at Fremantle Oval on Saturday.
"Not only did Western Australians break the Australian record for the largest attendance at a stand-alone women's sporting match, we helped sick kids in the process," Minister McGurk said.
"It was an honour to present cheques of significant values to both Foundations today, so they can continue their work in the community."
With Fremantle's partnership with Starlight entering its 16th year, the club's fans, players and staff have raised raised almost $1.2 million for seriously ill children and their families.
Cullity said the generosity of Freo fans will continue to benefit those most in need.
"We have a fantastic relationship with the Fremantle Dockers, this will go into our hospital programs and really make a difference to the kids who are doing it tough and are seriously ill," Cullity said.
"Every little bit helps and this partnership with Fremantle is really enduring and strong and it's just amazing that it can be extended to the AFL Women's game.
"We're really grateful."
Alcock paid tribute to the Freo fans who turned out in droves and in turn did their bit for charity.
"It's just an awesome result with more than 90,000 dollars donated, it's a real testament to the people that turn out," Alcock said.
"We set a new record in terms of turning out at the new stadium, to see AFLW so that's great.
"It's so fantastic that we can assist our principle, non-for-profit in Starlight as well as our own Foundation and continue to build on the community work that we are doing through the club."
The views in this article are those of the author and not necessarily those of the AFL or its clubs