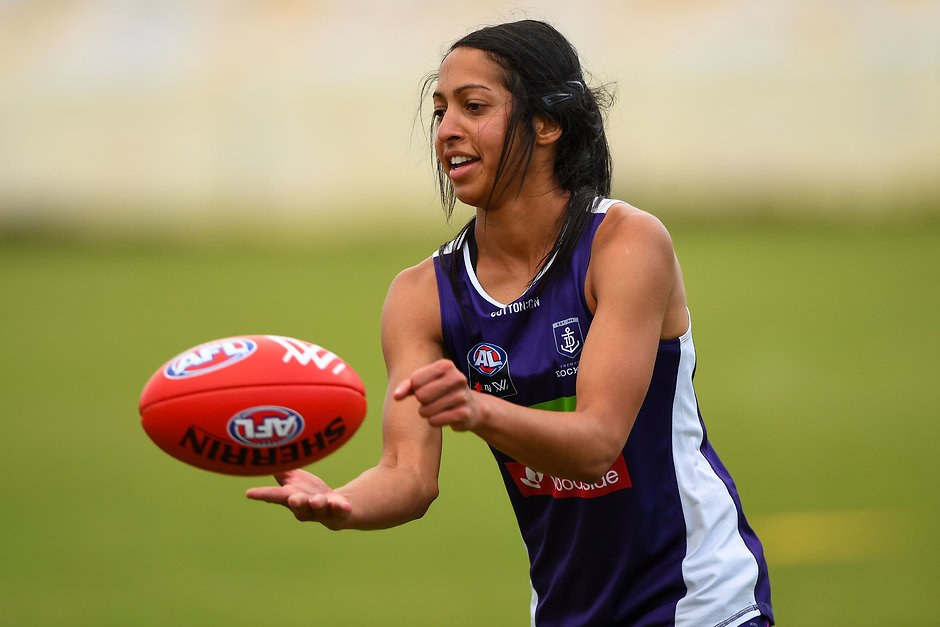 When senior AFLW coach Michelle Cowan made a phone call to Upstream Productions Solutions on Thursday, she wasn't looking to talk about anything related to the company's specialisation in the oil and gas industry.
Instead, she was calling to inform mechanical engineer Jade de Melo that she will be one of the latest players to make their Fremantle Dockers debut on Saturday against GWS at Fremantle Oval.
The small forward was in a meeting and didn't pick up, which started a series of missed calls that only made the 25-year-old even more nervous.
"I couldn't call her back for maybe 15 to 20 minutes, so I was freaking out the whole time," de Melo said.
"I called her back and I had to pump myself up for finding out if I'll make my debut and then she didn't answer!
"I had to wait again for her to call back and there was a bit of telephone ping pong but I finally got on the phone to her and I was so nervous, I had sweaty palms.
"I was pretty thankful that she spat it our straight away to congratulate me on my debut so I could breathe again."
De Melo arrived at Freo with pick no.10 in the 2017 NAB AFL Women's rookie draft and was since promoted to the AFLW list after a season-ending knee injury to Brianna Green.
But de Melo had to overcome her own injury concerns before earning her spot.
"I've had to work really hard in the gym the past couple of months coming back from a hammie injury," de Melo said.
"I've been working on my skills and studying the game plan and trying to take everything in.
"Honestly, all the girls in the team have been so helpful. Absolutely everyone has been giving me tips on making the step up to AFLW level."
18-year-old Tayla McAuliffe, who is expected to play a ruck role on Saturday, was with her mum when Cowan made the call.
At 185cm, McAuliffe is one of the tallest on Freo's list and has the ability to play as a key forward and defender, as well as in the ruck.
"Michelle gave me a call Thursday morning. I was wondering what the call would be this time and it was exciting I was told I would be playing," McAuliffe said.
"Michelle said she's been happy with how I kept going and kept my head up over the past few weeks.
"Mum was pretty excited, she's looking forward to getting to watch me play, she's been waiting for this moment as much as I have."
The views in this article are those of the author and not necessarily those of the AFL or its clubs