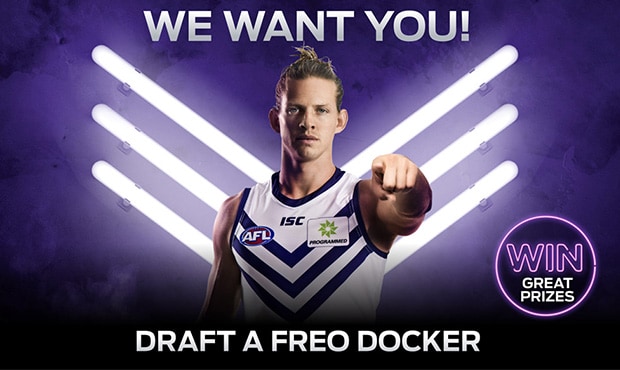 Share the excitement of the 2018 Toyota AFL Premiership Season with your friends and family by drafting them into the Purple Army.
As a reward for your recruiting efforts, you will receive a $50 * account credit towards your 2019 membership renewal per every new member.
If you recruit a Freo Docker you can take the corresponding prize or you can continue to build up your referrals for more rewards.
You may select from one of the options provided below as your prize*. This offer is valid from April 23, 2018 until July 1, 2018.
All participants in the 'Draft a Freo Docker' program will go in the draw to be part of the 2019 team photo.
*Click here to view the full terms and conditions for the Draft a Freo Dockers program
Reward Tiers:
| | |
| --- | --- |
| Number of Members | Reward |
| 2 Members | Recruit 2 new members and you'll receive a 2018 membership cap and scarf plus a $50 account credit per member recruited |
| 3-5 Members | Recruit 3-5 new members and you'll receive a $100 team store voucher plus a $50 account credit per member acquired. |
| 5-9 Members | Recruit 5-9 new members and you'll receive your 2019 membership for free! |
| 10+ Members | Recruit 10+ new members and you'll receive 2x tickets to the 2018 Doig Medal and a complimentary 2019 Fremantle Dockers 11 game reserved seat membership. |
| Top Recruiter | Recruit the highest number of new members and you will be invited to sit in a premium corporate suite during the 2018 season at Optus Stadium. |
The views in this article are those of the author and not necessarily those of the AFL or its clubs