It's been a week to remember for Fremantle's Next Generation Academy prospect Tom Medhat, rubbing shoulders with the game's elite at Freo training this week.
A colts player with West Perth and U16 WA representative, Medhat is eligible for Fremantle's NGA through his Iranian heritage.
Medhat said he was blown away by the attitude and work ethic on display by members of Freo's leadership group, highlighting captain Nat Fyfe as the 'obvious' player to follow.
"I've always looked up to Nat Fyfe, he's awesome and on Monday that solidified even more for me," Medhat said.
"It's way he holds himself. He's always busy, he's always doing stuff. It's the way he talks to the team and it's awesome being able to watch him do it.
"You hear everyone talking about what he's like but watching him doing it first hand is impressive."
Monday's training session was a baptism of fire for the 17-year-old, fronting up to pre-season training as temperatures soared at Victor George Kailis Oval.
But it wasn't the heat that hit Medhat the hardest.
"I think on Monday, I came in and it's was 40 degree heat," Medhat said.
"I walked out on the field and straight away you get Sonny (Michael Walters) yelling and screaming 'work hard, push through.' You do it and you end up knackered by the end of the session.
"It was a bit of a wake-up call, it's not like that in colts footy where you're the one giving that out. Now I'm the one learning from the older guys and it's good for me."
The Sacred Heart College student is one of 10 of Fremantle's NGA concession signings, which is made up of six players with a multicultural background from Freo's multicultural zones in West Perth, East Fremantle, South Fremantle and Claremont and four indigenous players from its indigenous zone in the Kimberley.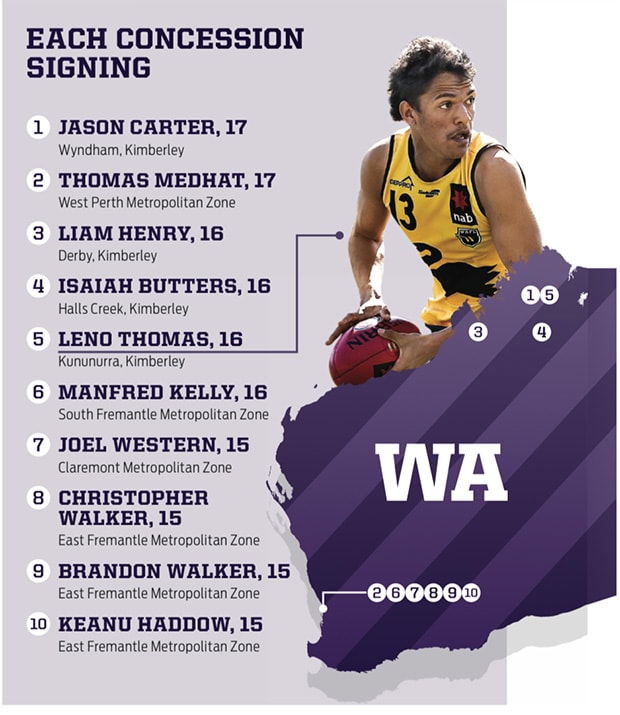 Freo's NGA concessions
Jason Carter, a fellow state U16 teammate of Medhat, is another Freo NGA concession. Up until draft day, all of Freo's NGA concessions will be under the wing of former Freo player and inaugural NGA coach Tendai Mzungu, who will play a crucial role in the players' development.
"Being a part of the Next Generation Academy is awesome," Medhat said.
"It's so valuable being able to come down and train with an AFL club, not many people get to do that at all.
"It's almost a once in a lifetime opportunity, but I obviously want more of it and it's given me a massive chance to get drafted for next year."
As a midfielder who likes to go forward, Medhat wants to model his game on Fyfe and this week's opportunity has illustrated the work that lies ahead for the year 12 student.
"We're similar size in height but I know I'll need to get bigger broad-wise but knowing we're the same height means one day I can hopefully, be doing the sort of stuff he's doing right now," Medhat said.
"I want to work on my bit of consistency and work on being more of a threat in front of goal."
From a fitness perspective, Medhat says he understands the what is required to reach the level of an AFL player.
"I think my skills are to standard with kicking and handballing, but I can always improve that," Medhat said.
"I've just got to keep my fitness up and this has been a bit of an eye-opener for that.
"Doing training on Wednesday, compared to Monday, I think it's gotten a lot better already, I was a lot more comfortable out there."