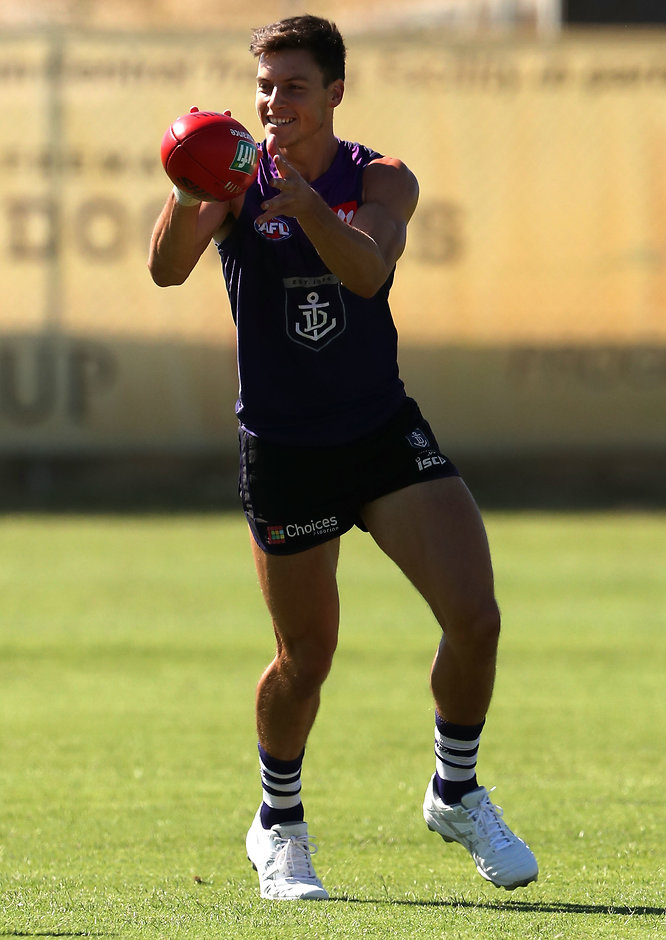 Defender Ethan Hughes says he's back on a full training load after sustaining a calf injury ahead of the Christmas period.
The 23-year-old is now continuing preparations for a fourth season at Fremantle and adding to his 24 career game tally.
Hughes played 18 of those games in 2017, establishing himself as a part of a youthful backline.
Apart from the brief stint on the sidelines, Hughes has given himself every chance to feature again in 2018 with his impressive fitness on show throughout the summer.
"I started off pretty strong and I had a little bit of a setback," Hughes said.
"It's not ideal but I'm back out there now, which is what I want, and I'm looking forward to round one and getting out there.
"It's all back to normal, I feel 100 per cent and I'm ready to go."
Temperatures reached 30 degrees during another demanding session on Wednesday morning.
Hughes said it wasn't possible to master training in the heat but has found himself better able to handle the conditions.
"You never get used to it but you build your body up every year so you can go further and faster every year," Hughes said.
"Today was great, it was pretty warm and the intensity was up, so the boys are up and about.
"It's good to be back out there and joining in some footy."
Fremantle trained in their new 2018 ISC training jumpers for the first time on Wednesday, which got the tick of approval from Hughes.
"It changes it up which is good while sticking with the traditional purple. I love it," Hughes said.
The views in this article are those of the author and not necessarily those of the AFL or its clubs