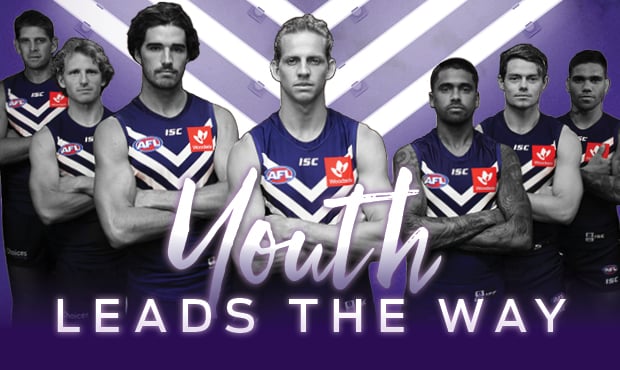 Two new young faces have joined Fremantle's leadership group in 2018, headed for the second consecutive year by captain Nat Fyfe.
Alex Pearce, 22, and Bradley Hill, 24, have been added to the group, with David Mundy, Aaron Sandilands, Michael Walters and 24-year-old Lachie Neale continuing their leadership roles.
Pearce, who has played 21 games at AFL level, is set to return to the game after more than a year on the sidelines with a broken leg.
The key defender represented Fremantle for the first time in 645 days in Freo's opening JLT Community Series clash on Sunday and has impressed with his fortitude during a long recovery process.
"It means a lot to get voted in by your peers," Pearce said.
"I've been lucky enough to be at the club for a while now and learn from the leaders who have gone before, so I'm just hoping that I can do the club proud."
Pearce said the addition of himself and Hill into the group illustrates that Fremantle is entering a new era with its younger players.
"It shows where our group is now," Pearce said.
"The past couple of years, we've had 22 new players, including Bradley, and I'm really excited to see what he can do as he's been a great leader."
Hill becomes the fifth Doig Medallist to join the current group, with the 2017 club champion taking on a leadership role in his second year at the club.
The running midfielder's 117 game career includes 22 games at Fremantle and 95 at Hawthorn, where he played in three premierships.
Despite his on-field achievements, Hill was surprised to be recognised as one of the club's up and coming leaders after just one season at Fremantle.
"To be honest, I wasn't really expecting it," Hill said.
"Obviously, I've only been here for one season and to hear that all the players rate me highly around the place, I'm glad to be a part of it.
"Hopefully, I can put in a lot to this leadership group and help the young players grow and help this team grow into a successful team."
In approaching his second year as captain, Fyfe was delighted to see two young faces added as leaders.
"We're lucky enough to have Alex Pearce and Bradley Hill join us in the leadership to make a seven-man group," Fyfe said.
"Both these guys have grown enormously over the past couple of years in their leadership capabilities and skills. They will add a lot."
The 2015 Brownlow Medallist said that veteran defender Lee Spurr, who was a part of Fremantle's leadership group from 2014 to 2017, played an important part in Fyfe's own development and will continue to play a guiding role as one of Fremantle's most experienced players.
"I think (Fremantle's younger list) has been reflected in the (leadership) group," Fyfe said.
"Lee's contribution has been enormous and I'm really grateful for the work he did with me particularly. But it does show the shift that we've gone on during the past two years, with 22 new players on our list since the end of 2016.
"With Lachie and Michael, as well as the two new guys added today, it means that we have a nice rounded leadership group which represents the whole playing group."
The views in this article are those of the author and not necessarily those of the AFL or its clubs