On the back of Fremantle's visit to the Kimberley region in June, Next Generation Academy coach Tendai Mzungu has spoken of his excitement about the potential growth and development opportunities coming for the region.
The week-long visit reached more than 250 boys and girls from across the Kimberley, including four main centres in Kununurra, Halls Creek, Fitzroy Crossing and Derby as well as communities in the Fitzroy Valley.
The clinics were run in conjunction with key stakeholders in the WAFC, Indigenous organisations Clontarf and Garnduwa, as well as local schools and headed by Community Goals coordinator Brandon Donaldson.
"It was a great result, Mzungu said.
"We were working with the schools, the communities and really trying to promote football from a grass roots level.
"The focus was to embed some good habits with the kids and deliver education sessions around living a healthy lifestyle and the importance of playing sport and enjoying footy."
Mzungu has observed exciting level of growth in the region, particularly in girls' football.
"There's a really good and strong engagement with the girls playing footy and they're starting to understand the pathways that are available to them at the elite and grassroots level," Mzungu said.
"There's also a lot more female football participation and it's great to see the girls involved, they really take it up to the boys, so it's really exciting working with them."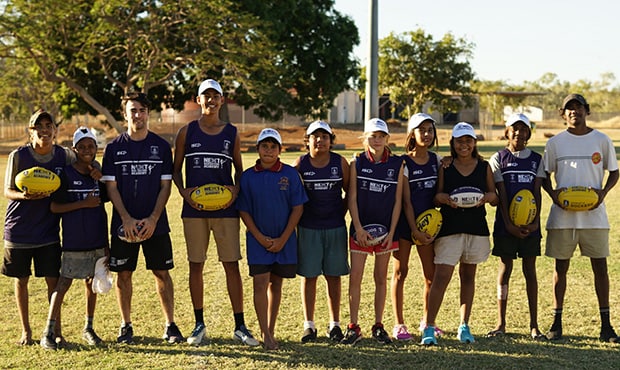 Brandon Donaldson (3rd from left) with NGA participants in Halls Creek
Mzungu, who played 106 games at AFL level between 2011 and 2017, including 102 games for Fremantle, said he was loving his new role at the club since starting in early 2018.
"It makes me enthusiastic coming to work knowing that there's some real talent coming through and the numbers are really backing that up," Mzungu said.
"Over the next 12 to 24 months, I can see the academy really growing and you can already start to see that people are understanding the academy a bit more."
Mzungu expects the academy to take off as members of the NGA Elite Talent Program transition to AFL level and Fremantle will have priority access to this talent in the draft.
The program currently has four players from the Kimberley region, in 18-year-old Jason Carter (Wyndham), 17-year-old Leno Thomas (Kununurra/Warmun) and 16-year-olds Isaiah Butters (Halls Creek) and Liam Henry (Derby).
These players work closely with Mzungu to improve their football by focusing on four key areas – nutrition, strength and conditioning, skill specialisation and duty of care.
"We're working on creating a really good program and, hopefully, we can get a few draftees through to help that process," Mzungu said.
"It's a dual process. We're trying to develop that elite talent, where we have 10 players from around WA signed to the academy, but also working at a grass roots level working on building that community engagement and participation."
Fremantle's next trip to the Kimberley will be in September, where Mzungu will place a focus on the importance of hydration.
"I'll be going up with nutritionist Beth Allanson, who's done a number of years at Fremantle and now works as a consultant," Mzungu said.
"She's looking to run some nutrition sessions and it will be largely focus on on hydration.
"It's a hot and humid place, as I've found out!"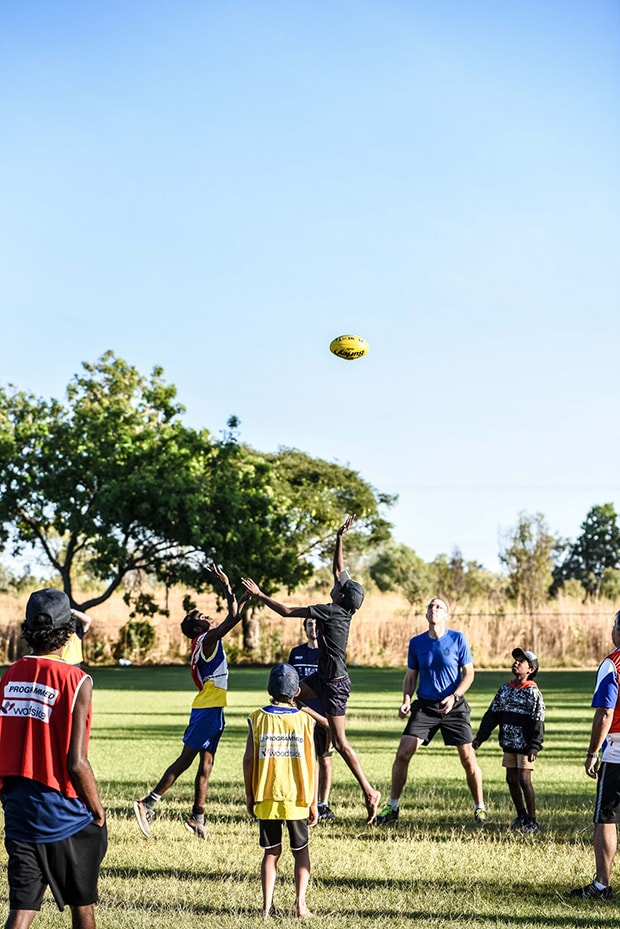 An NGA clinic in Kununurra