Eight Fremantle-listed players were in action in round six of the WAFLW.
Senior Fremantle coach Trent Cooper runs through his thoughts on the round.
Subiaco 8.6 (54) v Claremont 0.4 (4)
Fremantle players in action: Hayley Miller (Subiaco), Leah Mascall (Subiaco), Laura Pugh (Claremont), Jasmin Stewart (Claremont)
I was really happy with our girls in this game. Subiaco were dominant on the weekend, which was a bit surprising considering Claremont's recent impressive form. I thought Hayley Miller was outstanding, she had three charge-down smothers and regathers. She was a big part of their win with the run and carry she provided in the midfield. We're really happy with her form.
Leah Mascall has been playing in the midfield just to free her up a little bit and Subiaco have been really accommodating with that. This week she returned to half-back and showed a lot more run than what we've seen from her in the past few years. She was awarded Subiaco's best player, she won a lot of one-on-one battles and used the ball really well, so we were delighted with her performance.
For Claremont, Jasmin Stewart had a tough day at the office in the midfield as they were getting beaten. The Subiaco ruck was dominant as well, so she wasn't getting first look at it. Her first half was reasonable but she fell out of it a bit in the second half. She's been in really good form this year so she'll be looking to bounce back next week.
I thought Laura Pugh was Claremont's best player across half-back. It was really pleasing to see her be so dominant. She took lots of intercept marks, she used the ball really well and she was under pressure all day due to the inside 50 count. I think it was probably the best game I've seen her play at WAFLW level so we're really happy with that.
Laura Pugh in action for Claremont. Pic: Tom Campbell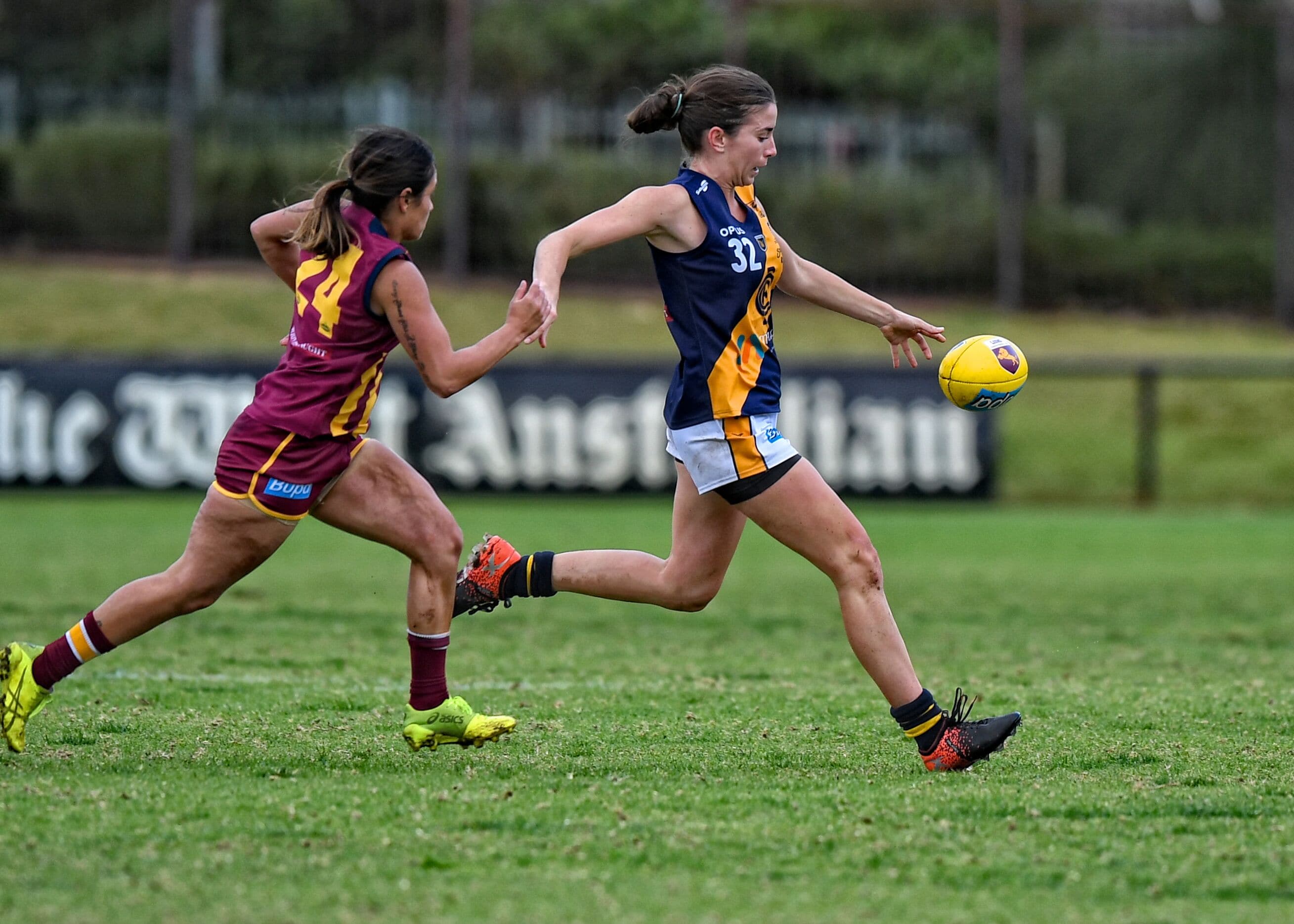 Swan Districts 1.5 (11) v Peel Thunder 8.5 (53)
Fremantle players in action: Ashley Sharp (Swan Districts), Angelique Stannett (Swan Districts), Tayla Bresland (Peel), Katie-Jayne Grieve (Peel)
Ashley Sharp has been in really good form but it was definitely a quieter game for her at the weekend. She just didn't get to it as much so she could show her usual run and flair. She'll be looking to bounce back in her next game and have a really good one.
Ange Stannett had her first game for the year after a minor knee injury. She played back and through the middle and we're really happy with her first-up performance. She did a lot of good work in and around the contest and distributed quite well to her teammates. We're very happy with her first game and she can build on that over the next few weeks.
Katie-Jayne Grieve is working into form, she contributed well to a midfield that was dominant on the day. She got the ball moving their way quite often so there's a lot to like about her game.
Tayla Bresland played forward again. She's played forward for the first half of the year just to free her up from what is a particularly defensive lock-down role that she plays at AFLW level. I felt she was one of Peel's better players, gave a great contest up forward and was involved in a lot of their goals. We see her as a defender but it's nice to have that flexibility in her game as well.
NEXT UP
East Fremantle v Subiaco, Saturday 22 June
Claremont v Swan Districts, Sunday 23 June
This weekend, we're likely to see the return of Evie Gooch. I think she's pretty close as she's overcome her injury. It would be good to see her out there if she plays.
For Swan Districts, we could see the likes of Gemma Houghton, Stephanie Cain and Ebony Antonio within the next fortnight so we're really looking forward to seeing them get out there.