In celebration of the club's 25-year history, Fremantle announced their greatest ever team on Friday night at the club's gala ball at Perth Exhibition and Convention Centre, revealing the best 25 players who have played for the club since 1995.
More than 1000 fans cast their vote on the Fremantle Dockers app for a starting 18 and interchange of seven payers that make up the 25 since '95, presented by The West Australian.
Matthew Pavlich, who captained Fremantle between 2007 and 2015, was voted as the captain by the club's Harbour Masters – the foundation membership group that helped get Fremantle off the ground in 1994.
The team includes five players from the club's inaugural squad in 1995 in Shane Parker at full back, Dale Kickett at half back, Shaun McManus on the wing, Peter Bell as rover and inaugural captain Ben Allan on the interchange.
There are also six players on Fremantle's current list in the team in Aaron Sandilands (ruck), David Mundy (centre), Nat Fyfe (ruck rover), Stephen Hill (wing), Hayden Ballantyne (forward pocket) and Michael Walters (half forward).
There are eight Indigenous players from the squad of 25 including Kickett, Walters, Stephen Hill, Michael Johnson (half back), Antoni Grover (back pocket), Roger Hayden (back pocket), Jeff Farmer (forward pocket) and Troy Cook (interchange).
See Freo take on the Blues! Get your tickets here
Pavlich, who was named at centre half forward, said that the honour was something he would cherish alongside his many accolades.
"It's fantastic. Now I'm retired and not able to add to my games played or team success, it's nice to be recognised alongside many great Fremantle Dockers players and teammates, who have represented the club and donned the purple," Pavlich said.
"It's a nice recognition for all of the effort that we as players have put in.
A 353 game player between 2000 and 2016, Pavlich has played alongside every player in the team except Ben Allan, who played for Fremantle between 1995 and 1997.
"I'm very lucky to have had the chance to play with the majority of this team and even Ben coached me briefly in 2001," Pavlich said.
"I was fortunate to start my career in an era where I got to learn and play a lot of footy with the likes of Shaun McManus, Shane Parker, Dale Kickett, Clive Waterhouse, Troy Cook and Jeff Farmer.
"Then we had our modern day success and playing finals with the likes of Nat Fyfe and Hayden Ballantyne and the stalwarts that I played a lot of my footy with, David Mundy, Luke McPharlin and Aaron Sandilands."
Pavlich said that there is always a shared connection with anyone who pulls on a Fremantle Dockers jumper.
"I think it's always been a team or a group that has thrived on hard work, about not having things gifted to them, about having to battle for our success and really working hard to find our own identity as a group of players and as a club," Pavlich said.
"There's been plenty of ups and downs but I think through that shared experience, some of it tough and some of it good, there's a real significant feeling amongst the group and I think that feeling is shared with the fans as well.
"To have a night like this where there's a bit of recognition for all of the players but also to reminisce and relax with each other, it's been a great night."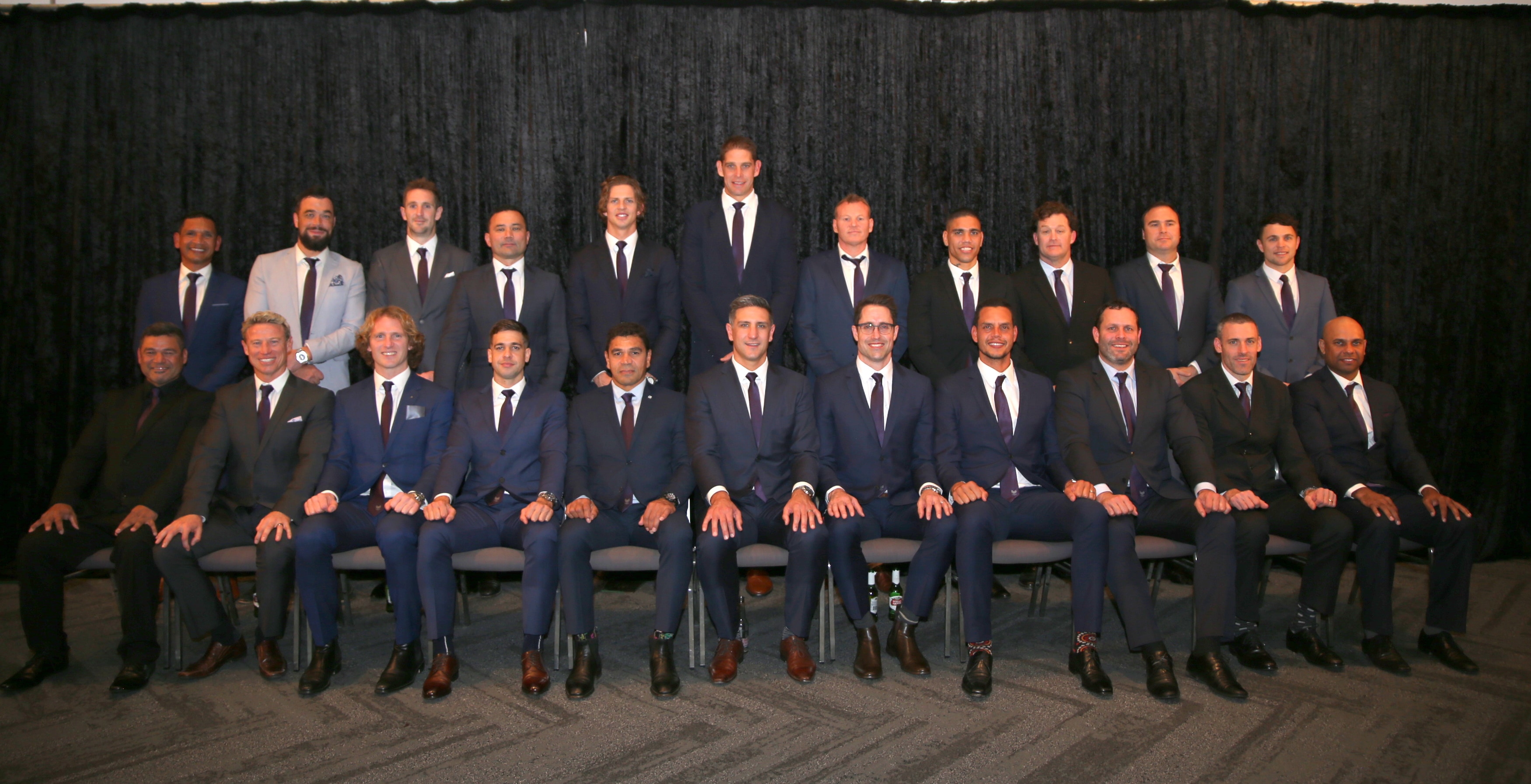 Fremantle president Dale Alcock opened the evening talking about his pride in the club.
"We are about our people and our community. And tonight we are proud to acknowledge those that have played a big part in getting us to where we are today," Alcock said.
"Tonight will be a special evening, the first of its kind in our rich but short history and the club is honoured to share such an evening with you all.
Alcock also spoke about the the Freo Way, the club's trademark.
"Based on the lyrics of our club song, 'Freo way to go' – the Freo Way means being completely determined to get the job done…we never give up," Alcock said.
"It means being passionate about what you do, and to love what you. To be united with everyone, because at the end of the day, we are all in it together.
"It's about striving for excellence and demonstrating respect in everything we do. That's the Freo Way."
FREMANTLE'S 25 SINCE '95, PRESENTED BY THE WEST AUSTRALIAN
Backs: Roger Hayden, Shane Parker, Antoni Grover
Half-backs: Michael Johnson, Luke McPharlin, Dale Kickett
Centre: Stephen Hill, David Mundy, Shaun McManus
Half-Forwards: Michael Walters, Matthew Pavlich, Clive Waterhouse
Forwards: Jeff Farmer, Tony Modra, Hayden Ballantyne
Ruck/followers: Aaron Sandilands, Nat Fyfe, Peter Bell
Interchange: Paul Hasleby, Lachie Neale, Troy Cook, Michael Barlow, Ryan Crowley, Justin Longmuir, Ben Allan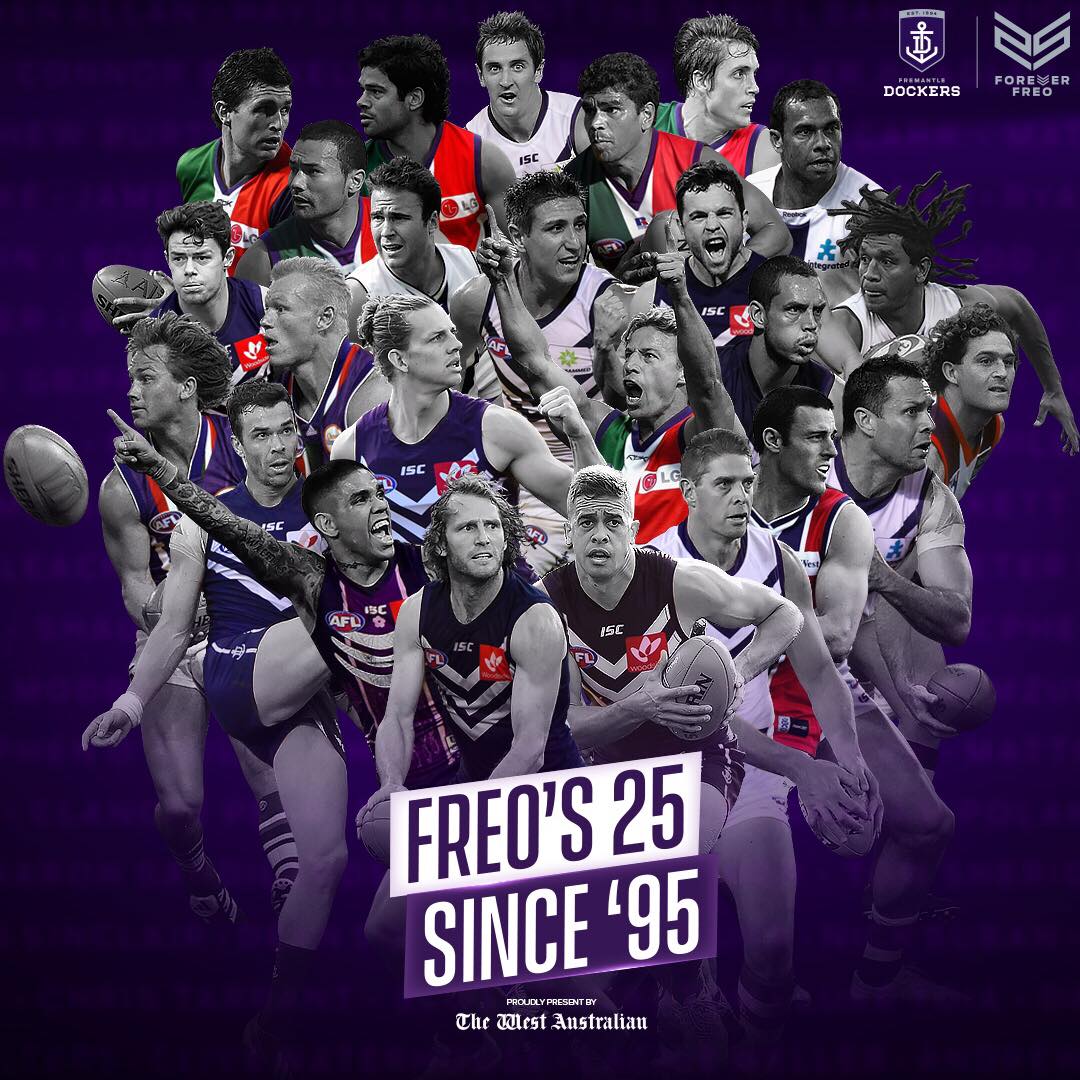 Roger Hayden (Back Pocket)
Hayden arrived at Freo as a bargain at pick no.21 in the 2001 rookie draft. He played 128 games for Freo between 2002 and 2011 and represented the Indigenous All Stars in 2007 and played two games for Australia in the International Rules in 2008. After his retirement in 2011, Hayden joined Fremantle as a coach in 2012 and he is currently the club's defensive development coach.
Shane Parker (Full Back)
Parker made his debut in the club's first ever win in round three of the 1995 season against Fitzroy. The defender went on to play 238 games between 1995 and 2007 and he was the first Docker to reach the 200-game milestone. He was also the club's longest-serving player until Matthew Pavlich broke his games-played record in 2011.
Parker finished runner-up in the Doig Medal twice in 1997 and 2005 and he represented WA in State of Origin in 2002, 2004 and 2006.
Antoni Grover (Back Pocket)
Grover joined Freo with pick no.32 in the 1999 rookie draft. He went on to play 202 games for Fremantle between 1999 and 2012 and became the club's first Indigenous player to reach the 200-game milestone. He also represented the Indigenous All Stars in 2005 and 2007.
Grover joined Fremantle's leadership group in 2008 and he was widely recognised as one of the club's most consistent and diligent players.
Michael Johnson (Half Back)
Johnson was drafted at pick no.8 in the 2004 pre-season draft. He made his debut in 2005 later and went on to play 244 games for Fremantle, the equal-fourth most for the club and the most by an Indigenous player.
Johnson was named All Australian in 2013, he was a runner-up in the Doig Medal in 2006 and he represented the Indigenous All Stars in 2005. Following his retirement in 2018, he returned to Fremantle months later as the club's inaugural Indigenous Liaison Officer.
Luke McPharlin (Centre Back)
McPharlin played 256 AFL games and, fittingly, 244 games for Freo, the same as fellow backman Michael Johnson. Like Johnson, McPharlin established himself as one of the best defenders in the modern era. He was named All Australian in 2012 and was awarded mark of the year in 2005 for his spectacular flying chest mark against the Eagles.
Dale Kickett (Half Back)
Kickett played 135 games for Fremantle in his 181-game career. After playing at four different clubs, Kickett settled at Fremantle and played for the club for eight seasons between 1995 and 2002. Kickett was a key member of Fremantle's defence in the club's early years, finishing runner-up in the 1995 and 1996 Doig medals before winning the award in 1997. With his final game in round 14 of the 2002 season, Kickett joined the AFL 200 club, having played 181 league games, 17 pre-season games and two State of Origin appearances for WA.
Stephen Hill (Wing)
Hill has played 205 games for Fremantle since he was drafted at pick no.3 in the 2008 National Draft. Hill has become known for his speed, his smarts and excellent ball use in his 11 seasons at Freo to date, highlighted by his brilliant running goal against Geelong in the 2013 qualifying final.
David Mundy (Centre)
Mundy entered the upper echelon of the greats of the game when he reached the 300-game milestone earlier this year. David captained Fremantle in 2016, was named All Australian in 2015, he won the Doig Medal in 2010 and he has also finished runner-up at the Doig Medal three times. His goal after the siren against Richmond in 2017 will live-long in the memory of Freo fans, as will his efforts in the 2013 grand final. Perhaps the most impressive of all is at 33, Mundy continues to deliver his best football in what has been an outstanding 2019 season to date.
Shaun McManus (Wing)
McManus played 228 games for Fremantle between 1995 and 2008, the seventh most for the club. His ability to consistently give his all and battle through two knee constructions saw him become one of Freo's favourite sons. His courageous goal after being almost knocked out in the 2001 Western Derby epitomised McManuns' efforts in the Fremantle jumper. He was named in the WA State of Origin team in 1995 and he co-captained the club alongside Adrian Fletcher in 2000 and 2001.
Michael Walters (Half Forward)
Walters has played 142 games for Fremantle since he joined the club in 2008 at no.53 in the National Draft. Walters has starred for Freo no matter where he plays, either up front where he spent the bulk of his early career or in the midfield where he has played more predominantly in the past few seasons. He has led the Fremantle goalkicking four times and currently sits third on Freo's all-time goalkicking list. A proud Noongar man, 'Sonny' provided back-to-back highlights in this year's Sir Doug Nicholls round, kicking the winning score for Freo against Brisbane and Collingwood. Just two highlights in what has arguably been his best season to date.
Matthew Pavlich (Centre Half Forward)
Without a doubt the greatest ever Fremantle Docker, Pavlich played 353 games for Fremantle between 2000 and 2016 and has been named at Full Forward. Pavlich leads Fremantle in countless stats, but his 700 goals for Freo stands out as the most impressive. Pavlich is a six-time Doig Medallist and All Australian, he captained Freo between 2007 and 2015 and won the club's goalkicking eight times. His influence at the club can't be measured and he has played at Fremantle alongside all but one player named in 25 since '95 team.
Clive Waterhouse (Half Forward)
Waterhouse played 106 games for Fremantle between 1996 and 2004 and rose to stardom at Freo with big goalkicking hauls in 1999 and 2000. His seven-goal haul against West Coast in a thrilling one-point Derby win cemented his place as a cult hero for Freo fans, however he also received national recognition with his selection in the Australian team in 1999 for the International Rules. Unfortunately, injury cut short a promising career however in the eyes of the Freo faithful, he remains one of the most exciting players to don the Anchor jumper.
Jeff Farmer (Forward Pocket)
Farmer played 131 games for Fremantle between 2002 and 2008, kicking 224 goals. Combining his time at Fremantle and Melbourne, he played 249 AFL games, kicking 483 goals. Known as 'The Wiz', Farmer may best be known for his goal after the siren that saw Fremantle defeat his former side at Subiaco. Farmer's best year came in 2006, where his 55 goals helped Freo to their first ever preliminary final.
Tony Modra (Full Forward)
Arguably one of the game's greatest forwards, Modra kicked 148 goals for Freo from just three seasons played at the tail end of his career. While even the most adamant Freo fan would concede that Modra's greatest footballing achievements came as an Adelaide Crow, he helped bring some all-important star-power to Fremantle in the club's formative years as he continued to deliver on the field. He led Fremantle's goalkicking in 1999 with 71 goals and his most famous goal for the club came in that year as he helped deliver Freo's first win in a Western Derby.
Hayden Ballantyne (Forward Pocket)
Ballantyne has played 169 games for Fremantle since joining the club at selection no.21 in the 2008 national draft. A spectacular running effort and goal against Geelong in 2011 earned the small forward Goal of the Year honours. With 49 goals in 2014, Hayden won the Fremantle goal kicking and was also named All Australian. It wasn't just Ballantyne's goals that won the hearts of the Freo faithful, it is also his ability to chase and pressure opposition defenders that has earned him his spot in Freo's greatest team.
Aaron Sandilands (Ruck)
The obvious selection in the ruck, Sandilands is arguably one of the greatest ruckmen of the modern era. No player has had more hitouts in AFL/VFL history than Sandilands, who has amassed 8325 from his 265 games to date. Sandilands has won the Doig Medal twice, the Ross Glendinning Medal twice and has earned four All Australian jackets. He is also one half of what is considered to be one of the most feared ruck/rover combinations, with Sandilands and Nat Fyfe dominating opposition midfields over a number of seasons.
Nathan Fyfe (Ruck Rover)
Fremantle's current captain, Fyfe has played 164 games for Fremantle since his arrival in 2009. Fyfe has been regarded by many as the best player in the AFL for a number of seasons, and it's easy to see why. Fyfe's courage and determination was never more on show than when he played out the 2015 preliminary final with a fractured leg, rounding out a year in which he became Fremantle's first Brownlow medallist. He won the Doig Medal in 2013 and 2014 and he was named as the AFL Players MVP and All Australian in 2014 and 2015. The midfielder took on the captaincy in 2017 and has continued his midfield dominance as he and his fellow Fremantle leaders develop a younger team around them.
Peter Bell (Rover)
One of the inaugural Dockers in 1995, Bell returned to play for Fremantle between 2001 and 2008 after a fruitful 123 games for North Melbourne where he was involved in two premierships. In total, Bell played 163 games for Fremantle and captained the team for five seasons between 2002 and 2006 and he returned to the club as the General Manager of Football following the 2018 season. He is a three-time Doig Medallist and has been awarded All Australian honours twice, including in the 2003 season with Freo. Fremantle's two wins in 2001 came on the back of some Belly brilliance, with 38 possessions and two goals against Hawthorn and 44 disposals and three goals against Adelaide.
Paul Hasleby (Interchange)
Hasleby played 208 games for Fremantle between 2000 and 2010 after being drafted at no.2 in 1999. He got his AFL career off to a flyer with 30 disposals on debut in round one, 2000. He went on to win the AFL Rising Star that year and quickly progressed to earn All Australian honours in 2003. His ability to dominate a Western Derby made him a favourite son at Freo, winning a Ross Glendinning medal in 2002, 2003, 2004 and 2009.
Lachie Neale (Interchange)
Neale played 135 games for Fremantle between 2012 and 2018 before his trade to Brisbane. Renowned as a ball magnet, Neale averaged 33.5 disposals in 2016 as he set the all-time disposals record in a season before Tom Mitchell broke the record in 2017. Neale was another Western Derby gun, winning two Ross Glendinning Medals and one Glendinning-Allan medal. He rounded out his career at the club with a win at the 2018 Doig Medal, his second best and fairest win at Freo.
Troy Cook (Interchange)
Troy Cook played 150 games for Fremantle between 2000 and 2007 after arriving at the club from the Sydney Swans. Cook had an immediate impact at Freo, winning the Doig Medal in his first year at the club, playing all 22 games and leading the club for disposals. Cook was renowned as one of Freo's toughest midfielders, averaging five tackles per game in the 2002 seasons. His link with the club has continued more than a decade after his retirement, co-designing the Indigenous jumper the players have worn in the 2019 season.
Michael Barlow (Interchange)
Barlow played 126 games for Fremantle between 2010 and 2016, arriving at the club as a mature-aged rookie. His 33 disposals on debut against Adelaide in round one, 2010, broke the record for the most by a debutant. Just over a month later, Barlow won the first of three Ross Glendinning medals. His amazing debut season was acknowledged with a Beacon Award and the AFLPA's best first year player. Barlow was a tackling machine throughout his career, averaging five per game from his total of 141 games for Fremantle and Gold Coast.
Ryan Crowley (Interchange)
Perhaps one of the game's most famous taggers, Crowley played 188 games for Fremantle between 2005 and 2014. Crowley's story is one of perseverance, arriving at Fremantle initially in the 2002 national draft and fighting his way to a debut after being delisted and re-rookied.
Crowley's career took off in his conversion to a tagger in 2008. He might not have won much of the ball compared to other midfielders, but neither did his opponents, with Crowley taking down some of the game's best including Chris Judd and Gary Ablett Jnr. An outstanding team player, Crowley won the Doig Medal in 2012.
Justin Longmuir (Interchange)
The no.2 pick in 1998, Longmuir played 139 games for Fremantle between 1999 and 2007. Longmuir is best known for that mark, that goal and that celebration when he goaled after the siren to help Freo defeat St Kilda in 2005. Longmuir started his coaching career at Fremantle after retirement, starting as a development coach in 2010. He then moved to West Coast and he is currently the backline and team defence coach at Collingwood.
Ben Allan (Interchange)
Allan played 47 of his 145 career AFL games for Fremantle between 1995 and 1997. Allan was arguably Fremantle's most important signing ahead of their inaugural season, with the midfielder the obvious choice to be the clubs first captain. He was the only All Australian and one of two former premiership players to be named in the inaugural squad. Allan captained Fremantle in 1995 and 1996 before handing the reins to Peter Mann and finished third in the Doig Medal in 1995 after playing all 22 games that season.