READ UP ON THE 2019 DRAFT CLASS
HAYDEN YOUNG
Just mention 'the kick' and almost every NAB AFL Draft observer will be able to instantly recall the exact moment you're talking about.
It was the last game of the NAB AFL Under-18 Championships in July and Vic Country, needing to beat Western Australia to claim the title, were five points down with just under three minutes remaining when Hayden Young claimed the footy on half-back.
Young turned, looked in-board and flushed an instinctive 50m pass to teammate Isaac Wareham, who was racing through the middle of the ground and barely needed to break stride as he took the ball in his possession.
The brave and audacious left-foot kick had pierced through eight West Australian players on its way to Wareham and directly resulted in a Vic Country goal, giving his side a late lead in the critical encounter.
'The kick' reflected Young's precocious talent as a bold decision-maker, with an incredible ability to execute through his elite skills by foot. But it was also a reflection of years of hard work.
Growing up with two brothers – Lachie, 20, who plays for the Western Bulldogs, and Josh, 15 – the Young boys were creative in terms of how they added a competitive element to their backyard games.
Living in a street with a basketball hoop at one end and a light pole at the other, they would stand in the middle of the road for hours at a time and try to hit either to win a point. The first to 11 points would win.
Needless to say, Hayden – the middle of the three Young boys – came out on top most of the time.
"I think that's where it's stemmed from," Young told AFL.com.au.
"I've always been a perfectionist and I aim to be the best I can possibly be. When it comes to my kicking I'm pretty hard on myself, so I don't know where else it would have come from."
Young's talent as a 188cm intercept defender, who can provide drive and penetration off half-back with his kicking ability and his nice turn of speed, has resulted in the draft prospect garnering a host of interest at the top of the order.
Melbourne will consider calling his name with pick No.3, while Adelaide and Sydney will also be tracking his availability closely with the very next selections at the draft.
Then there's Greater Western Sydney, who could consider selecting Young should it find a suitable trade up the draft order in an effort to leapfrog an Academy bid on midfield gun Tom Green.
All of the speculation, which has built throughout the season, can quite often toy with a young prospect. But for Young, he's spent the year trying to block out the whispers of where he could land.
"You think about it initially, but there's still a lot to play out," Young said.
"I'm not getting settled on any club, because I'm open to anything. I'm not really too stressed about it. Whatever happens, happens. As long as I get an opportunity at an AFL club, I'll be very grateful."
That attitude was inspired following a frank conversation midway through the year with his Vic Country coach, Leigh Brown, who set about re-focusing Young's attentions on simply having fun with his footy rather than worrying about his future.
The chat came after a frustrating start to the season for the gifted Dandenong Stingrays half-back, with Brown instructing Young to clearly define what was important to him as a footballer.
As a result, Young started to write three messages on his wrist before every game – 'defend first', 'run and drive' and 'back my skills' – as motivation. It helped him focus on more than just the numbers when assessing his performances.
"At the start, I found it pretty challenging," Young said.
"I went into games thinking I was expected to be a good player and thinking I had to be the best on the ground and get this or that amount of touches. When I spoke about that mindset change with 'Browny', that helped a lot with my performances.
"If you asked me how many touches Matt Rowell or Noah Anderson had this year, I wouldn't be able to tell you. In saying that, I know they probably played well every week.
"(But) I didn't really look into too much about how the other boys were going or what the media was saying about things, I just focused on my footy. As a result, I got to enjoy my year a lot more and it was very stress free."
Even though Young stopped concerning himself with his stats, the numbers still told a story of just how impressive his final year of junior footy was.
He averaged 22 disposals per game in both the NAB League and in the Championships, with his kicking efficiency reaching a remarkable 73.5 percent and 75 percent respectively in each competition.
Few others had efficiency numbers so high, detailing just how reliable Young is when he turns onto his trusty left side – regardless of the degree of difficulty.
Hayden Young in action against WA.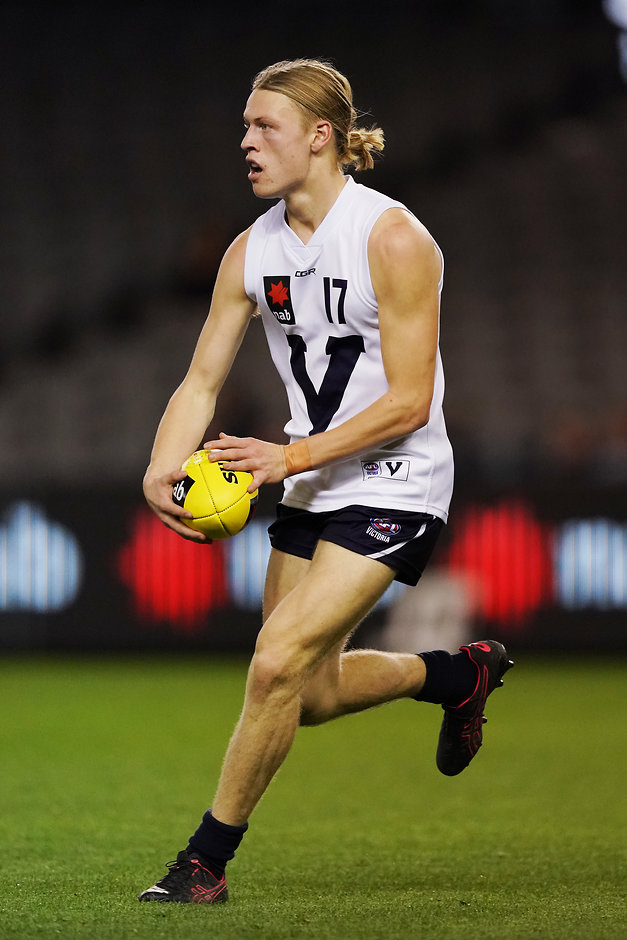 "He's an elite kick," Brown told AFL.com.au.
"He reads the ball really well off half-back, he can defend and then rebound with his elite foot skills and his good decisions, plus he breaks the lines with his speed.
"He's got leadership attached to all of that as well."
While Young has often turned to Brown for advice throughout the year, he's also asked a bit of his older brother Lachie – who has already realised his AFL dream.
Recruited to the Western Bulldogs at 19 years of age as a rookie ahead of last season, Lachie played six League games in his maiden campaign under coach Luke Beveridge in 2019.
But rather than quizzing his older brother about what to expect from senior footy, Young has asked more about the day-to-day life at Whitten Oval – and what it's like being a teammate of superstar Marcus Bontempelli.
"We don't really talk about footy a lot," Young said.
Given the Dogs hold picks No.13, 53 and 89 at this year's draft – and given Young is expected to be a top-five pick – it's unlikely the two brothers will be reunited in the AFL.
However, they do have a plan for ensuring their childhood games keep going at the next level.
"I was thinking about me playing half-back and him playing half-back and us just playing kick-to-kick for the whole game," Young laughed.
BRODIE KEMP
BRODIE Kemp is under no illusions. As the highly touted prospect who suffered a major injury just months ago, he knows his place in this year's NAB AFL Draft is hard to predict.
Kemp knows that it could impact where his name is called, and by which club. He's also aware that as much as his ambition is to return next year and be ready to play at the top level, clubs might not agree.
The versatile Bendigo Pioneers product shapes as one of the most interesting names to follow in next week's first round on Wednesday night.
He is among the group of players invited to attend the draft at Marvel Stadium, with Carlton, Melbourne and Hawthorn among the clubs linked to him, but even he admits his knee reconstruction in July has left his spot uncertain.
"I like to try to be pragmatic and think it hasn't affected too much. I'll obviously slide a little bit and that's all part of the recruiting side of things but the good thing is it didn't affect too much," he told AFL.com.au.
"With my knee it makes it a little bit harder to estimate where I might go considering I'm not sure what clubs are willing to not play me next year, and what clubs are."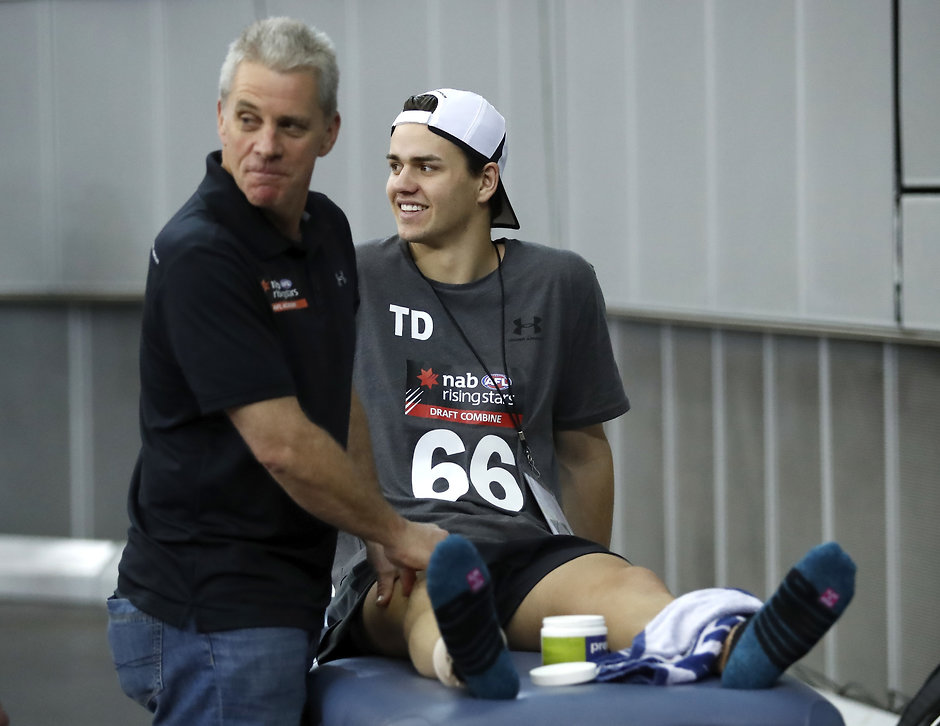 Clubs will also have different views on where Kemp will play long-term. Some see him mainly as a key defender who, at 193cm, can intercept marks and set up the play.
Others think he can pinch-hit as a forward, while some scouts think the midfield is where his future lies, a view Kemp shares given his height and strength around the stoppages. Clubs saw that at the mid-year under-18 championships, where Kemp starred for Vic Country averaging 20 disposals.
He's glad he was able to show his qualities at national level.
"The good thing was I was able to play the first half of the season and then definitely the most important block of games was the championships. I was lucky enough and grateful to play those games," he said.
"From then I was really happy with my performance. Doing my knee was the worst case scenario, but the best case scenario was when it happened and I only missed a couple of games after that. It was disappointing and obviously I really wanted to keep playing footy."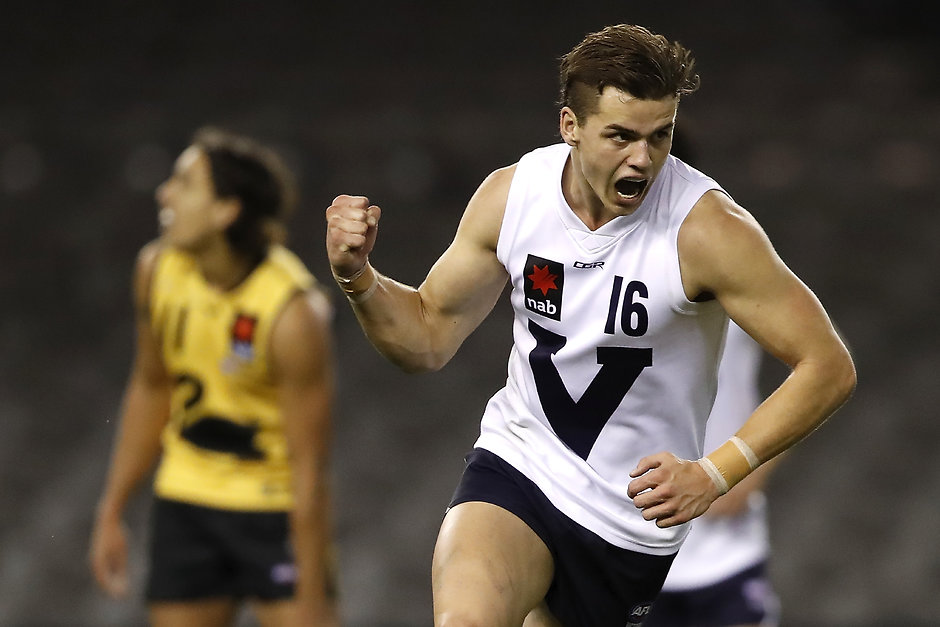 Kemp sustained his injury playing for school side Geelong Grammar, after his right knee buckled when he went to avoid a tackle.
It was a straight anterior cruciate ligament tear without any further damage, leading to optimism he will be ready to play again in the middle of next year.
Kemp is targeting a return, but realises clubs assessing him may be a little more cautious, particularly if they use a top-10 choice on him.
"In my mind I am. That's the goal, that at the 10-month mark I can get back in May or June. That's my goal but I think for a club it's an investment, it's not a 12-month investment," he said.
"I'd think they'd be conservative and not want to play me next year in the AFL but some could give me an opportunity. I think they'll be a bit conservative and rightfully so as well.
"But the year after that I'll definitely be back and play a few more games without any knee injuries."