At 202cm, Sean Darcy might just be Perth's tallest babysitter.
But Darcy's height won't be much of a novelty to the young daughters of Aaron and Jenny Sandilands, with Freo's towering ruckman taking Darcy into his home as the new draftee settles in Perth.
And by the sounds of things, Darcy has been up to the task on and off the field.
"Sean's a great man, it's great to have another set of hands around the house to look after the kids," Sandilands said.
"He's a great person and just really enthusiastic and keen to learn as much as he can. I'm really enjoying having him around."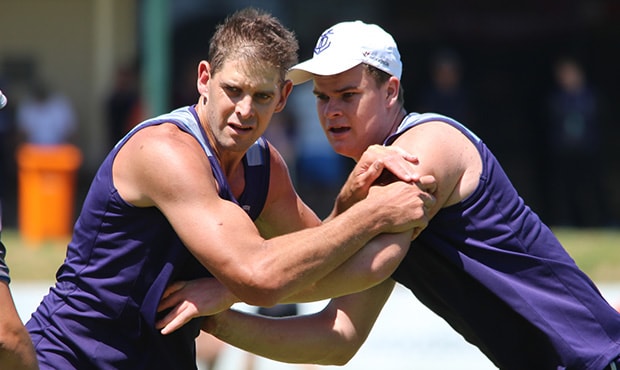 Taken at pick 38 from the Geelong Falcons, Darcy has fit in well with Fremantle. On his first day at training, Sandilands and Darcy spent plenty of time away from the main group, with Sandilands taking his young prodigy through a handful of ruck-specific drills.
While Sandilands is yet to see Darcy in action, he's been sure to watch the highlights from his draft year.
"I haven't seen him play too much footy, but I've seen some highlights," Sandilands said.
"It's just the way he's come into the club. He's a great person and it's good to have great people in your footy club, so I'm hoping he'll be a long-term player for the club."
One aspect of Darcy's ruck work is that he taps with his left-hand, which is relatively rare in football.
"He can make (being left-handed) an advantage I suppose," Sandilands said.
"I haven't had too much thought on that, but looking at some of his highlights, he knows what he's doing and I think giving him a bit of time to develop at the club, I think he's going to be a good player."