Fremantle's recent Junior Christmas Party provided a great opportunity for the club's two number elevens to chat footy.
Tarnica Golisano joined Tommy Sheridan on stage at Fremantle Oval, where the pair were presented with their jumpers for 2017.
It was another personal highlight as Golisano prepares for Freo's AFLW season opener against the Western Bulldogs on Saturday 4 February.
The presentation was followed by a chance for Golisano and her teammates to meet and greet with fans, sign autographs and pose for photos.
"It's awesome. It's pretty exciting to be down here at the club," Golisano said.
"I met a few of the guys at the Junior Christmas Party, and it's really good to feel a part of it all.
"I got to chat with Tommy Sheridan, I'll be sharing No.11 with him this year. He's a nice bloke and it was really good to meet everyone."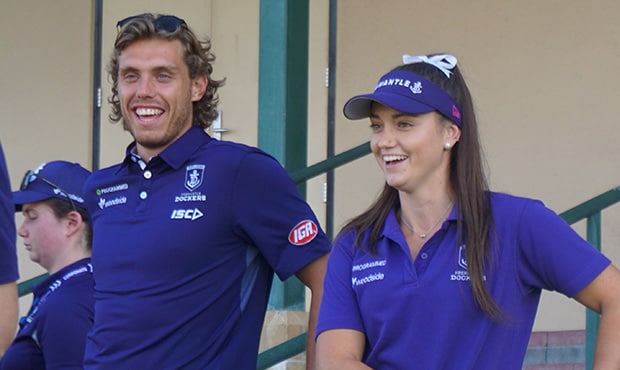 Tommy Sheridan and Tarnica Golisano share a laugh at the Junior Christmas Party
A hard running half-back, Golisano comes into the club from the Coastal Titans in the WAWFL, with the 20-year-old saying she was adapting well to the increase in the variety and intensity of their training activities.
"We start our sessions with some pre-training stuff, a bit of meditation, some foam rolling and injury prevention," Golisano said.
"Obviously the load's increased dramatically. There's a bit of a change in the longer sessions but I think we're adapting quite well and getting out on the track and giving everything.
"I definitely like to put in a fair bit of encouragement, and push the girls along, and they do the same to me, and help each other out on the field. The louder we are the better we'll be."
Golisano's even seen her online following grow as she does her part in promoting the women's game.
"I only joined Twitter when I got drafted, but I've definitely seen a rise in followers in the last few weeks," Golisano said.
"I'm just getting around and sharing everything about women's football, getting it out there and telling people what we're doing and encouraging others to jump on board."
Fremantle's first AFLW home game will come in round two of the inaugural season, taking on Brisbane at Fremantle Oval on Sunday 12 February from 4:05pm WST.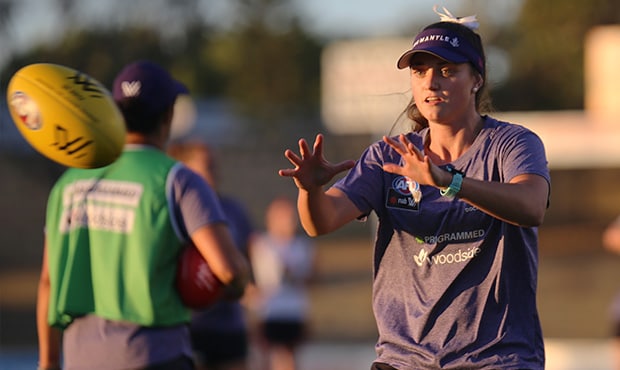 Golisano in action at training on Thursday night