Fremantle's Next Generation Academy has returned to the Kimberley this week.
NGA coach Tendai Mzungu takes us through their next leg of the trip alongside Indigenous liaison officer Michael Johnson and NGA coordinator Wade Spilcker.
Read day three of the 'Tendairies' here
Thursday 5 September
Surprise surprise, we were greeted with another glorious morning of sunshine, blue skies and zero wind.
Today's menu in Derby consisted of a training session with a mixture of primary and high school kids, along with a number of classroom educational talks.
We started with a 6.30am training session, which was attended by approximately 40 students.
We took turns in taking the group through a serious of drills and activities focusing on skill fundamentals.
In true Clontarf spirit, a breakfast was then provided to the players and staff.
Once again, my inability to hit a consistent backhand on the table tennis court was exposed by an 11-year-old.
We were then presented a Clontarf hat and some kind words of thanks from the students. We left the staff with some jumpers, footballs and apparel to distribute amongst the students before heading over to a period one assembly.
Many of the upper school students were over in Broome competing in an athletics carnival, whilst the others attended a presentation by Michael, Wade and myself in the auditorium.
Michael spoke about his journey to the AFL and his current role in mentoring our AFL, AFLW and NGA players, whilst Wade spoke about the Pathway programs that exist for female footballers.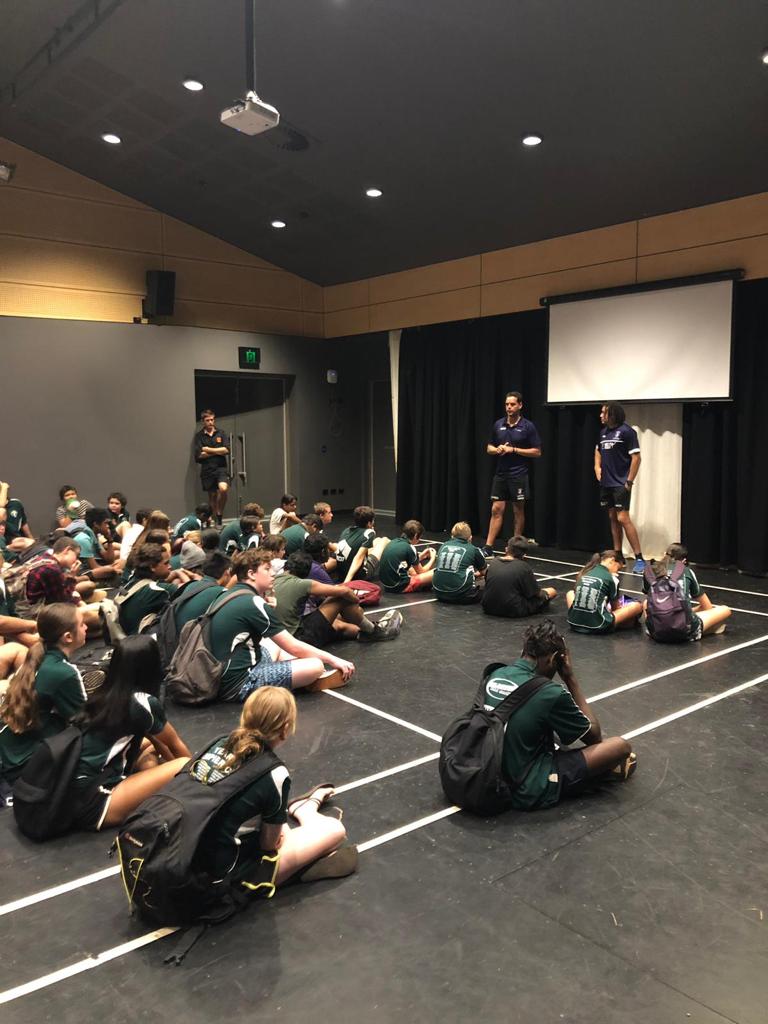 I gave an overview of our NGA program and why we are up in the Kimberley.
Michael and I then presented to a number of year five and six classes across the remainder of the morning.
The kids were quick to remind Johnno that he began his football career before they were born. The phrase "you old", may or not have been uttered... by me.
After a great morning in Derby it was again time to hit the road and back to Broome.
Our first appointment was at the hospital, where we visited the kids ward where we had a yarn with a few of the boys in there and took some photos with them.
Without knowing for certain, it appeared that the staff were more excited than the kids to see us touring through.
We made our way from the hospital over to Haynes Oval for a training session with the Kimberley Spirit U16 Broome Hub.
In attendance was a group of 25 boys, four of which made the trip up from Bidyadanga (two hours south of Broome), along with a handful of local coaches from the area.
The energy and effort of the group was fantastic, which allowed us to challenge the boys with some variations on what they were used to in their local football.
As we concluded our training session, the senior teams of Cable Beach men's and women's team began their final hit out before the weekends Grand Finals between Broome Bulls and Looma respectively.
Unfortunately we lost a soldier from our trip in Michael Johnson as he returned to Perth after 1000 photos and as many one on ones with the kids, but he was quickly replaced an hour later over dinner by David Mundy and Luke McPharlin, who now lives up in Broome (Luke not Dave!).
Luke treated Dave and I to his favourite hot spots for dinner and a late-night coffee, but despite his best efforts to come across as a local, his dress sense still screamed 'city slicker'.